Published 01-21-09
Submitted by 3BL CSRwire
SPRINGFIELD, MA "" January 21, 2009 - CSRwire recently donated $1,250 worth of GlobalGiving Gift Certificates (50 certificates of $25 each) to middle and high school students at The Springfield Renaissance School, an Expeditionary Learning School in Springfield, MA.
Students will be making a visit to the CSRwire offices on January 26th to get a tour of the company and to give presentations on which GlobalGiving project they chose to support using their Gift Certificates.
GlobalGiving is an international NGO that connects donors with community-based projects all over the world. Donors can choose from nearly twenty thematic areas including children, disaster relief, education, human rights, technology and women and girls. They can also choose a project by region or country-from North and South America to Africa and Asia to the Middle East. There are hundreds of projects to choose from.

"Getting to know the principal, staff and students at the Renaissance School has been inspiring," says CSRwire COO Greg Schneider. "Their unique approach to education really integrates this project with CSRwire and GlobalGiving and takes it beyond philanthropy. The students are able to truly learn about and take part in helping the 'global community'."
CSRwire employees learned of GlobalGiving when the organization joined CSRwire as a member and began to utilize its services. Motivated by GlobalGiving's mission and impact, CSRwire employees decide to leverage GlobalGiving as a way of contributing to their local community. Instead of simply making a donation to GlobalGiving, the company decided to donate GlobalGiving Gift Certificates to students at the Springfield Renaissance School and ask them to decide which GlobalGiving projects to support. "This experience is a great way of illustrating the impact local philanthropic efforts can have on global issues," says CSRwire's Director of Operations, Cindy Esposito.

"At a time in our nation when the election of our first Black man as president proves that all things are possible, and heeding President Obama's call for sacrifice and service, this small collaborative project with CSRwire is a magnificent thing," says Springfield Renaissance School Principal Stephen Mahoney. "Teaching young people about the value of giving, and showing them the thousands of ways individual men and women are fighting poverty and disease and ignorance around the world, is what good schools should be doing. The Springfield Renaissance School is delighted to be joined in this work by CSRwire, and we look forward to even deeper collaborative work in the future."
About CSRwire
CSRwire is the leading source of corporate social responsibility and sustainability news, reports and information. CSRwire distributes news related to Diversity, Philanthropy, Socially Responsible Investing (SRI), Environment, Human Rights, Workplace Issues, Business Ethics, Community Development and Corporate Governance to Journalists, Analysts, Investors, Activists, Academics, Public Relations, Advertising and Investor Relations Professionals in over 200 Countries. www.csrwire.com.
About GlobalGiving
GlobalGiving is an online marketplace for philanthropy that connects individuals and organizations to high impact grassroots projects around the world. Corporate partners include eBay, Hewlett-Packard, Gap, Inc., Ford Motor Company Fund, Nike, and The North Face. In addition, major funding partners include Omidyar Network, the Hewlett Foundation, the Skoll Foundation, USAID, and the Sall Family Foundation. GlobalGiving's innovative approach to tackling some of the world's most challenging issues has raised over $16 million benefiting more than 1000 projects worldwide. www.globalgiving.com.
About The Springfield Renaissance School
The Springfield Renaissance School, an Expeditionary Learning School is a college bound middle-high school (grades 6-12) whose graduates will attend college or university. The school, which will ultimately enroll 600-700 students in grades 6-12, offers a rigorous academic program within a personalized learning environment, and prepares all students for success in college and beyond. Immersed in an ethos of service and team work, The Springfield Renaissance School students are challenged to take the reins of community leadership and to understand and meet the demands of the modern workplace. The school is a partnership between Springfield Public Schools and Expeditionary Learning Schools, and is funded in part by the Bill and Melinda Gates Foundation.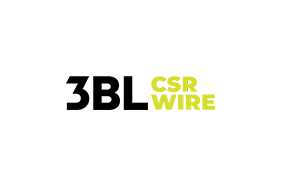 3BL CSRwire
3BL CSRwire
Respected and relied on by journalists, bloggers, business leaders and academics around the world, 3BL CSRwire is a dedicated, real-time source for major news and updates from within the worlds of ESG, corporate social responsibility and sustainability.
3BL CSRwire offers a-la-carte press release distribution to a global network of influential stakeholders and mainstream audiences—perfect for organizations just getting started in CSR or for those looking to get the most out of their corporate communications.
More from 3BL CSRwire