Published 11-03-14
Submitted by 3BL CSRwire
In November, CSRwire will begin to feature a special focus on sustainable finance in its many forms. Topics to be addressed will include socially responsible investing (SRI), sustainable stock exchanges, environmental, social and governance (ESG) indices, ratings and rankings, impact investing, integrated reporting, metrics, divestment, pension funds, and carbon pricing, among others. 
We will be featuring articles by and interviews with key professionals and influencers, companies and organizations that are driving the debate about the rapidly changing frameworks of social investment and new thinking about ROI. 
Our Talkback Blog will report on new investment strategies, case studies of success and the new metrics by which they are being measured.  We will explore how including ESG factors as material to the bottom line might be a game-changer. 
By concentrating on sustainable finance in our blogs, articles, videos, all social media channels and interviews, we hope to stimulate thought and fuel the conversation on CSRwire about this rapidly expanding field of financial activity, and how it is affecting business innovation. 
We Want to Hear From You. 
How you can contribute:
• Send your blog or article to editor@csrwire.com.  We will review your article or blog for potential inclusion in our Talkback blog section and possible highlighting as a CSRwire "Editorial Pick." 
This will be a great opportunity to demonstrate your knowledge, innovation, leadership and successes. 
Please ensure your content is related to the suggested themes mentioned above to qualify for inclusion. Please include a brief bio and head shot photograph. 
• Upload your content about sustainable finance to CSRlive. 
• Engage and share the conversation via our social media channels, including @csrwire and @3blmedia. 
For more information, contact editor@csrwire.com.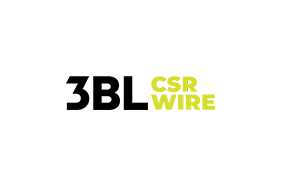 3BL CSRwire
3BL CSRwire
Respected and relied on by journalists, bloggers, business leaders and academics around the world, 3BL CSRwire is a dedicated, real-time source for major news and updates from within the worlds of ESG, corporate social responsibility and sustainability.
3BL CSRwire offers a-la-carte press release distribution to a global network of influential stakeholders and mainstream audiences—perfect for organizations just getting started in CSR or for those looking to get the most out of their corporate communications.
More from 3BL CSRwire