Published 02-03-15
Submitted by 3BL CSRwire
CSRwire announced today the launch of a new CSR and Sustainability Report promotion service to accommodate the growing number of reports being published each year. The reporting service is a campaign-based, multi-distribution news service which provides international distribution, social media promotion and a shareable report newsroom where the initial report announcement and subsequent updates and multimedia files are hosted. The service is offered on a two or six month basis and is designed to keep stakeholders informed of the reporting company's stated goals and progress. 
The global distribution of the report announcement and subsequent updates is built on the 3BL Media network. CSRwire became part of 3BL Media in September 2014 which also includes Justmeans.com and Socialearth.org. The combined networks reach the largest audience of investors, journalists, academics, influencers, sustainability practitioners, researchers and policy makers focused on the topic of sustainability. Distribution also includes social media support and promotion of the announcements to a direct audience of more than 300,000 within the 3BL Media social networks. Weekly reporting, tracking and analytics are also included.
"As the trend in CSR and sustainability reporting continues to move towards 'live' or ongoing reporting, this new report announcement service provides a more powerful and effective level of sustained exposure across multiple stakeholder audiences for the various components of a report," said David Connor, Director of CSRwire.
The requirement for sustainability reporting continues to grow and is becoming mandatory in countries around the globe. 93% of the largest 250 global companies (G250) now produce a sustainability report. Growth in reporting has topped 50% since 2011 in some countries in Asia Pacific and Latin America. This growth is driven in part by the investment community's increased desire for collecting and benchmarking sustainability data as an important component for making investment and portfolio management decisions.
As reporting companies focus on various issues within the broader context of sustainability, this service enables them to highlight progress and commitments around several different issues without the restrictions and limitations inherent in alternative one-time email announcement offerings.
For more information about the new CSRwire Sustainability Report Promotion service or to reserve a date for your company's announcement, please contact info@csrwire.com or call 802-251-0110 x1040.
About CSRwire
A trusted voice since 1999, CSRwire is a digital media platform for the latest news, views and reports in corporate social responsibility (CSR) and sustainability. CSRwire has helped to pave the way for new standards of corporate citizenship, earning the international respect of thought leaders, business leaders, academics, researchers, activists and the media. The CSRwire team works on a wide range of traditional and social media services and solutions to support its members' marketing and communications strategies.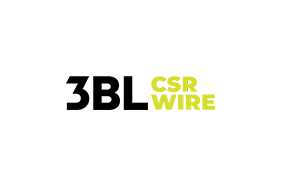 3BL CSRwire
3BL CSRwire
Respected and relied on by journalists, bloggers, business leaders and academics around the world, 3BL CSRwire is a dedicated, real-time source for major news and updates from within the worlds of ESG, corporate social responsibility and sustainability.
3BL CSRwire offers a-la-carte press release distribution to a global network of influential stakeholders and mainstream audiences—perfect for organizations just getting started in CSR or for those looking to get the most out of their corporate communications.
More from 3BL CSRwire