Published 06-26-14
Submitted by 3BL CSRwire
How does a company link community success to business success?
Ask Raytheon.
From sustainability to supporting its communities, the aerospace and defense technology company is making a tangible impact by aligning its corporate social responsibility initiatives to its business goals.
For instance, how does Raytheon attract world class talent to its ranks amid declining student interest in science, technology, engineering and math (STEM)? What does the aerospace and defense industry's aging workforce and shortage of technical talent mean to Raytheon's future? What is the company doing to empower the millions of veterans returning to civilian life?
With the release of Raytheon's 2013 Corporate Responsibility Report, we'll turn to Pam Wickham, vice president of Corporate Affairs and Communications for Raytheon, to provide her insight on topics like these, live on Twitter.
On our agenda:
What has been the impact of Raytheon's ongoing investment in STEM education?
How does Raytheon motivate its employees to donate hundreds of thousands of hours of their own time to causes it supports?
How does a strong supplier pipeline support a company's sustainability efforts?
What role is Raytheon's MathMovesU brand playing in building a pipeline of innovators?
How does Raytheon expand its social responsibility efforts to reach a global audience?
How is the technology company working with returning veterans to help them pursue meaningful careers that build on their experience and skills?
Join the conversation live on Twitter July 8, 2014 with Pam Wickham along with CSRwire's Editorial Director Aman Singh and TriplePundit Publisher and Founder Nick Aster.
What you need to know:
Date: July 8, 2014
Time: 10am PT/1pm ET
Hashtag: #RaytheonCSR
Panel: @PamWickham1 @AmanSinghCSR @NickAster
To RSVP, send out the following tweet:
I'll join @PamWickham1 @AmanSinghCSR @NickAster 7/8 1pm to hear how @Raytheon delivers values w/actions http://bit.ly/RaytheonCSR #RaytheonCSR
Or email aman@csrwire.com.
About CSRwire's Stakeholder Engagement Campaigns
CSRwire regularly conducts webinars and Twitter chats with its member organizations and partner TriplePundit. These chats, developed as facilitated conversations, are aimed at taking a pulse of our community, sharing knowledge and inspiring action. Whether the topic is sustainable living, shared value, responsible careers or the top trends for 2014, these sessions act as live panels – an hour to demonstrate your authenticity, transparency and efforts to engage on issues that matter. Learn more.
About Raytheon
Raytheon Company, with 2013 sales of $24 billion and 63,000 employees worldwide, is a technology and innovation leader specializing in defense, security and civil markets throughout the world. With a history of innovation spanning 92 years, Raytheon provides state-of-the-art electronics, mission systems integration and other capabilities in the areas of sensing; effects; and command, control, communications and intelligence systems, as well as cyber security and a broad range of mission support services. Raytheon is headquartered in Waltham, Mass. For more about Raytheon, visit us at www.raytheon.com and follow us on Twitter @Raytheon.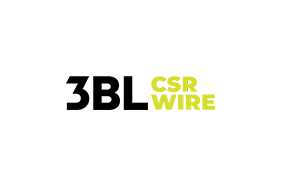 3BL CSRwire
3BL CSRwire
Respected and relied on by journalists, bloggers, business leaders and academics around the world, 3BL CSRwire is a dedicated, real-time source for major news and updates from within the worlds of ESG, corporate social responsibility and sustainability.
3BL CSRwire offers a-la-carte press release distribution to a global network of influential stakeholders and mainstream audiences—perfect for organizations just getting started in CSR or for those looking to get the most out of their corporate communications.
More from 3BL CSRwire