Published 07-08-14
Submitted by 3BL CSRwire
Mars, Incorporated publishes its fourth annual Principles in Action Summary this month, which details the company's approach to business – its progress and the shared challenges facing both its business and society. The Principles in Action Summary underscores its commitment to put Mars' Five Principles into action to make a difference to people and the planet through its performance. Mars remains a private, family-owned business dedicated to the objective first expressed by Forrest E. Mars, Sr. in 1947 – to create a mutuality of benefits for all its stakeholders through its operations.
The Summary outlines the particular challenges and accomplishments associated with manufacturing food across a number of global iconic brands such as M&M'S®, SNICKERS®, PEDIGREE®, Wrigley's EXTRA®, UNCLE BEN'S®, WHISKAS® and more.
In partnership with TriplePundit and CSRwire, Mars will discuss via Twitter chat how it, as one of the world's leading food manufacturers with more than 130 manufacturing sites, handles sustainability. This is Mars' second Twitter chat with TriplePundit and CSRwire. Attendees can expect the company to share updates on some of its biggest goals, challenges and accomplishments in meeting milestones and plans for the years to come.
Specifically we'll be discussing:
How the company balances the needs of consumers with its commitments to bring prosperity to farmers at the base of the supply chain.
What Mars' "Sustainable in a Generation" commitment includes and the challenges and steps needed to achieve.
How investment in a new massive wind farm equivalent to the size of Paris is one of the ways Mars is achieving its goal to make its operations "Sustainable in a Generation" by eliminating all greenhouse gas emissions from its direct operations by 2040.
What a sustainable supply chain looks like in 2014 with particular focus on cocoa, fish, tea, coffee, mint and palm oil.
Mars' new Deforestation policy, which prioritizes palm oil, beef, paper and pulp, and soy.
What it means to "communicate responsibly."
Mars' commitment to investing in Associates and their communities
The chat will be led by Barry Parkin, Mars' Chief Sustainability Officer, who is responsible for developing and driving Mars' global sustainability programs across the value chain from farmers through to consumers. TriplePundit founder Nick Aster and CSRwire's Editorial Director Aman Singh will facilitate the chat, providing an opportunity for journalists, bloggers, industry analysts and other interested parties to get an in-depth look at Mars' sustainability strategy.
Details:
Date: Thursday, July 24, 2014
Time: 11:30am-12:30pm ET / 8:30am-9:30am PT
Where: To register, drop us an email at nick@triplepundit.com and join us on Twitter at #MarsSusty
Accounts to follow: @MarsGlobal @triplepundit @CSRwire @nickaster @amansinghcsr
To RSVP Please send the following tweet:
I'm joining @NickAster & @AmanSinghCSR to talk to @MarsGlobal about sustainability & its 2013 PiA Summary http://bit.ly/MarsSusty #MarsSusty
About Mars, Incorporated
In 1911, Frank C. Mars made the first Mars candies in his Tacoma, Washington kitchen and established Mars' first roots as a confectionery company. In the 1920s, Forrest E. Mars, Sr. joined his father in business and together they launched the MILKY WAY® bar. In 1932, Forrest, Sr. moved to the United Kingdom with a dream of building a business based on the objective of creating a "mutuality of benefits for all stakeholders" – this objective serves as the foundation of Mars, Incorporated today. Based in McLean, Virginia, Mars has net sales of more than $33 billion, six business segments including Petcare, Chocolate, Wrigley, Food, Drinks, Symbioscience, and more than 75,000 Associates worldwide that are putting its Principles into action to make a difference for people and the planet through its performance.
Mars brands include: Petcare – PEDIGREE®, ROYAL CANIN®, WHISKAS®, BANFIELD® Pet Hospital, CESAR®, SHEBA®, DREAMIES® and NUTRO®; Chocolate – M&M'S®, SNICKERS®, DOVE®, GALAXY®, MARS®, MILKY WAY® and TWIX®; Wrigley – DOUBLEMINT®, EXTRA®, ORBIT® and 5™ chewing gums, SKITTLES® and STARBURST® candies, and ALTOIDS® AND LIFESAVERS® mints. Food – UNCLE BEN'S®, DOLMIO®, EBLY®, MASTERFOODS®, SEEDS OF CHANGE® and ROYCO®; Drinks – ALTERRA COFFEE ROASTERS™, THE BRIGHT TEA COMPANY™, KLIX® and FLAVIA®; Symbioscience – COCOAVIA® and WISDOM PANEL®.
For more information about Mars, Incorporated, please visit mars.com. Follow us: facebook.com/Mars, twitter.com/marsglobal, youtube.com/mars, linkedin.com/company/mars.
About TriplePundit
Founded in 2005, TriplePundit (3p) is a new-media company for the business community that cultivates awareness and understanding of the triple bottom line – an expanded spectrum of values and criteria for measuring organizational success: economic, ecological and social. With monthly readership exceeding 250K unique readers and tens of thousands more across social media, 3p is among the leading online destinations for conversations on sustainable business.
About CSRwire
CSRwire is the leading global source of corporate social responsibility and sustainability news. Founded in 1999 to advance the movement toward a more economically-just and environmentally-sustainable society and away from single bottom line capitalism, CSRwire has paved the way for new standards of corporate citizenship, earning the international respect of thought leaders, business leaders, academics, philanthropists, activists and the media community.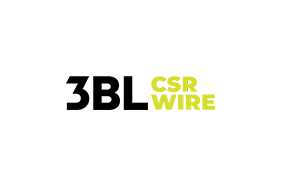 3BL CSRwire
3BL CSRwire
Respected and relied on by journalists, bloggers, business leaders and academics around the world, 3BL CSRwire is a dedicated, real-time source for major news and updates from within the worlds of ESG, corporate social responsibility and sustainability.
3BL CSRwire offers a-la-carte press release distribution to a global network of influential stakeholders and mainstream audiences—perfect for organizations just getting started in CSR or for those looking to get the most out of their corporate communications.
More from 3BL CSRwire