Published 11-17-23
Submitted by MasterCard Center for Inclusive Growth
The Mastercard Center for Inclusive Growth
At the APEC CEO Summit today, Mastercard's Center for Inclusive Growth (the Center) and CARE, an international humanitarian organization, announced the launch of Mastercard Strive Women — a new program that aims to strengthen the financial health and resilience of small businesses in the APEC economies of Peru and Vietnam, as well as in Pakistan, with a focus on small businesses led by women.
Strive Women recognizes that women-led small businesses are critical contributors to economies, communities, and households worldwide. The program will focus on strengthening the financial health of small businesses by working with local partners in each market to deliver tailored financial products and support services, while addressing unique gender barriers that women-led businesses face. The program aims to reach 6 million entrepreneurs through campaigns, while directly supporting over 300,000 entrepreneurs — the majority being women — to grow their businesses and increase their economic potential.
Strive Women will be carried out by CARE through a $9 million grant from the Mastercard Impact Fund. This new phase of partnership between CARE and the Center follows the success of the Ignite program, which unlocked $154.9 million in loans from an initial grant of $5.26 million. Following the program, 79% of female participants increased their sales, and 89% reported increased confidence in running the business.
"When women entrepreneurs have access to the tools and resources they need, they pay it back and pay it forward, enabling their businesses and their communities to thrive," said Shamina Singh, Founder and President of the Mastercard Center for Inclusive Growth. "We're launching Strive Women because we've seen that the right investment at the right time can help ensure that women-led businesses prosper around the world."
Strive Women will extend the scale and impact of previous programs in each market, going deeper by building a broader ecosystem of stakeholders committed to long-term support for women-led small businesses. The program will also address the unique gender barriers women-led businesses face by testing innovations related to the climate crisis and childcare, which both disproportionately impact women. By taking a women-centered approach, Strive Women will seek to develop methods that can help small business owners balance both household and business cashflow, prepare for and manage financial shocks, and increase women's decision-making power.
Strive Women joins Mastercard's portfolio of philanthropic small business support programs, called Mastercard Strive, which helps small businesses thrive in the digital economy.
The Strive Women program will focus on four core pillars of work. These include supporting women-led small businesses to grow through increasing access and usage of financial products; partnering with financial services providers to co-design tailored products that best serve women-led small businesses; innovating to overcome gender barriers for women-led small businesses, such as childcare; and building ecosystems of support for women small business owners by activating networks and sharing learning tools.
"Women entrepreneurs have been consistently let down by systems that are not accessible or designed for them," said Michelle Nunn, President and CEO of CARE USA. "But evidence shows that women make even stronger entrepreneurs and better financial customers than men, consistently and reliably repaying their loans. Women also put their profits back into their families, create more jobs and bring greater prosperity for their communities. We invite those committed to the financial health and inclusion of women entrepreneurs to join us to build a more equitable ecosystem."
More broadly, Women's Entrepreneurship at CARE aims to improve financial security and economic empowerment for 3 million entrepreneurs and employees, reach 30 million people, and mobilize more than $500 million USD in private capital by 2030. Mastercard is committed to connecting 1 billion people and 50 million micro, small and medium enterprises (MSMEs) to the digital economy by 2025, and recently reached a milestone of providing 25 million women entrepreneurs with solutions that can help grow their businesses.
More details on Strive Women are available at www.care.org/strivewomen.
About Mastercard Strive 
Launched in 2021 and supported by the Mastercard Center for Inclusive Growth, Mastercard Strive is a portfolio of philanthropic programs that aim to help small businesses around the world thrive in the digital economy. Through targeted grantmaking and local partnerships, Mastercard Strive supports small businesses with the goal of building more resilient enterprises that have more opportunities to grow and succeed. Strive Women joins programs active across the globe, including in the U.S., the U.K., Indonesia, Malaysia, and more.
About the Mastercard Center for Inclusive Growth 
The Mastercard Center for Inclusive Growth advances equitable and sustainable economic growth and financial inclusion around the world. The Center leverages the company's core assets and competencies, including data insights, expertise, and technology, while administering the philanthropic Mastercard Impact Fund, to produce independent research, scale global programs, and empower a community of thinkers, leaders, and doers on the front lines of inclusive growth. For more information and to receive its latest insights, follow the Center on LinkedIn, Instagram and subscribe to its newsletter.
About CARE 
Founded in 1945 with the creation of the CARE Package®, CARE is a leading humanitarian organization fighting global poverty. CARE places special focus on working alongside women and girls. Equipped with the proper resources, women and girls have the power to lift whole families and entire communities out of poverty. This year, CARE and partners worked in 111 countries implementing 1,600 poverty-fighting development and humanitarian aid projects and initiatives that reached 174,000,000 people. To learn more, visit www.care.org.
About Mastercard (NYSE: MA) 
Mastercard is a global technology company in the payments industry. Our mission is to connect and power an inclusive, digital economy that benefits everyone, everywhere by making transactions safe, simple, smart and accessible. Using secure data and networks, partnerships and passion, our innovations and solutions help individuals, financial institutions, governments and businesses realize their greatest potential. With connections across more than 210 countries and territories, we are building a sustainable world that unlocks priceless possibilities for all.
Originally published by The Mastercard Center for Inclusive Growth 
Check out more content from The Mastercard Center for Inclusive Growth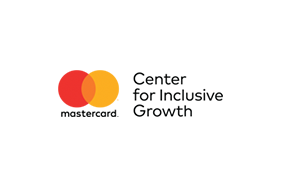 MasterCard Center for Inclusive Growth
MasterCard Center for Inclusive Growth
The Mastercard Center for Inclusive Growth focuses on promoting equitable and sustainable economic growth and financial inclusion around the world. As an independent Mastercard subsidiary, it combines data, expertise and technology with philanthropic investments to empower a community of thinkers, leaders and innovators on the frontlines of inclusive growth. Follow us on Twitter @CNTR4growth and subscribe to receive our latest insights.
More from MasterCard Center for Inclusive Growth