Published 11-16-23
Submitted by Ray C. Anderson Foundation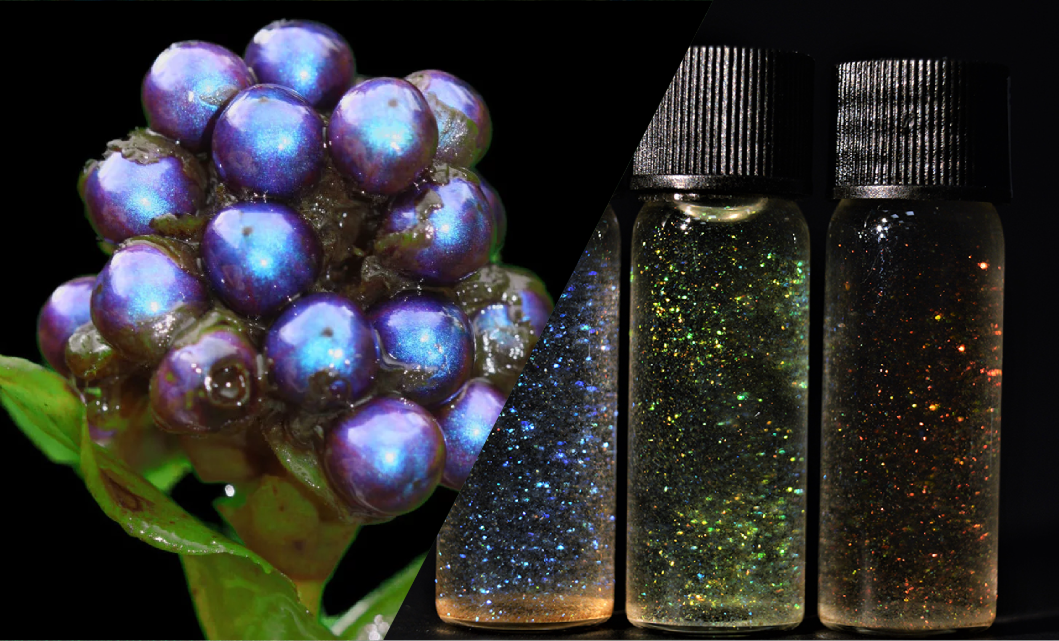 The Biomimicry Institute has awarded the 2023 Ray of Hope Prize® to Sparxell, a UK-based startup creating the next generation of colors and effects with vibrant, metal-like pigments, all from plant-based cellulose. By utilizing cellulose in pigment creation, Sparxell is showing how nature can color our world without the harmful environmental and societal effects of mined and synthetic minerals. As the 2023 Ray of Hope Prize recipient, Sparxell will receive $100,000 in recognition of their groundbreaking, nature-inspired work.
Conventional substances used to make our cosmetics, fabrics, paints, and packaging bright and colorful often include metal or oil-derived ingredients. For example, the most common pigment, titanium dioxide, causes a white coloration and is used in products from toothpaste to paper. Titanium dioxide has recently been recognized as a carcinogen and banned from food and pharmaceutical products in the EU. Furthermore, many pigments are mined in areas with high incident rates of human rights abuses, and where water is scarce. There are some bio-derived alternatives, but none have been able to compete at cost… until Sparxell.
Sparxell has developed the first environmentally sustainable, non-toxic pigments, glitters, sequins and films. Inspired by structural color found in nature, such as that of a butterfly wing or peacock feather, their patented manufacturing technique transforms cellulose nanocrystals (CNCs) into uniformly reflective, highly dispersible particles with state-of-the-art performance. The pigments are a fully biodegradable, easier to source alternative with an unlimited range of vibrant colors. Because they can tune the structural color pigments to reflect specific bands of light, their pigments even enable new types of color. All this is possible while adhering to the recent EU regulations on microplastics like glitter.
"We are proud to support Sparxell as the 2023 recipient of the Ray of Hope Prize for their work to eliminate toxic chemicals from colorants," said Dr. Sarah McInerney, Ray of Hope Program Manager at the Biomimicry Institute. "The incredible Sparxell team has developed a truly unique performance pigment from plant-based cellulose and in the process has set a new eco standard for a diversity of industries. As a platform technology, the potential environmental and social impact of this solution is huge. We couldn't be more excited to support them on their journey."
That journey began at the University of Cambridge's Bio Inspired Photonics Lab (UK), where Sparxell's founders replicated the exact nanostructure that gives the fruit of Pollia condensata (marble berry) its vibrant blue color using cellulose and nothing else. Now, their growing team is poised to transform industries as diverse as cosmetics, paints, fabrics, automobile coatings, and packaging, with sustainable vibrant colorants representing a $65B market overall.
This year's runner up recognition goes to Canada-based Anodyne Chemistries, which uses nature's catalysts, enzymes, to solve the chemical industry's reliance on fossil fuels, replacing high temperature petrochemistry with a sustainable bioelectric process. Currently, the chemical industry is responsible for about 5% of global CO2 emissions. Transforming this sector is key to moving away from a fossil-fuel-based economy and to achieving net-zero targets. Anodyne Chemistries has developed a method of bioelectrical manufacturing that can compete against petrochemical economics, overcome the limitations of biological fermentation, and outperform electrochemistry, which are the main industrial processes and emergent technologies for chemical production, respectively. This technology could decarbonize the chemical industry while applying principles of Green Chemistry to create a new generation of climate positive chemicals.
"I'm thrilled by the quality of all of the finalists in the Ray of Hope Prize this year, in particular Sparxell and Anodyne Chemistries," said John Lanier, Executive Director of the Ray C. Anderson Foundation and selection committee member. "These businesses are in completely different sectors, but each has a solid business plan, a compelling biomimicry story, and most importantly, an authentic social and environmental ethos. Anodyne's enzymes offer an exciting pathway to low carbon chemicals, while Sparxell has unlocked cellulose as a source for pigments of nearly any color. With nature as their teachers, they are primed to positively disrupt their industries."
Other Ray of Hope Prize finalists include ACatechol, Inc. (United States), BloomX (Israel), Cellugy (Denmark), CompPair Technologies (Switzerland), Coral Vita (United States), Ivu Biologics Inc (United States), Lux Bio (formerly Nyoka) (Canada), and Noovi (Formally Vitiport) (Slovakia).
The Ray of Hope Prize, created in honor of the late sustainable business pioneer Ray C. Anderson, is awarded each year to the world's top nature-inspired startup after 10 finalist teams conclude a 10-week accelerator program. This year, Sparxell, Anodyne Chemistries, and the eight other participating companies were selected from a pool of 215 applications from 54 different countries. The finalists and recipients were chosen through a series of expert judging panels, which included investors and trusted experts in the field of biomimicry, industry, and entrepreneurship, including representatives from NASA, Overview Earth, and L'Oréal. All participants in the program learned about sustainable business practices, met with industry and startup mentors, refined their scientific communication skills, and were invited to an immersive retreat in the Yosemite National Park to reconnect with the natural world and form bonds with their fellow bio-inspired innovators.
The 2023 Ray of Hope Prize was made possible by The Biomimicry Institute's generous partners, the Ray C. Anderson Foundation, with support from the Bentley Environmental Foundation, and L'Oréal. For more information about the Ray of Hope Prize or how to support this initiative, visit biomimicry.org/rayofhopeprize or email rayofhopeprize@biomimicry.org.
About the Biomimicry Institute
The Biomimicry Institute is a 501(c)(3) not-for-profit organization founded in 2006 that empowers people to seek nature-inspired solutions for a healthy planet. To advance the solution process, the Institute offers AskNature.org, a free online tool that contains strategies found in nature and examples of ways they are used in design. It also offers biomimicry curriculum, hosts a Youth Design Challenge to support project-based education; a Biomimicry Launchpad to help scientists, inventors, and innovators bring their nature-inspired ideas into reality; and the Ray of Hope Prize® which identifies the top nature-inspired startups in the world and fosters their growth by providing a 10-week program focused on sustainable business training, communications support, and opportunities for non-dilutive funding. The Institute's collaborative initiative, Design for Transformation, pilots technologies that convert discarded clothes and textiles into biocompatible raw materials. For more information, visit biomimicry.org.
Media Contact
Marc Cappelletti, Director of Marketing and Outreach 
marc.cappelletti@biomimicry.org 
215-435-6185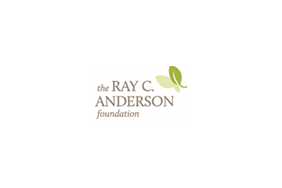 Ray C. Anderson Foundation
Ray C. Anderson Foundation
The Ray C. Anderson Foundation was created in honor of the late Ray C. Anderson (1934-2011), founder of Interface, Inc. During his time at Interface, Ray championed the notion of businesses doing well by doing good. It's these noble qualities of advancing knowledge and innovation around environmental stewardship and sustainability that recognized Ray as a pioneer in industrial ecology.
The purpose of the Foundation is to perpetuate these shared values and continue the legacy that Ray left behind. Through research and funding, the Foundation aims to help create a better world for future generations—tomorrow's child. Join us as the story of the Foundation continues to unfold.
More from Ray C. Anderson Foundation