Published 11-06-23
Submitted by Northern Trust Corporation
Northern Trust has held its second Charity Trading Day, with employees across the world participating to benefit four global charities, aligned with the company's philanthropic strategy.
As part of Achieving Greater Together, Northern Trust's signature month of service, a total of $700,000 will be donated to the charities: Global Red Cross and Red Crescent Network, Ronald McDonald House Charities (RMHC), War Child and World Central Kitchen.
In the coming year, Northern Trust employees and clients will also donate thousands of volunteering hours in support of a number of the charities' projects across the globe. The global effort, led by Northern Trust Asset Servicing, aligns with the company's long-term community investment strategy to support those who have been marginalized with more opportunities to achieve long-term financial success.
"Our first Charity Trading Day in 2022 benefited global housing non-profit Habitat for Humanity International, with our employees donating many volunteering hours as well," said Pete Cherecwich, president of Northern Trust Asset Servicing. "This year, we are delighted to make an even broader impact in our communities by supporting charities that collectively align with all four pillars of Northern Trust's philanthropic focus: accessible healthcare, affordable housing, educational excellence and food security."
Charity Trading Day is a cornerstone of the Asset Servicing business unit's support for Northern Trust's philanthropic strategy. The day involved hundreds of Asset Servicing employees, from trading and operations, through to client servicing and compliance and followed the sun across Capital Markets trading desks starting in Sydney and on to Singapore, London and Chicago.
"The exceptional support of our clients and trading partners has been invaluable in helping us spread awareness for these deserving causes," said Guy Gibson, global head of Northern Trust Capital Markets, Banking & Treasury Services. "We are also grateful to our employees who volunteered during the month of Achieving Greater Together in further support of their missions."
Following the October month of service, employees will also have the opportunity to come together with clients and volunteer for the charities through 2024 in line with Northern Trust's commitment to give back to the communities in which we live and work.
Northern Trust Capital Markets* provides brokerage, foreign exchange, securities finance and transition management services. It is a division of Northern Trust Asset Servicing, which provides asset servicing, fund administration and middle office solutions to institutional asset managers and asset owners around the globe.
* About Northern Trust Capital Markets
Northern Trust Capital Markets is comprised of a number of Northern Trust entities that provide trading and execution services on behalf of institutional clients, including foreign exchange, institutional brokerage, securities finance and transition management services. Institutional Brokerage services including ITS are provided by Northern Trust Global Services SE (NTGS SE) in the European Economic Area (EEA), Northern Trust Securities LLP (NTS LLP) in the rest of EMEA, Northern Trust Securities Australia Pty Ltd (NTSA) in APAC and Northern Trust Securities, Inc. (NTSI) in the United States, member FINRA, SIPC and a subsidiary of Northern Trust Corporation.
About Global Red Cross and Red Crescent Network
Through the Global Red Cross and Red Crescent Network, American Red Cross International Services helps prevent and alleviate human suffering in the face of emergencies by delivering aid and support programs around the world. Learn More
About Ronald McDonald House Charities® 
Ronald McDonald House Charities® (RMHC®), is a non-profit, 501(c)(3) corporation that creates, finds and supports programs that directly improve the health and well-being of children and their families. Through a global network of more than 260 Chapters in 62 countries and regions, RMHC enables, facilitates and supports family-centered care through three core programs: the Ronald McDonald House®, the Ronald McDonald Family Room® and the Ronald McDonald Care Mobile®. RMHC programs help families with ill or injured children stay together and near leading hospitals and health care services worldwide, ensuring they have access to the medical care their child needs while fully supported and actively involved in their child's care. Learn More
About War Child
At War Child we are driven by a single goal – ensuring a safe future for every child affected by war. We work in the hardest to reach places to support those who are hardest hit, to protect, educate and stand up for the rights of children, when they need us most. We will never give up on children affected by conflict. Learn More
About World Central Kitchen
Founded in 2010 by Chef José Andrés, World Central Kitchen (WCK) is a nonprofit organization that is first to the frontlines providing fresh meals in response to crises. Applying our model of quick action, leveraging local resources, and adapting in real time, WCK has served more than 300 million nourishing meals around the world. When disaster strikes, WCK's Relief Team mobilizes with the urgency of now to start cooking and serving meals to people in need. By partnering with organizations on the ground and activating a network of local restaurants, food trucks, or emergency kitchens, WCK serves comforting meals to survivors of disasters quickly and effectively. To support regional economies, WCK prioritizes purchasing local ingredients to cook with or distribute directly to families in need. We know that good food provides not only nourishment, but also comfort and hope, especially in times of crisis. Learn more at wck.org.
About Northern Trust
Northern Trust Corporation (Nasdaq: NTRS) is a leading provider of wealth management, asset servicing, asset management and banking to corporations, institutions, affluent families and individuals. Founded in Chicago in 1889, Northern Trust has a global presence with offices in 25 U.S. states and Washington, D.C., and across 22 locations in Canada, Europe, the Middle East and the Asia-Pacific region. As of September 30, 2023, Northern Trust had assets under custody/administration of US$14.2 trillion, and assets under management of US$1.3 trillion. For more than 130 years, Northern Trust has earned distinction as an industry leader for exceptional service, financial expertise, integrity and innovation. Visit us on northerntrust.com. Follow us on X (formerly Twitter) @NorthernTrust or Northern Trust Corporation on LinkedIn.
Northern Trust Corporation, Head Office: 50 South La Salle Street, Chicago, Illinois 60603 U.S.A., incorporated with limited liability in the U.S. Global legal and regulatory information can be found at https://www.northerntrust.com/terms-and-conditions.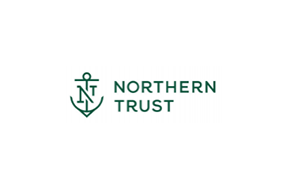 Northern Trust Corporation
Northern Trust Corporation
Northern Trust is a leading provider of asset servicing, fund administration, investment management, banking and fiduciary solutions for corporations, institutions, and affluent individuals worldwide.
Since 1889, when Northern Trust was founded in Chicago, we have aligned our efforts with our three guiding Principles That Endure: Service, Expertise, and Integrity. Together, they reflect the three cornerstones of business conduct which we strive to instil in our employees, whom we call partners, and to provide to our clients and the communities we serve worldwide.
More from Northern Trust Corporation