Published 10-11-23
Submitted by Yum China
Recently, Yum China has been named to Fortune's 2023 Change the World list, an annual list that recognizes a select group of companies that have had a positive social impact through activities that are part of their core business strategy. Yum China is one of 59 companies selected by Fortune's reporters and editors for inclusion in the 2023 list - and is the only restaurant company to be included.
Fortune highlighted the impact of Yum China's flagship One Yuan Donation program, noting that the campaign as a whole has channeled over $30 million to rural development initiatives since its inception. The program, currently in its 16th year of operation, was launched in 2008 in partnership with the China Foundation for Rural Development (CFRD). By enabling customers in China to conveniently make small donations when they place their orders, the program is contributing to poverty alleviation and rural revitalization by improving the diet and nutrition of children in remote areas and enhancing their access to digital education. Over the years, Yum China have continuously fine-tuned the program to increase its impact, including extending fundraising channels from its stores to its own online platforms. Since its establishment, more than 130 million customers have donated directly to the One Yuan Donation Program.
Fortune also recognized Yum China's Grow Local Initiative, specifically its achievements in introducing local produce, from Yunnan truffles to Tartary buckwheat, to the Company's e-commerce platforms and menu items. Fortune also noted that Yum China is striving to reduce its food waste and carbon emissions, in part by establishing food banks to distribute excess food to the local community.
Yum China's sustainability strategy is an essential component of the Company's long-term business growth strategy. With a focus on three strategic pillars - Food, Environment, and People, Yum China always strives to Create A Responsible Ecosystem by building sustainable restaurants, creating a sustainable supply chain, and contributing to sustainable communities in collaboration with all stakeholders. In recent years, the Company has continued to make significant progress towards its Environmental, Social and Governance (ESG) goals. This includes actively executing on its plan to decarbonize its business, continuously exploring ways to optimize its operations by reducing its reliance on natural resources and increasing waste recycling, keeping food safety as the Company's top priority, and adhering firmly to the Company's "People First" philosophy.
Fortune's annual Change the World list identifies companies that have made an important social or environmental impact through their profit-making strategy and operations. The Change the World list recognizes companies that have had a positive social impact through activities that are part of their core business strategy. As Fortune assesses nominees, among the factors that matter most are measurable social impact, business results, and degree of innovation.
To view the full Fortune 2023 Change the World list visit here.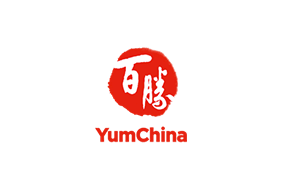 Yum China
Yum China
About Yum China Holdings, Inc.
Yum China Holdings, Inc. is a licensee of Yum! Brands in mainland China. It has exclusive rights in mainland China to KFC, China's leading quick-service restaurant brand, Pizza Hut, the leading casual dining restaurant brand in China, and Taco Bell, a California-based restaurant chain serving innovative Mexican-inspired food. Yum China also owns the Little Sheep, Huang Ji Huang, East Dawning and COFFii & JOY concepts outright. In addition, Yum China has partnered with Lavazza to explore and develop the Lavazza coffee shop concept in China. The Company had over 12,000 restaurants in over 1,700 cities at the end of February 2022.
In 2021, Yum China ranked # 363 on the Fortune 500 list and was named to TIME100 Most Influential Companies list. Yum China has also been selected as member of both Dow Jones Sustainability Indices (DJSI): World Index and Emerging Market Index. In 2022, the Company was named to the Bloomberg Gender-Equality Index and was certified as a Top Employer 2022 in China by the Top Employers Institute, both for the fourth consecutive year. For more information, please visit http://ir.yumchina.com.
More from Yum China