Published 09-18-23
Submitted by The PNC Financial Services Group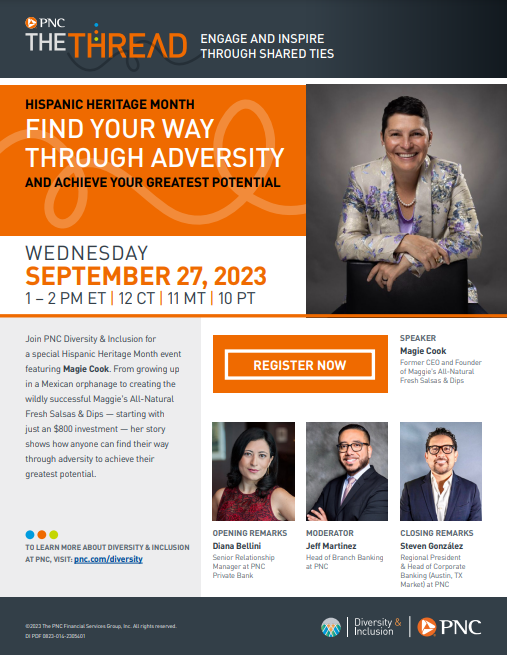 From growing up in a Mexican orphanage to creating the wildly successful Maggie's All Natural Fresh Salsa's & Dips starting with an $800 investment, Maggie Cook's story shows how anyone can find their way through adversity to achieve their greatest potential.
Presenter
Magie Cook
Businesswoman Founder, Maggie's Salsa
Magie Cook, whose birth name is Magdalena De La Cruz Cook Garcia, is a Latino businesswoman who was born in an orphanage in Mexico. She grew up in poverty along with 68 brothers and sisters. She missed her opportunity to play basketball for the Mexican National team because she broke her collarbone. Shortly after she immigrated to the US on a basketball scholarship at the University of Charleston.

After obtaining her college degree, and not being able to find a job, Magie became homeless and lived on the streets. When someone recognized her, she was given a place to stay. A few weeks later, she entered a Fresh Salsa competition for the State of West Virginia and won unanimously. At this event, she was given $800 to start her business.

Not knowing anything about business and with perseverance, she created Maggie's All-Natural Fresh Salsas & Dips, a company that grew into a multi-million-dollar business within 4 years and distributed products across 38 states to major supermarkets such as Wal-Mart, Sam's Club, Whole Foods and many more. At the height of her success in 2015, Maggie's Salsa sold to Campbell's Soup. Shortly after, she went back to Mexico and rescued 31 orphaned children from a drug cartel.

As a CEO, Magie shares her unconventional and unique techniques that made her super successful in life and in business. She was given a Nobel Entrepreneurial Prize in Mexico, the Small Business Administration gave her the Young Entrepreneur of the Year Award, the University of Charleston Awarded her into the Hall of Fame, and West Virginia inducted her into their Generation Next, 40 under 40. Magie is a board member of AFIRE Pinellas, an organization that provides educational scholarships to kids with disabilities.
Opening Remarks
Diana Bellini
Senior Relationship Strategist PNC Private Bank
Diana Bellini is a vice president and a senior relationship strategist; in her role, she coordinates a team to assist clients in pursuing the peace of mind that comes from knowing that the important aspects of a financial life are thoughtfully orchestrated. Diana has the knowledge, experience and desire to help bring about successful outcomes as a trusted advisor.

Prior to joining PNC Private Bank in 2019, Diana was a Vice President and a Relationship Manager within BNY Mellon's Asset Servicing division. Her duties included having overall accountability for the seamless delivery of the firm's comprehensive suite of asset servicing products and services. For over a decade at BNY Mellon, Diana helped direct strategic priorities to promote and ensure long term partnerships with clients and stakeholders.

Diana graduated with a Bachelor of Science in business management from King's College and with a Graduate Certificate in organizational leadership from Carnegie Mellon University's Tepper School of Business. Diana was past president and board advisor of ALPFA (Association of Latino Professionals for America) Pittsburgh Chapter, a past board member of Junior Achievement of Western Pennsylvania, and a volunteer with Girl Scouts of Western Pennsylvania.

In 2016, Diana was selected as one of the recipients of the Pittsburgh's Magazine 40 under 40. Diana received the 2019 company of distinction award from Girls Scouts of Western Pennsylvania for her leadership role at creating a cybersecurity program for girls in K 5th grade. In 2022, Diana became a board member of the Marco Island Center for the Arts and Marco Island Noontime Rotary Club. She is a volunteer with Our Daily Bread Food Pantry. Diana is currently a committee member of the PNC Private Bank Diversity, and Inclusion Council.
Moderator
Jeffrey Martinez
Head of Branch Banking PNC Bank
Jeffrey (Jeff) Martinez is Executive Vice President and Head of Branch Banking at PNC Bank. In his current role, Jeff is responsible for more than 2,500 branches, and nearly 17,000 employees, through PNC's coast to coast footprint. He also serves as a Chair for PNC's Military Advisory Council and is the Executive Sponsor of PNC's Latino and Multicultural Employee Business Resource Group.

Martinez joined PNC in 2014 and adds more than 20 years of retail banking experience to PNC's senior leadership team. Prior to PNC, he held various roles at JPMorgan Chase for more than 10 years, including responsibilities as a First Vice President, District Manager. Martinez also served the country for nine years in the U.S. Army National Guard. He deployed twice in support of Operation Iraqi Freedom and has been awarded three Army Commendation Medals and New Jersey's Distinguished Service Medal.

Martinez is passionate about giving back to the communities where he lives and works and is involved with several non-profit organizations. He is the Treasurer of the Statewide Hispanic Chamber of Commerce of New Jersey, a LatinoJustice PRLDEF Board Member, and a Member of the NJCU Foundation Board and the Hudson County Community College Employer Advisory Board. Martinez is also an executive advisor to CAALE, whose mission is centered on supporting education within our community and he works with the Association of Latino Professionals for America to educate students and professionals through informative presentations hosted at New Jersey and New York universities.

Martinez earned a Bachelor of Science degree in business management from Rutgers University and completed the CBA Executive Banking School Program at Furman University.
Closing Remarks
Steven González
SVP, Regional President & Head of Corporate Banking, Austin PNC Bank
Steven González is regional president for PNC Bank in Austin. In this role, González has direct oversight of business development, building and maintaining client relationships and leading philanthropic initiatives in support of the Austin community.

González currently serves as market leader for PNC's Corporate Banking business in Austin and will continue in the role in addition to the regional president position. With more than 15 years of financial industry experience in Austin, González's background includes a range of middle market and corporate banking roles, with responsibilities that included credit analysis, treasury management and business development. As the market leader for Corporate Banking, he and his team help companies with annual revenue greater than $50 million grow their businesses while delivering products and services, along with well-informed and timely advice to help them accomplish their business goals.

He prioritizes community involvement and is an active participant in the region. He currently serves on the Andy Roddick Foundation Leadership Council.

González received a Bachelor of Business Administration specializing in accounting and finance from The University of Texas at El Paso.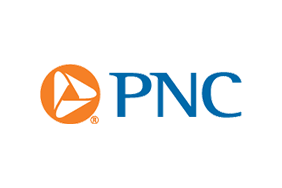 The PNC Financial Services Group
The PNC Financial Services Group
As a Main Street bank, we are committed to delivering on each of our strategic priorities while looking out for the best interests of all of our stakeholders, including our customers, communities, employees and shareholders. Our focus on operating with integrity drives us to help our customers achieve their goals while also strengthening our communities, reducing our environmental impact and empowering our employees to grow.
Email us to sign up for our CSR Newsletter
More from The PNC Financial Services Group