Published 08-28-23
Submitted by Tata Consultancy Services (TCS)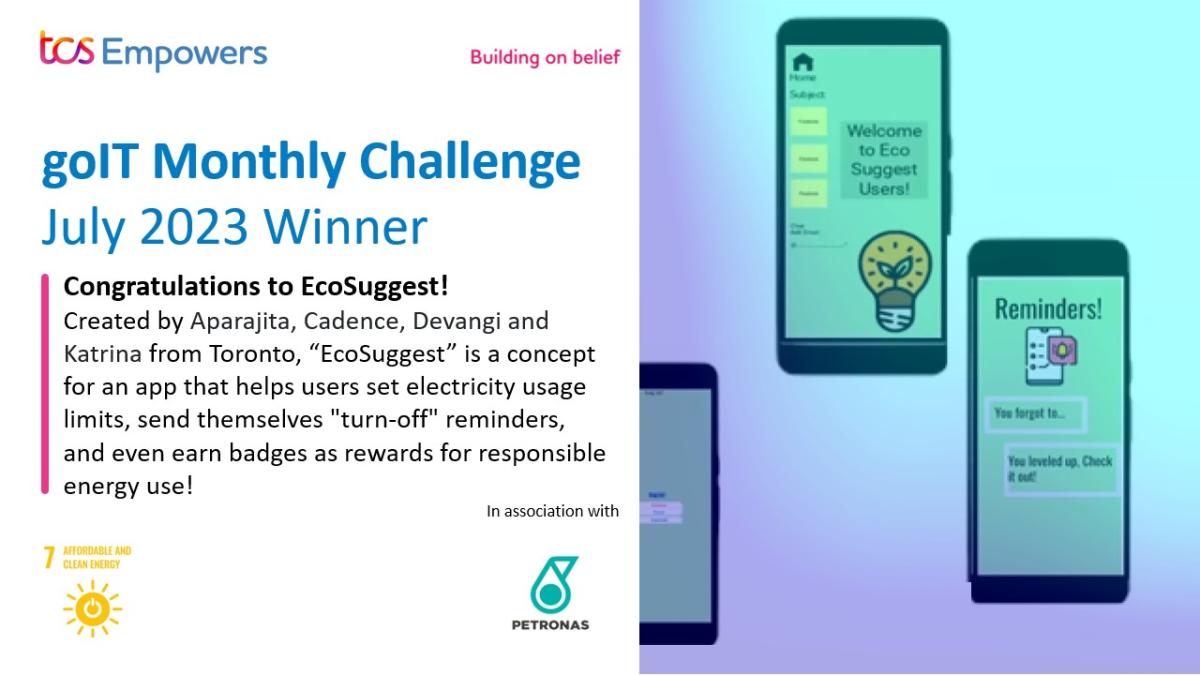 Four students from Toronto carefully examined the complicated issue presented by United Nations' 2030 Sustainable Development Goal (SDG) 7 and decided they needn't be powerless to help ensure the availability of clean energy for all. Knowing that small changes can add up, middle school students Aparajita, Cadence, Devangi and Katrina developed a concept for an app that would:
Reduce pollution and greenhouse gas emissions associated with energy production
Free up resources for establishing cleaner sources of electricity and bioenergy
Lessen people's and nations' dependence on fossil fuels
Offer tangible benefits and incentives to users
Be easy to use
The idea behind their app, EcoSuggest, is to make it easy for people to address climate change, home and business economics, and the need for clean energy resources across the globe.
They presented their concept through a three-minute pitch video submitted to the Tata Consultancy Services (TCS) goIT Monthly Challenge for July, a global competition presented in partnership with Petronas, a global energy group committed to delivering and optimizing clean energy solutions to empower sustainable societal growth.
Every month, TCS and its SDG Ambassador partners use the goIT Monthly challenge to engage K-12 students across the globe in a STEM competition focused on one of the 17 SDGs. The goIT Monthly Challenge for July invited individual students or teams to create digital innovation concepts that could help create affordable and clean energy options, addressing issues raised by SDG 7: Affordable and Clean Energy.
Lack of access to modern energy systems is often a constraint to human and economic development, and wasteful use of renewable and non-renewable sources of energy can have a negative impact on climate and health. To address these challenges, EcoSuggest helps people play a role in climate change mitigation and disaster risk reduction. The app is designed to help users set electricity usage limits, send themselves turn-off reminders, and even helps users earn badges as rewards for responsible energy use. As the North American winner for the month, EcoSuggest and its creators will eventually compete for mentoring opportunities, recognition and prizes associated with TCS' North American and Global Innovator of the Year competitions.
The winners' submission was accompanied by a statement of concern: "We need to save energy so that we have energy left to use. There are so many kilowatts of energy being wasted each year that could be used in other areas of the world that do not have power and save the average homeowner a lot of money each year."
The pitch video by Aparajita, Cadence, Devangi and Katrina is available for viewing at the bottom of the TCS goIT Monthly Challenge website.
About goIT Monthly Challenge
TCS's Go Innovate Together program (goIT) is TCS' flagship STEM education program. Focusing on digital innovation and career readiness, goIT engages students from diverse backgrounds to bridge the learning curve between Science, Technology, Engineering and Math (STEM) subjects and computer science, design thinking and digital innovation. The program offers an industry-developed, customizable curriculum that teaches students the 21st century skills necessary for a career in technology. Lessons cover topics including the innovation life cycle, rapid prototyping, artificial intelligence and machine learning, and more.
Since the inception of the goIT Monthly Challenge in the summer of 2020, thousands of students across the globe have used key principles from goIT to design tech-based solutions and submit a pitch video based on the Challenge's monthly theme. Each month, TCS co-hosts the event with an SDG ambassador, a globally minded nonprofit and TCS customer. The Challenge has engaged a growing number of teachers and students every month and has explored topics from ranging from gender equality to systemic racism to protecting life under water.
Visit the goIT Monthly Challenge competition website to learn how to get students involved in upcoming challenges at: http://on.tcs.com/goIT-ENG.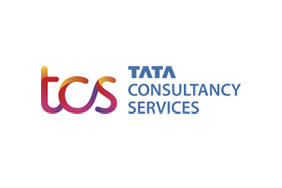 Tata Consultancy Services (TCS)
Tata Consultancy Services (TCS)
Tata Consultancy Services is an IT services, consulting and business solutions organization that has been partnering with many of the world's largest businesses in their transformation journeys for over 55 years. Its consulting-led, cognitive powered, portfolio of business, technology and engineering services and solutions is delivered through its unique Location Independent Agile™ delivery model, recognized as a benchmark of excellence in software development.
A part of the Tata group, India's largest multinational business group, TCS has over 614,000 of the world's best-trained consultants in 55 countries. The company generated consolidated revenues of US $27.9 billion in the fiscal year ended March 31, 2023, and is listed on the BSE and the NSE in India. TCS' proactive stance on climate change and award-winning work with communities across the world have earned it a place in leading sustainability indices such as the MSCI Global Sustainability Index and the FTSE4Good Emerging Index. For more information, visit www.tcs.com.
More from Tata Consultancy Services (TCS)