Published 07-19-23
Submitted by VMware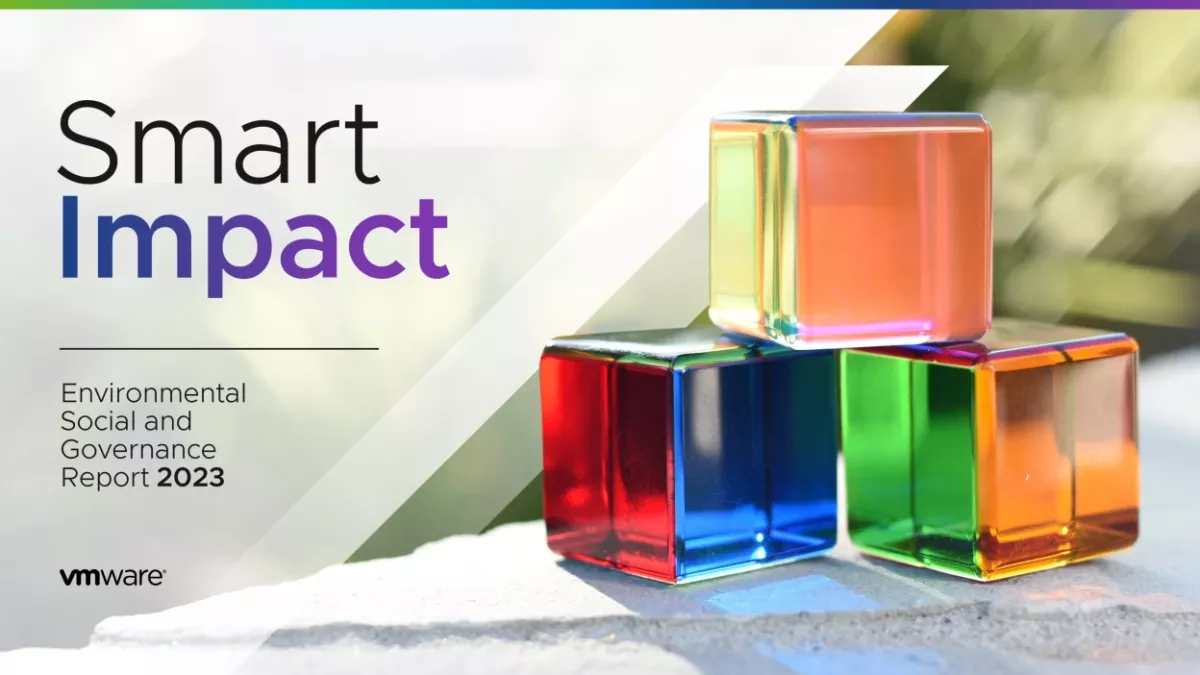 PALO ALTO, Calif., July 19, 2023 /CSRwire/ - VMware, Inc., (NYSE:VMW), a leading innovator in enterprise software, today released its 2023 Environmental, Social and Governance (ESG) report sharing progress made toward the company's 2030 Agenda. The 2030 Agenda serves as a compass to guide business actions and commitments to drive outcomes of sustainability, equity and trust.
"Every product we engineer, every customer we support and every employee we empower brings us one step closer to a more sustainable, equitable and secure future," said Nicola Acutt, Chief Sustainability Officer and VP of ESG at VMware. "Throughout our ESG journey, we have continually pushed ourselves to implement a smarter, systemwide approach while staying true to our core intent of serving the needs of our customers while growing our own resiliency. We remain laser-focused on achieving our 2030 commitments and continuing forward by prioritizing innovation and impact."
The progress detailed in this report demonstrates VMware's commitment to engineering a more sustainable multi-cloud that helps customers meet their environmental goals, support their diverse and distributed workforce, and operate a more secure, privacy-aware digital infrastructure.
Decarbonizing Digital Infrastructure Along the Path to Net Zero
VMware's sustainability strategy is grounded in visibility, efficiency, and renewable energy. When executed together, VMware operationalizes its smart impact strategy while also empowering customers and partners to achieve their own environmental goals. VMware has made meaningful progress in the past year toward its sustainability goals, including:
Launched the Green Score feature in VMware Aria Operations Cloud, which provides recommendations for customers to further optimize energy and carbon in their cloud environments.
Expanded the VMware Zero Carbon Committed initiative by adding 24 VMware Cloud Services Provider™ partners committed to renewable energy, reaching a total of more than 50 partners.
Joined the European Green Digital Coalition to partner with other IT companies working to harness the emission-reducing potential of digital solutions.
Making Progress Toward an Equitable Future
VMware's pursuit of equity revolves around creating a diverse and inclusive work environment that allows all employees to experience a sense of belonging and community. This includes supporting diverse suppliers and developing distributed work solutions that enable customers to provide increased flexibility and digital access for their own employees. VMware's equity milestones in the past year include:
Prioritized investing a cumulative of more than $300 million since FY21 with diverse suppliers toward a $1.5 billion goal by 2030.
Enabled 85 percent of VMware people to support nonprofits of their choice through the VMware Foundation, impacting more than 15,000 organizations in 98 countries.
Empowered VMware people with more than 900,000 hours of training and development with an average of 25 hours per employee.
Building Trust within Tech
Earning stakeholder trust is crucial to forging the relationships needed to build a more sustainable, equitable and secure future. VMware strives to build this trust by responsibly managing data privacy, enhancing security to protect from cyberattacks and operating ethically on behalf of all stakeholders. Recognized as one of the most trustworthy software companies in America by Newsweek, VMware has made progress in the past year toward its goals, including:
Recognized as a cybersecurity innovator at the Cyber Defense Magazine InfoSec Awards, receiving honors for VMware Contexa, VMware NSX Distributed Firewall, VMware Carbon Black Container, VMware Carbon Black Cloud and VMware SASE.
Developed and rolled out a bespoke release lifecycle management platform so that product releases adhere to specific data privacy and security reviews and requirements.
Added company-wide DEI goals as a component of funding for all bonus-eligible employees.
VMware has a long history of leveraging data to drive progress on its commitments and has transparently reported its ESG performance since 2015. With 25 years of innovation informing this work, VMware's commitment to ESG and investments in smart opportunities grows our resiliency, better meets the evolving needs of our customers and maximizes our impact.
About VMware
VMware software powers the world's complex digital infrastructure. The company's cloud, app modernization, networking, security, and digital workspace offerings help customers deliver any application on any cloud across any device. Headquartered in Palo Alto, California, VMware is committed to being a force for good, from its breakthrough technology innovations to its global impact. For more information, please visit https://www.vmware.com/company.html
Additional Information
VMware's website is located at www.vmware.com, and its investor relations website is located at https://ir.vmware.com. VMware's goal is to maintain the investor relations website as a portal through which investors can easily find or navigate to pertinent information about VMware, all of which is made available free of charge. The additional information includes materials that VMware files with the SEC; announcements of investor conferences and events at which its executives talk about VMware's products, services and competitive strategies; webcasts of our quarterly earnings calls, investor conferences and events (archives of which are also available for a limited time); additional information on VMware's financial metrics, including reconciliations of non-GAAP financial measures to the most directly comparable GAAP measures; press releases on quarterly earnings, product and service announcements, legal developments and international news; corporate governance information; and other news, blogs and announcements that VMware may post from time to time that investors may find useful or interesting.
VMware U.S. Media Relations
PRinquiries@vmware.com
Investor Relations
Investor.Relations@vmware.com
Click here to view the original content.

VMware