Published 06-07-23
Submitted by The PNC Financial Services Group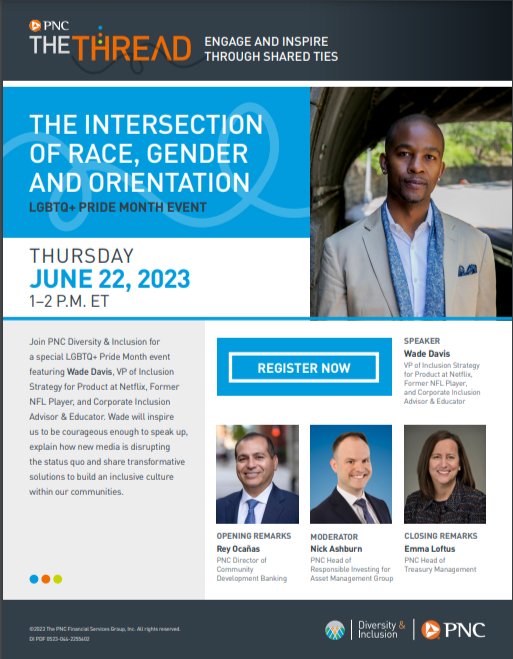 Join PNC Diversity & Inclusion for a special LGBTQ+ Pride Month event featuring Wade Davis, VP of Inclusion & Product at Netflix, Former NFL Player and Corporate Inclusion Advisor & Educator. Wade will inspire us to be courageous enough to speak up, explain how new media is disrupting the status quo, and share transformative solutions to build an inclusive culture within our communities.
Presenter
Wade Davis 
VP of Inclusion Strategy for Product at Netflix, Former NFL Player, Corporate Inclusion Advisor & Educator
Wade Davis is a former NFL player turned thought leader, public speaker and writer. Currently, Wade is the Vice President of Inclusion Strategy for Product at Netflix. He has previously consulted for companies such as Google, Procter & Gamble and Viacom.

Wade Davis is also a Global Champion for Innovation for UN Women, and serves on the boards of MeTooInternational, the Ms. Foundation for Women, the MAD Foundation, Promundo and the Peace Studio. Wade works to engage, educate and help men understand what actions to take toward gender equality. Wade was the NFL's first LGBTQ Inclusion consultant and has consulted for various professional sports leagues. He also consults with entertainment industry leaders such as Fox, Viacom and NBC.

A former national surrogate for President Obama, Wade has been an Adjunct Professor at NYU and Rutgers. He received an honorary degree from Northeastern University and is currently working on his first book.
Opening Remarks
J. Reymundo Ocañas 
EVP, Director of Community Development Banking
Rey Ocañas is responsible for PNC's team dedicated to improving low- and moderate-income communities across the bank's footprint using innovative financial transactions, the delivery of programs supporting families and neighborhoods and through strategic grantmaking coast to coast.

He leads the teams producing Community Reinvestment Act (CRA) eligible community development lending and investment across PNC markets, with a primary focus on commercial and residential real estate, community development financial institutions and opportunity zone financing.

Rey is responsible for the launch and delivery of PNC's $88 Billion Community Benefits Plan announced March 2021 that will provide $47 billion in residential mortgage and home equity loans; $26.5 billion in loans to small businesses; $14.5 billion in community development loans, including at least $400 million for community development financial institutions; and $500 million in charitable giving, sponsorships and philanthropic grants. This Plan also includes a $1.5 Billion commitment to address systemic racism through the deployment of capital and programs that provide economic opportunity for communities of color across the U.S.

Before joining the bank in 2009, Rey held positions with BBVA (merged with PNC), Wells Fargo, JPMorgan Chase & Co., Bank of America, the Texas Association of Community Development Corporations and the Greater Austin Hispanic Chamber of Commerce.
Moderator
Nicholas C. Ashburn, CSRIC 
Vice President, Head of Responsible Investing
Nick Ashburn is the Head of Responsible Investing (RI) for the Asset Management Group (AMG). In this role, Nick leads the investment, operational, and product strategy for RI, which includes providing RI investment solutions for individuals, families, and institutions; advancing the firm's research and analytical capabilities on environmental, social, and governance (ESG) topics; and developing content and brand awareness for RI at PNC.

Prior to joining PNC, Nick led impact investing research and education at the Wharton School of the University of Pennsylvania and was a host on SiriusXM's Business Radio channel. He has held teaching positions at the University of Texas-Austin and the University of Pennsylvania, and he was a Fulbright Fellow in Austria. He has also worked in community development venture capital, the nonprofit sector, and strategy consulting. 

Nick holds a master's degree from the University of Pennsylvania and a bachelor's degree from Belmont University. He is also a Chartered SRI Counselor® through the College for Financial Planning® and speaks German. 

Nick serves as a voting member of the AMG Proxy Voting committee and actively participates in the CIO's Diversity, Equity, and Inclusion Council.
Closing Remarks
Emma Loftus 
Executive Vice President, Head of Treasury Management
Emma Loftus is executive vice president and head of Treasury Management for PNC Bank. With a longstanding record of delivering value and customized business solutions to clients across all market segments, Emma is focused on building a culture of innovation and establishing strategic priorities to position PNC as an industry-leading provider.

Before joining PNC in 2019, Emma served as Managing Director and Head of Global Payments for JP Morgan. She has held key product management and operations management positions in the payables, receivables and foreign exchange businesses at JP Morgan, Citi and Deutsche Bank.

Emma is a recognized leader in treasury management and an active industry participant. She is a former director of SWIFT (Society for Worldwide Interbank Financial Telecommunication) and a former member of the Clearing House Payco Board and Federal Reserve Payments Risk Committee.

Emma is Co-Sponsor of the PNC Proud Employee Business Resource Group (EBRG). In her appointed role with PNC Proud, she intends to support her group through listening, advocacy, and empowerment.

Emma holds a BA from Duke University and an MBA from the Stern School of Business at New York University.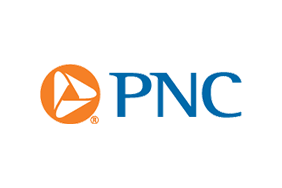 The PNC Financial Services Group
The PNC Financial Services Group
As a Main Street bank, we are committed to delivering on each of our strategic priorities while looking out for the best interests of all of our stakeholders, including our customers, communities, employees and shareholders. Our focus on operating with integrity drives us to help our customers achieve their goals while also strengthening our communities, reducing our environmental impact and empowering our employees to grow.
Email us to sign up for our CSR Newsletter
More from The PNC Financial Services Group