Published 05-25-23
Submitted by International Olympic Committee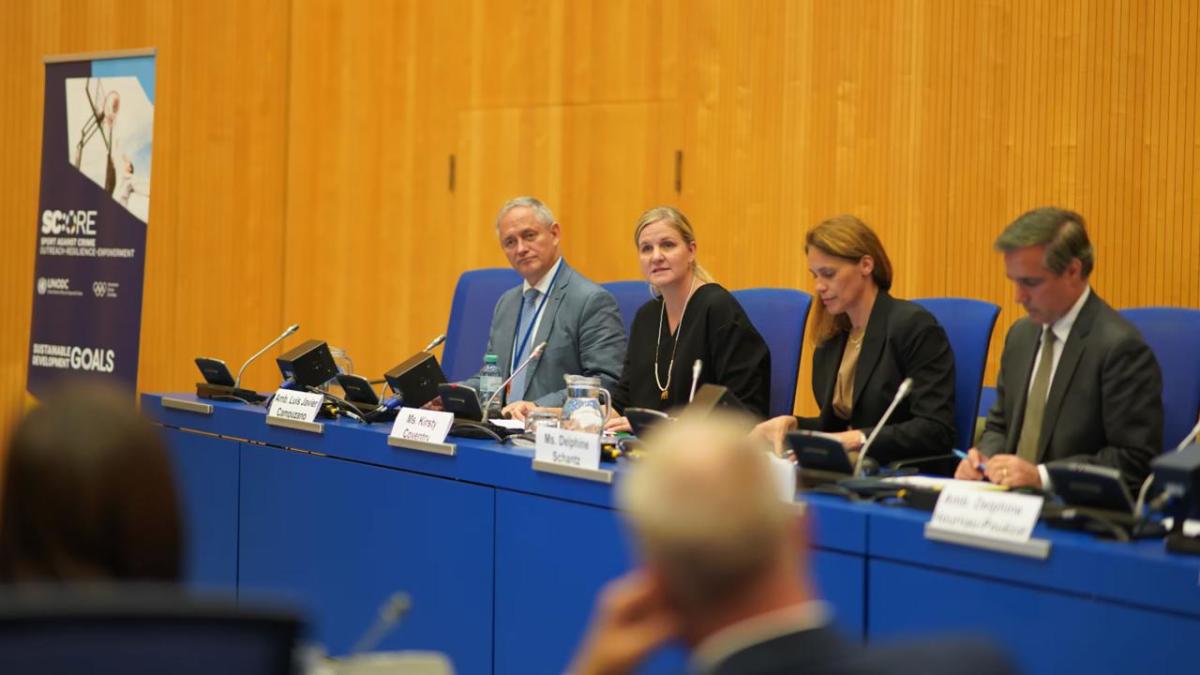 International Olympic Committee news
Sport plays a crucial role in building safer communities and combatting youth violence and crime. This was highlighted during a high-level side event organised by the International Olympic Committee (IOC), in cooperation with the United Nations Office on Drugs and Crime (UNODC) on 22 May in Vienna (Austria), as part of the 32nd UN Commission on Crime Prevention and Criminal Justice (CCPCJ).
The opening remarks were provided by IOC Member Kirsty Coventry, who was the IOC representative at the CCPCJ.
"Sport is not just physical activity, it's a powerful means to bring people together and contribute to building more peaceful and safer communities. It is also a tool which fosters cognitive development; teaches social behaviour, and develops transferable skills that support education and livelihoods," said Coventry.
"Research and best practices have proven across the world that sport-related policy and community-based approaches can play a critical role in empowering youth to become active agents of positive change in their communities."
The theme of this year's session was "Enhancing the Functioning of the Criminal Justice System to Ensure Access to Justice and to Realise a Safe and Secure Society".
The event – "Team up against Crime: Strengthening the role and contribution of sport in the context of multisectoral partnerships for youth crime prevention" – was hosted with the support of Austria, France, Mexico, the Netherlands and Thailand.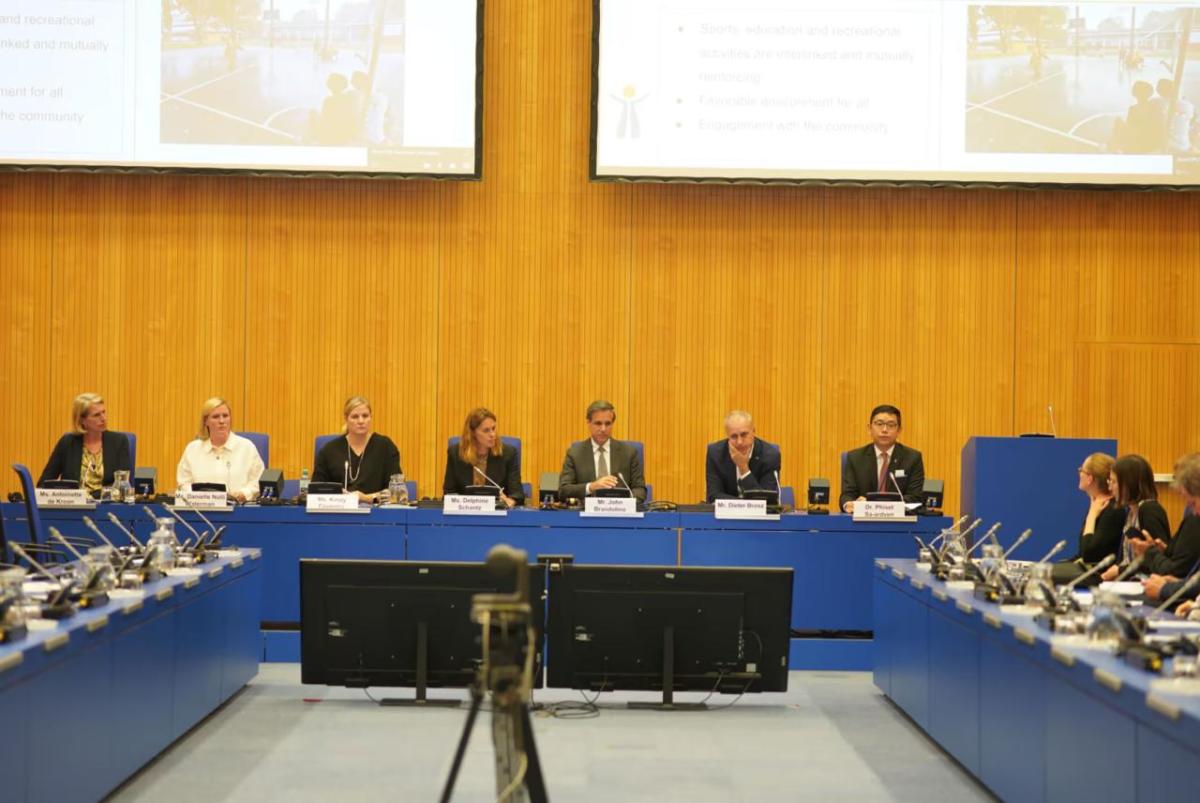 Sharing new learnings and insights
A key focus of the side event was on discussing successful projects that have addressed youth violence and crime prevention through sport, and to share helpful learnings and insights that could help shape future initiatives and partnerships in this area around the world.
"Supporting sport-based crime prevention initiatives throughout communities, is the cornerstone of an inclusive, integrated, healthy and thriving society," Coventry stated.
Coventry also highlighted SC:ORE - "Sport against Crime: Outreach, Resilience, Empowerment of At-Risk Youth" - as an example of a collaborative project that utilises the power of sport to help create peaceful and safe communities and empower young people to make rewarding life choices.
Launched in 2022, SC:ORE is a joint IOC-UNODC initiative helping to prevent and combat violence and crime through sports-based learning and skills training to build more peaceful and safe communities. It builds on the UNODC Youth Crime Prevention through Sport initiative as well as the IOC Olympic Education Values Programme (OVEP), a series of free and accessible teaching resources promoting the long-term impact of sport on health, enjoyment and social interaction.
It also contributes to the realisation of strategic priorities set by Olympism365, the IOC's strategy to strengthen the role of sport as an important enabler for the Sustainable Development Goals (SDGs) through partnerships between stakeholders with the aim of ensuring more people, from more diverse backgrounds, benefit from participating in sports-based programmes, every day, everywhere.
Coventry also emphasised the benefits of collaboration between different organisations, detailing how the IOC and UNODC have joined forces in working towards the shared goal of youth crime prevention through physical activity.
Coventry also addressed the UN Member States at the plenary session of the CCPCJ: "We call for cross-sectoral partnerships, rallying public authorities and civil society organisations in the criminal justice sector, development banks, businesses, and national and regional sports entities and major sports events organisers, to jointly invest in sports-based interventions and policies that can generate a much greater impact on criminal behaviour than enforcement alone, and can improve a broad range of health, education and social outcomes."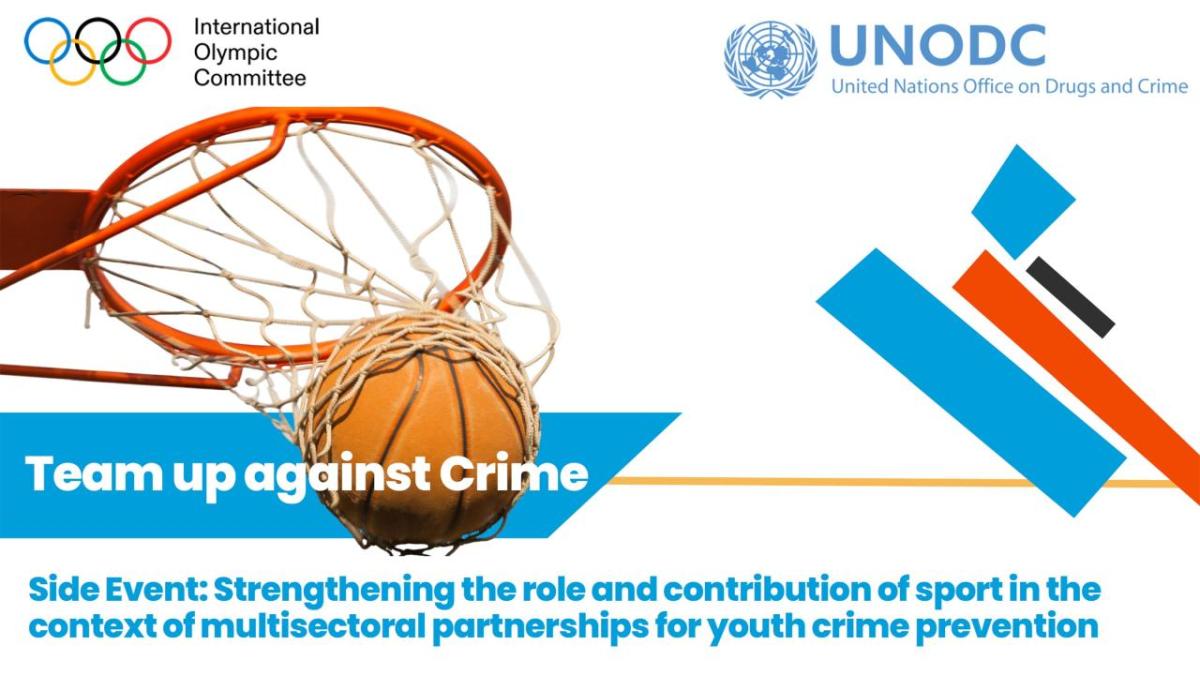 IOC-UNODC partnership brings together stakeholders from across the globe
To strengthen the impact of the SC:ORE initiative ahead of a pilot test in two countries and regions, the IOC and UNODC will be organising policy workshops and capacity-building activities for implementing partners, including National Olympic Committees, civil society organisations, and national and local policymakers.
Most recently, from 3 to 5 May, the IOC and UNODC organised a three-day online Expert Group Meeting (EGM), bringing together more than 20 experts from diverse sectors including academia, government, civil society and the sports movement. Representing over 15 countries across various regions, experts shared good practices and insights that will inform the development of a policy guide focused on Preventing Youth Crime and Violence through Sport, as part of the SC:ORE programme. The EGM's recommendations will also serve as a solid basis for the development of capacity-building resources as well as a global Learning Community focused on "Sport, Crime Prevention and Safer Communities".
The side event in Vienna is the latest example of the partnership. An extension of the memorandum of understanding (MoU) between the two organisations was signed in November 2021, with a particular focus on preventing youth crime, violence and drug use through sport.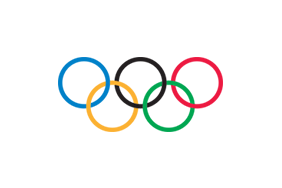 International Olympic Committee
International Olympic Committee
The International Olympic Committee (IOC) is a not-for-profit independent international organisation that is committed to building a better world through sport. It redistributes more than 90 per cent of its income to the wider sporting movement, which means that every day the equivalent of USD 3.4 million goes to help athletes and sports organisations at all levels around the world.
As the leader of the Olympic Movement, the IOC acts as a catalyst for collaboration between all parties of the Olympic family, from the National Olympic Committees (NOCs), the International Sports Federations (IFs), the athletes and the Organising Committees for the Olympic Games (OCOGs) to the Worldwide Olympic Partners, broadcast partners and United Nations (UN) agencies, and shepherds success through a wide range of programmes and projects. On this basis, it ensures the regular celebration of the Olympic Games, supports all affiliated member organisations of the Olympic Movement and strongly encourages, by appropriate means, the promotion of the Olympic values.
More from International Olympic Committee