Published 04-18-23
Submitted by Cool Effect
Many businesses aren't just talking about carbon credits - they're investing millions of dollars in them. And with all that money being spent, many are raising questions about the integrity and transparency of the projects that are being funded.
Today, the average price for a carbon credit in Cool Effect's portfolio of carbon projects is $14.36. Just two short years ago it was $7.60. As prices grow, the market continues to evolve, and other factors continue to emerge, it's important to understand that the voluntary carbon market is unregulated and, as such, pricing is often confusing.
Cool Effect's mission is to help individuals and businesses make informed investments about carbon credits and understand where their money is going. The price of a carbon credit can vary from project to project, making it difficult to understand exactly how your money is being used and where your money is going.
When investing in a carbon credit with Cool Effect, your money goes to support a variety of factors, including:
Project operations - The technology and workpower that goes into setting up a project, maintaining it, and monitoring its impact on CO2.
Co-benefits - Besides carbon removal, many carbon-reduction projects also actively provide aid and development to local communities.
Viability and Reinvestment - Allocating funds to ensure that projects can achieve sustainable growth, not just success in the short term.
Purchasing a carbon credit is like making any other big purchase: it's important to ask the seller specific questions about where your money is going. Don't stop with "what is your fee?" and instead specifically ask "how much money is going to the project?" You want to avoid proprietary trading, onward selling and hidden fees. If a seller isn't committed to full transparency, be very wary before you purchase carbon credits from them.
In 2019, Cool Effect introduced The Seller's Pledge, a legal commitment to pricing transparency that is made to any buyer of carbon credits from its platform as part of Cool Effect's Carbon Done Correctly program. Cool Effect holds itself to the highest financial and operational standard—no mysterious costs or hidden charges. Over 90% of every donation goes directly to project partners. The only fee Cool Effect places on any donation is a 9.87% fee which is disclosed to both the buyer and the project developer.
"I often look to the stock market in the 1950s as an analogy for the Voluntary Carbon Market today. We didn't know at the time who was going to be a blue chip company. We had to do the research, just like Cool Effect does today," says Richard Lawrence. "Cool Effect is working to identify who is a blue chip and who is not. There's both a research component to the quality of the credit and transparency in the business practices. I recommend that every buyer ask for legal transparency from the broker on the pricing of each credit they purchase. Ask to disclose the price being paid to the project. Look to eliminate hidden mark ups and proprietary trading. The voluntary carbon market alone won't tell you how legitimate a project is — but with increased transparency, like you can see with The Seller's Pledge, comes increased trust from purchasers."
It is also important to realize that carbon credits are part of a market. Similar to equities in the stock market, the availability and prices of carbon credits change quickly. They are not static items like office supplies which can be purchased in bulk at uniform prices and be precisely budgeted ahead of time.
"Not all carbon credits are created equal and we feel that there's no better way to ensure Carbon Done Correctly than through an unwavering commitment to transparency," says Jodi Manning, VP, Director of Marketing & Partnerships for Cool Effect. "We want the buyer to know exactly what will be sent to the project, and we want the developer to know exactly what is being paid and what they will receive. We want every buyer to trust that their donation to these incredible projects is going to make a difference."
Ultimately, you shouldn't let the complexities of carbon pricing scare you off from investing in carbon credits. The support of high-quality carbon projects is one of the tools in the toolbox for collectively fighting our warming climate and achieving ambitious climate goals, and transparent mechanisms for carbon finance are already in place. At the end of the day, carbon credits are more than just financial tools. They're one of the most efficient ways to channel funds into the developing world, and there are countless stories of carbon finance being transformative to a local community.
To learn more about Cool Effect or how to partner with the organization to develop a meaningful sustainability and carbon offset program, please visit cooleffect.org/for-business.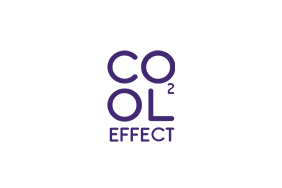 Cool Effect
Cool Effect
Cool Effect is a San Francisco Bay Area 501(c)(3) nonprofit dedicated to reducing carbon emissions around the world by allowing individuals, businesses, organizations and universities to create a tangible impact on climate change by funding the highest quality carbon reduction projects that are verifiably and measurably reducing global warming emissions. The organization was founded by Dee and Richard Lawrence on their passionate belief that support of carbon offset projects will create a cumulative effect that will reduce and prevent carbon pollution. Like the Butterfly Effect, The Ripple Effect, and others, a single action can have global impact.
More from Cool Effect