Published 03-31-23
Submitted by Fifth Third Bancorp
CINCINNATI, March 31, 2023 /CSRwire/ - There is no minimum age to talk with your children about money and banking. Kids as young as 3 can understand concepts of money and by age 7, some money habits may already be ingrained.
Generation Alpha (those born after 2010) may be too young to be making their own money, but they're old enough to have a significant influence on their family's spending decisions. Helping them understand financial basics can sow the seeds of smart money management. Fifth Third Bank, National Association, offers the following tips to help.
First step: Start a conversation about money
Recent studies show that parents say their children influence their purchase decisions, especially on toys and games, apparel and food – which means it is important for your kids to understand how much things cost and how you pay for them. 
If you've never discussed money with your young children before, get the ball rolling by asking them about earning, saving, budgeting and spending money. Depending on how much they've paid attention at home, they could have some interesting things to say about spending and saving, making a living and creating a solid financial footing. 
It is also never too early to introduce an allowance for chores, which will help them understand the concept of earning a wage. As they get older, they now have many more options for making money beyond paper routes and babysitting. They can sell homemade items at local markets and online, or even trade and sell toys or clothes. 
Open a savings or checking account with your child
Opening a savings account can be done in a short amount of time. Include your child in the process and talk about the importance of always saving – even if it's just a little bit – for emergencies or for larger purchases.
You'll also want your child to understand how a checking account works. Discuss how checks and debit cards work and how money must be in the bank to cover the amount of the check or debit. 
Take this opportunity to also explain to them how a credit card works, how debt accrues, as well as how you've budgeted throughout your life, including how you've been able to save for additional goals, like retirement, travel or college.
Make money fun: incorporate games into financial education
Make learning fun by incorporating games into regular activities. At the grocery, give them play money and help them see how far it goes with the choices they make. If they get an allowance, make them earn it and pay them more for difficult chores and less for everyday expectations like making their beds.
For more fun ideas for teaching kids about managing money, Money Crashers has compiled a list of online games and apps.
Continuing the conversation
Parents want what's best for their kids – at every age and stage – and a financially healthy future is part of that. Talking about money early and often, providing safe opportunities for children to learn and introducing them to resources that can help are the steppingstones to good habits and smart choices.
Whenever there is a teachable moment for your kids, take advantage of it and share information: budgeting for eating out, saving for a vacation by using an online goal savings tool or paying a monthly credit card bill. 
Don't let past money mistakes prevent you from talking with your kids about money. Using what you have learned and having conversations early might be the best way to ensure their future financial footing.
About Fifth Third
Fifth Third is a bank that's as long on innovation as it is on history. Since 1858, we've been helping individuals, families, businesses and communities grow through smart financial services that improve lives. Our list of firsts is extensive, and it's one that continues to expand as we explore the intersection of tech-driven innovation, dedicated people and focused community impact. Fifth Third is one of the few U.S.-based banks to have been named among Ethisphere's World's Most Ethical Companies® for several years. With a commitment to taking care of our customers, employees, communities and shareholders, our goal is not only to be the nation's highest performing regional bank, but to be the bank people most value and trust.
Fifth Third Bank, National Association is a federally chartered institution. Fifth Third Bancorp is the indirect parent company of Fifth Third Bank and its common stock is traded on the NASDAQ® Global Select Market under the symbol "FITB." Investor information and press releases can be viewed at www.53.com. Deposit and credit products offered by Fifth Third Bank, National Association. Member FDIC.
CONTACTS
Beth Oates (Media Relations)
Beth.Oates@53.com | 313-230-9002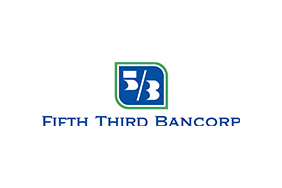 Fifth Third Bancorp
Fifth Third Bancorp
Fifth Third Bancorp is a diversified financial services company headquartered in Cincinnati, Ohio and the indirect parent company of Fifth Third Bank, National Association, a federally chartered institution. As of Dec. 31, 2021, Fifth Third had $211 billion in assets and operated 1,117 full-service banking centers and 2,322 ATMs with Fifth Third branding in Ohio, Kentucky, Indiana, Michigan, Illinois, Florida, Tennessee, West Virginia, Georgia and North Carolina. In total, Fifth Third provides its customers with access to approximately 54,000 fee-free ATMs across the United States. Fifth Third operates four main businesses: Commercial Banking, Branch Banking, Consumer Lending and Wealth & Asset Management. Investor information and press releases can be viewed at www.53.com. Fifth Third's common stock is traded on the Nasdaq® Global Select Market under the symbol "FITB." Fifth Third Bank was established in 1858. Deposit and Credit products are offered by Fifth Third Bank, National Association. Member FDIC.
Fifth Third's Purpose is to improve lives and the well-being of its communities by being the One Bank people most value and trust. The Company believes in doing well by doing good and delivering long-term sustainable value to all its stakeholders. Fifth Third is focused on five environmental, social and governance priorities: keeping the customer at the center, demonstrating its commitment to employees, strengthening its communities, promoting inclusion and diversity, and addressing climate change.
More from Fifth Third Bancorp