Published 03-28-23
Submitted by Fifth Third Bancorp

Fifth Third Bank's Director of Climate and Reputation Risk Kevin Quatman spoke last week at Ceres Global, which was held in New York from March 22-24. Quatman spoke alongside other banking influencers on how Fifth Third Bank engages customers on their climate transitions.
Billed as the event "where capital market leaders come together to create a more just and sustainable world," Ceres Global brought together "influential institutional investors, C-suite executives, national policymakers, and thought leaders to highlight the innovative solutions and leading global initiatives paving the way for a more just and sustainable economy."
Quatman presented in the "Bank Client Engagement: Views from Banks and Borrowers" session alongside Richa Agarwal, manager, banks, company network at Ceres; Blair Bateson, director, company network, Ceres; and Andrew R. Karb, global head of sustainable banking solutions, Bank of America.
The session focused on how banks are enhancing their engagement with clients for the transition to a sustainable future. The speakers discussed what client engagement for banks is like and what strategic collaborations can be initiated.
"Fifth Third is a firm believer in the value of engaging with our clients," said Quatman. "All of us share a mutual appreciation for the ongoing sustainability of our planet. We are working to be a valuable resource to our commercial clients as they execute their own transition plans."
For more information about Fifth Third's efforts to aid in the transition to a sustainable future, read its Task Force on Climate-related Financial Disclosures Report and its 2021 ESG Report.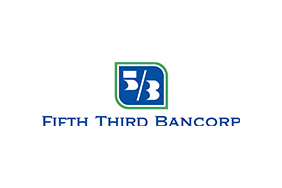 Fifth Third Bancorp
Fifth Third Bancorp
Fifth Third Bancorp is a diversified financial services company headquartered in Cincinnati, Ohio and the indirect parent company of Fifth Third Bank, National Association, a federally chartered institution. As of Dec. 31, 2021, Fifth Third had $211 billion in assets and operated 1,117 full-service banking centers and 2,322 ATMs with Fifth Third branding in Ohio, Kentucky, Indiana, Michigan, Illinois, Florida, Tennessee, West Virginia, Georgia and North Carolina. In total, Fifth Third provides its customers with access to approximately 54,000 fee-free ATMs across the United States. Fifth Third operates four main businesses: Commercial Banking, Branch Banking, Consumer Lending and Wealth & Asset Management. Investor information and press releases can be viewed at www.53.com. Fifth Third's common stock is traded on the Nasdaq® Global Select Market under the symbol "FITB." Fifth Third Bank was established in 1858. Deposit and Credit products are offered by Fifth Third Bank, National Association. Member FDIC.
Fifth Third's Purpose is to improve lives and the well-being of its communities by being the One Bank people most value and trust. The Company believes in doing well by doing good and delivering long-term sustainable value to all its stakeholders. Fifth Third is focused on five environmental, social and governance priorities: keeping the customer at the center, demonstrating its commitment to employees, strengthening its communities, promoting inclusion and diversity, and addressing climate change.
More from Fifth Third Bancorp