Published 03-23-23
Submitted by Fifth Third Bancorp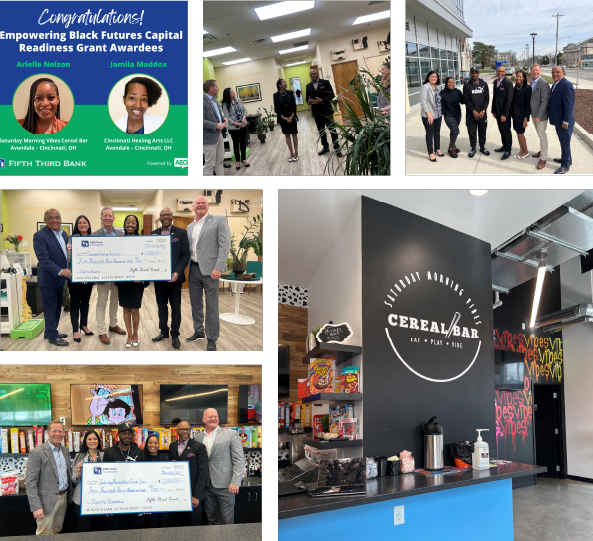 CINCINNATI, March 23, 2023 /CSRwire/ – Fifth Third Bank presented capital readiness grant awards last week to two Cincinnati business owners. The winners were Dr. Jamila Maddox of Cincinnati Healing Arts and Arielle Nelson of Saturday Morning Vibes Cereal Bar, both located in Avondale.
The two business owners were among 20 selected as part of a capital readiness program in 10 neighborhoods that have received significant investment from Fifth Third Bank. Nine of the neighborhoods, including Avondale, are part of the Bank's $180 million Empowering Black Futures Neighborhood Program; the other is in Detroit, where Fifth Third's first adopted community, Gratiot/7 mile, is located.
For the capital readiness program, the Association for Enterprise Opportunity selected 20 entrepreneurs to work with the organization to stabilize and grow their businesses. Each entrepreneur will complete Business Health Assessments, access personalized learning plans through AEO's online learning platform, RESILI™, and receive trusted guidance with AEO's network of small business coaches. Additionally, each entrepreneur will receive $5,300 in small business grant funding from Fifth Third's Empowering Black Futures Neighborhood Program.
"Business ownership is a key driver of wealth in communities and through generations. I could not think of a better way to advance the broader mission of racial equity than to support wealth creation in communities that have historically experienced wealth extraction," says Connie Evans, President, and CEO of AEO. "By positioning Black-owned businesses to obtain capital and grow, we are empowering not just individual entrepreneurs, but entire communities to seize control of their own economic futures."
"Small businesses like Cincinnati Healing Arts and Saturday Morning Vibes Cereal Bar are the lifeblood of our communities," said Tim Elsbrock, Cincinnati Region Bank President. "We are proud to support these black owned businesses through capital readiness grants and technical assistance so that they can continue to thrive and leverage these dollars to keep them in Avondale."
"My chiropractic and nutrition wellness boutique located in the Avondale Town Center (in the heart of a low-income community) is responsive to black and brown residents whose healthcare needs are often discounted or unmet, said Dr. Jamila Maddox, owner of Cincinnati Healing Arts LLC. "The Empowering Black Futures Program will enable me to continue providing timely patient education and healthcare while continuing to stabilize my business."
Cincinnati grant recipient Arielle Nelson of Saturday Morning Vibes Cereal Bar said, "To be chosen to participate in the EBF program feels incredible. This opportunity to receive grant funding, business resources and expert coaching will give SMV Cereal Bar the boost it needs to be a successful, thriving business."
The program is part of Fifth Third's  $2.8 billion Accelerating Racial Equity, Equality and Inclusion Initiative providing $2.2 billion in lending, $500 million in investments, $60 million in financial accessibility and $40 million in philanthropy which encompasses the Empowering Black Futures Neighborhood Program. The initiative is focused on four strategic pillars to create more equitable outcomes for its customers and communities through strategic investments, access to capital, financial inclusion and education, and social justice and advocacy. The Empowering Black Futures Capital Readiness Program runs from January through August 2023.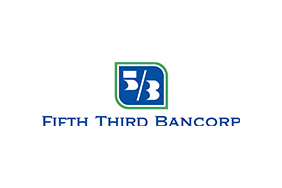 Fifth Third Bancorp
Fifth Third Bancorp
Fifth Third Bancorp is a diversified financial services company headquartered in Cincinnati, Ohio and the indirect parent company of Fifth Third Bank, National Association, a federally chartered institution. As of Dec. 31, 2021, Fifth Third had $211 billion in assets and operated 1,117 full-service banking centers and 2,322 ATMs with Fifth Third branding in Ohio, Kentucky, Indiana, Michigan, Illinois, Florida, Tennessee, West Virginia, Georgia and North Carolina. In total, Fifth Third provides its customers with access to approximately 54,000 fee-free ATMs across the United States. Fifth Third operates four main businesses: Commercial Banking, Branch Banking, Consumer Lending and Wealth & Asset Management. Investor information and press releases can be viewed at www.53.com. Fifth Third's common stock is traded on the Nasdaq® Global Select Market under the symbol "FITB." Fifth Third Bank was established in 1858. Deposit and Credit products are offered by Fifth Third Bank, National Association. Member FDIC.
Fifth Third's Purpose is to improve lives and the well-being of its communities by being the One Bank people most value and trust. The Company believes in doing well by doing good and delivering long-term sustainable value to all its stakeholders. Fifth Third is focused on five environmental, social and governance priorities: keeping the customer at the center, demonstrating its commitment to employees, strengthening its communities, promoting inclusion and diversity, and addressing climate change.
More from Fifth Third Bancorp