Published 03-13-23
Submitted by Northern Trust Corporation
CHICAGO, March 13, 2023 /CSRwire/ -  Northern Trust (Nasdaq: NTRS) donated more than $165 million over the past decade to non-profit organizations, including more than $19 million in 2022 to organizations working to provide food security, affordable housing, accessible healthcare and quality education.
Additionally, Northern Trust employees have provided more than 1 million hours of volunteer service over the past decade. During Northern Trust's global month of service in October, known as Achieving Greater Together, employees volunteered more than 25,000 hours for more than 1,200 organizations. This marked a nearly 150 percent increase over last year in the number of employees participating, a 50 percent increase in the number of recipient organizations and more than doubling previous volunteer hours.
These metrics and more can be found in Northern Trust's 2022 Philanthropic Impact Report.
"From our company's earliest days, we have worked in service of a better future for our communities. Whether through philanthropy or volunteerism, supporting basic needs—food security, affordable housing, accessible healthcare and quality education—can put people on the path to long-term financial success," said Shana Hayes, director corporate of philanthropy at Northern Trust.
Examples highlighted in the report include:
Housing
Northern Trust works to increase access to safe and stable shelter to help lay the foundation for educational achievement and a more secure future by supporting organizations such as Chicago-based La Casa Norte.
The organization provides access to stable housing and delivers comprehensive services that help transform lives and communities for young people and families confronting homelessness.
Education
Northern Trust works with organizations that support educational equity to foster human potential including East End Community Foundation, based in London.
Many households in the East End are without internet service, creating a barrier to accessing education and employment. Through donations, Northern Trust helped fund a digital inclusion program Connecting Communities, providing families with primary school-aged children with a laptop, 12 months' fiber broadband and tailored IT and online safety training, making remote learning and employment applications possible.
Healthcare
Northern Trust supports organizations, including Bangalore Medical Services Trust, to maximize healthcare access and awareness.
Bangalore Medical Services Trust provides safe blood, cellular and tissue products to hospital patients, while also performing research, advocacy, training, education and other interventions in social and health sectors.
In August 2022, Northern Trust provided the organization with an automated immunohematology analyzer and blood grouping machine, already benefiting nearly 10,000 patients and their families.
Food Security
Northern Trust supports organizations including World Central Kitchen to ensure reliable, everyday access to nutritious meals.
World Central Kitchen works with communities during urgent, large-scale incidents by mobilizing around the world to provide meals to those who need them most.
Northern Trust provided funding for these meals in war-torn Ukraine, as well as during Hurricane Ian relief.
About Northern Trust
Northern Trust Corporation (Nasdaq: NTRS) is a leading provider of wealth management, asset servicing, asset management and banking to corporations, institutions, affluent families and individuals. Founded in Chicago in 1889, Northern Trust has a global presence with offices in 25 U.S. states and Washington, D.C., and across 23 locations in Canada, Europe, the Middle East and the Asia-Pacific region. As of December 31, 2022, Northern Trust had assets under custody/administration of US$13.6 trillion, and assets under management of US$1.2 trillion. For more than 130 years, Northern Trust has earned distinction as an industry leader for exceptional service, financial expertise, integrity and innovation. Visit us on northerntrust.com. Follow us on Twitter @NorthernTrust or Northern Trust Corporation on LinkedIn.
Northern Trust Corporation, Head Office: 50 South La Salle Street, Chicago, Illinois 60603 U.S.A., incorporated with limited liability in the U.S. Global legal and regulatory information can be found at https://www.northerntrust.com/terms-and-conditions.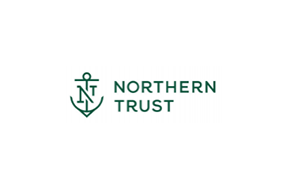 Northern Trust Corporation
Northern Trust Corporation
Northern Trust is a leading provider of asset servicing, fund administration, investment management, banking and fiduciary solutions for corporations, institutions, and affluent individuals worldwide.
Since 1889, when Northern Trust was founded in Chicago, we have aligned our efforts with our three guiding Principles That Endure: Service, Expertise, and Integrity. Together, they reflect the three cornerstones of business conduct which we strive to instil in our employees, whom we call partners, and to provide to our clients and the communities we serve worldwide.
More from Northern Trust Corporation