Published 03-10-23
Submitted by Qualcomm Inc.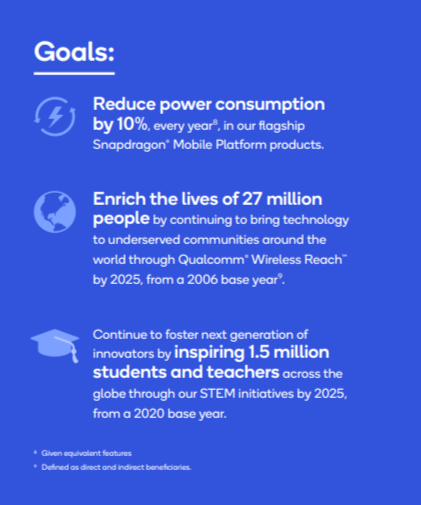 As published in Qualcomm's 2022 Corporate Responsibility Report
Qualcomm is an invention company that solves fundamental technology problems at the heart of everyday life. The vast majority of cell phones on earth utilize our technology. Our inventions have helped power the growth in smartphones, which have connected billions of people. We make our connected world — and future — possible by pushing the boundaries of connectivity, artificial intelligence (AI), virtual reality (VR) and more.
We are a global leader in the development and commercialization of foundational technologies for the wireless industry. Our technologies and products are used in mobile devices and other wireless products and are sold across industries and applications from mobile handsets to automotive to IoT and beyond.
We share our inventions broadly through our licensing program — enabling wide ecosystem access to technologies at the core of mobile innovation — and through the sale of our wireless integrated circuit platforms and other products.
We believe in good faith license negotiations and fair value for our patented technology. We believe this approach to licensing creates efficiency in the ecosystem and reflects the value and innovation that our research, developments and contributions provide.
We collaborate across the ecosystem, which includes manufacturers, operators, developers, system integrators, cloud providers, tool vendors, service providers, governments and industry standards organizations, to enable a global environment to drive continued progress and growth.
We inspire the development of regionally relevant use cases of advanced 4G and 5G connectivity, AI at the network edge and IoT through deep-technology incubators and mentorship programs for early-stage startups in many emerging markets, including India, Taiwan and Vietnam.
We invest heavily in R&D, have a long history of driving innovation and have developed foundational technologies that help drive the continued evolution of the wireless industry.
We bring advanced wireless technologies to people and communities who need it most, facilitating new business models and unlocking societal benefits that serve the greater good.
The technology development at the foundation of our solutions is governed by our Technical Business Review (TBR) process with oversight by our Chief Technology Officer (CTO). The goal of the TBR process is to align long-term technology development with product (application-specific integrated circuit (ASIC) and software) roadmaps. The output of the TBR results in guidance for the development of industry-leading technology roadmaps across all our business units and the R&D spend needed for key technology areas. These technology areas feed into Qualcomm's one technology roadmap and span processing, connectivity, visual technologies, rendering technologies, AI, security and system-level technologies needed for various business units (e.g., mobile, compute, automotive, connected systems and networking).
Learn more in Qualcomm's 2022 Corporate Responsibility Report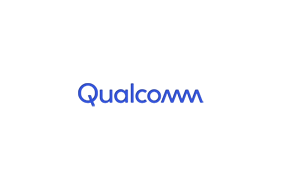 Qualcomm Inc.