Published 03-09-23
Submitted by The PNC Financial Services Group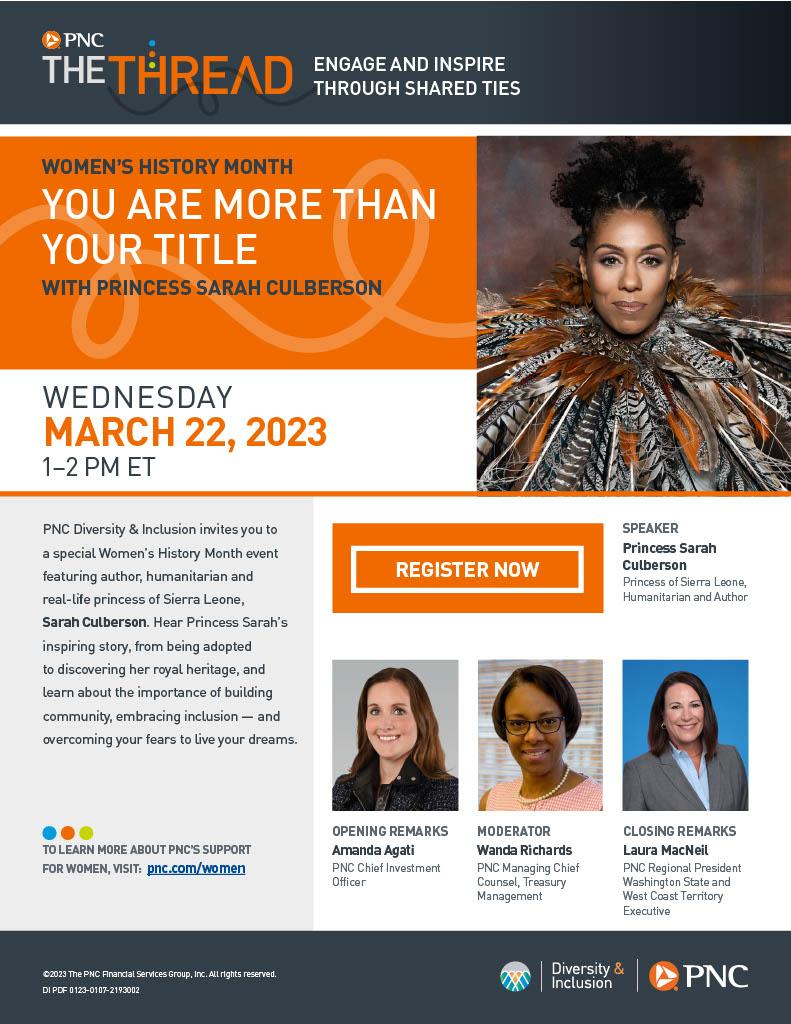 Join PNC Diversity & Inclusion for a Women's History Month event featuring Princess Sarah Culberson, Princess of Sierra Leone, author and humanitarian. Hear Princess Sarah's inspiring story, from being adopted to discovering her royal heritage, and learn about the importance of building community, embracing inclusion — and overcoming your fears to live your dreams.
Date: Wednesday, March 22, 2023
Time: 1:00 PM Eastern Daylight Time
Duration: 1 hour
Presenter:
Princess Sarah Culberson 
Princess of Sierra Leone 
Humanitarian and Author
Princess Sarah Culberson has an extraordinary journey that has been featured on CNN, GMA and BBC, among numerous other publications worldwide, which have trended #1 globally in over 60 countries. She is an internationally known thought leader, TEDx speaker, artist and educator whose work addresses biracial and cultural identity and raises awareness of issues impacting Sierra Leone.

She shared the story of reuniting with her birth father in A Princess Found: An American Family, an African Chiefdom, and the Daughter Who Connected Them All, coauthored with Tracy Trivas and published by St. Martin's Press. A Princess Found is now being adapted into a major motion picture for Disney Studios by award-winning filmmaker Stephanie Allain. Princess Sarah has also been honored with receiving the prestigious Trumpet Impact Award.

Princess Sarah and her brother Hindo Joseph Kposowa founded the non-profit Sierra Leone Rising, which provides clean drinking water, sanitary pads for girls, education, medical attention, resources to build schools and technology centers, and more throughout Sierra Leone. Her work in business and technology has led her to create upcoming projects including an animation show with Randy Jackson as well as a Roblox game to connect and educate children about cultures around the world.
Opening Remarks: 
Amanda Agati 
Chief Investment Officer 
PNC Bank
Amanda Agati is the chief investment officer for The PNC Financial Services Group. In this role, she is responsible for the firm's overall investment strategy, portfolio and risk management, investment solutions and the development and execution of investment policies for PNC Private Bank℠, PNC Private Bank Hawthorn℠, and PNC Institutional Asset Management®.

Amanda serves as chairman of the PNC Investment Policy Committee and is a voting member of the Portfolio Construction Committee. She is also a member of the Investment Committee for PNC's pension fund and serves on PNC's Corporate Diversity Council and Philadelphia/South Jersey Regional D&I Council. She is a PNC-certified Women's Business Advocate. Prior to being named to her current position in April 2021, Amanda was the Chief Investment Strategist for PNC.

Her career began with investment banking, advisory, and equity research positions with Legg Mason and then with PNC. During her tenure at Legg Mason, she actively participated on the firm's SRI group, focusing on environment, social, and governance issues and the use of fossil-free strategies in portfolios. Additionally, Amanda was a member of Legg Mason's Institutional Investment Committee and led the firm's annual "Intellectual Capital" investment conference.

She rejoined PNC in 2015 as an Institutional Investment Strategist.

Amanda graduated with a Bachelor of Science in finance and economics from Penn State University's Schreyer Honors College. Amanda holds the Chartered Financial Analyst® (CFA) designation. She is a member of the CFA Institute and CFA Society of Philadelphia, and sits on the boards of several nonprofit organizations.
Moderator: 
Wanda Richards 
Managing Chief Counsel Treasury Management 
PNC Bank
Wanda M. Richards serves as Managing Chief Counsel for the Treasury Management segment of Corporate and Institutional Banking at PNC Bank, National Association. In her role, Wanda manages a team responsible for executing the strategy that delivers legal services for domestic and international treasury management products and services. Wanda's role aligns with her background as an attorney with 20+ years of experience in understanding the legal and regulatory framework that impacts federal and state chartered financial institutions.

Wanda's impact extends deeply within PNC as she has been recognized for her leadership. She is a member of PNC's Corporate Diversity Council and serves on the Leading Inclusively Subcommittee. Wanda has also served as the Chairperson of PNC's Philadelphia/Southern New Jersey Regional Diversity and Inclusion Council and was the recipient of the 2019 PNC Diversity and Inclusion Regional Council Award, Individual Champion. In 2017, Wanda was selected to receive the highest form of employee recognition given by PNC, the Performance Award.Wanda is also a 2014 Leadership Council on Legal Diversity Fellow and an inaugural member of PNC's Office of the General Counsel Diversity and Inclusion Council.

In addition, Wanda believes in supporting her community and recently served on the board of the SeniorLAW Center which focuses on protecting the rights of older Pennsylvanians. Currently, she's a member of the Redeemer Health Audit and Compliance Workgroup and serves on the Board of the Drueding Center which focuses on providing assistance to homeless families. A graduate of the University at Buffalo School of Law, Wanda is admitted to the bar in Pennsylvania, New York and the United States District Court for the Eastern District of Pennsylvania.
Closing Remarks: 
Laura MacNeil 
Regional President Seattle and West Coast Territory Executive 
PNC Bank
Laura MacNeil is regional president of PNC Bank, Washington State and West Coast territory executive overseeing PNC's regions in California, Oregon and Washington. She joined PNC in September 2020 and has served as a finance industry executive for over 28-years. She started her career in corporate finance with KPMG in Moscow, Russia and moved to Bank of America before spending the last 14 years at Wells Fargo.

Active in the community, MacNeil serves on the board of directors for the Seattle Metropolitan Chamber of Commerce, University of Washington Pacific Coast Banking School, The Rainier Club and the Seattle Aquarium. She has been recognized as one of Puget Sound Business Journal's "Women of Influence" and "40 Under 40," as well as one of Dallas Business Journal's "Women in Business."

MacNeil earned a Bachelor of Arts degree in Economics and European Studies from Vanderbilt University, and a Master of International Business Studies from the University of South Carolina.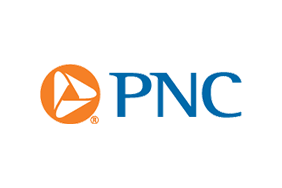 The PNC Financial Services Group
The PNC Financial Services Group
As a Main Street bank, we are committed to delivering on each of our strategic priorities while looking out for the best interests of all of our stakeholders, including our customers, communities, employees and shareholders. Our focus on operating with integrity drives us to help our customers achieve their goals while also strengthening our communities, reducing our environmental impact and empowering our employees to grow.
Email us to sign up for our CSR Newsletter
More from The PNC Financial Services Group