Published 02-16-23
Submitted by Keysight Technologies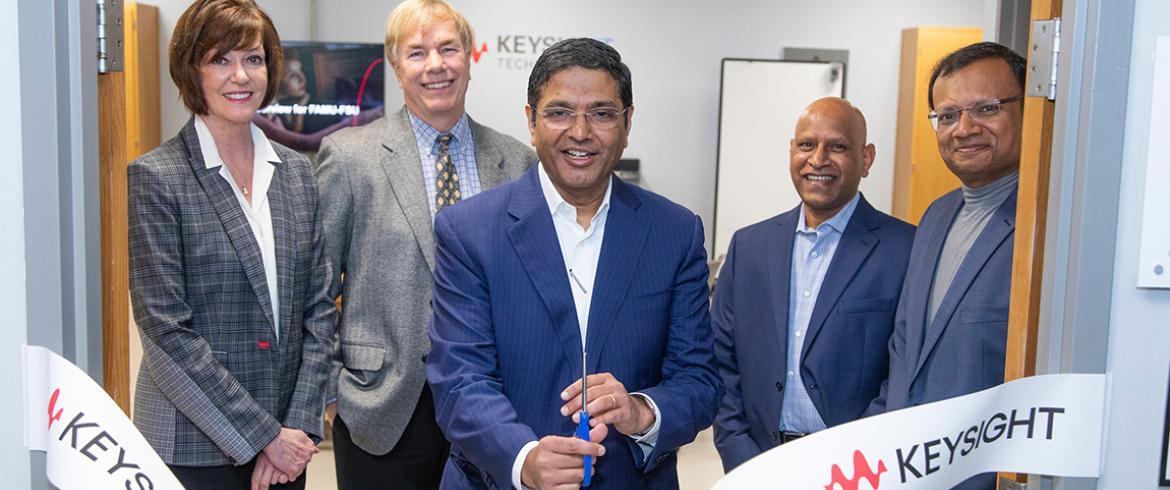 Originally published by FAMU-FSU College of Engineering
The FAMU-FSU College of Engineering, Department of Electrical and Computer Engineering in partnership with Keysight Technologies, has opened a new measurements and instrumentation lab, serving engineering education and research at the college.
"The equipment donation for the lab, through Florida A&M University, advances our research capabilities and provides a professional level experience for the students needed to be successful in the industry," Sastry Pamidi, professor, and chair of the department said.
Keysight Technologies is a leading technology company with a long-standing alliance with FAMU and the FAMU-FSU College of Engineering. The company sponsors senior design projects, mentors students, supports faculty research and provides advanced equipment for teaching. They also have representation on the industry advisory board for the Department of Electrical and Computer Engineering.
Satish Dhanasekaran, president and CEO of Keysight Technologies, returned to his alma mater for the grand opening. Dhanasekaran graduated with a master's degree in electrical engineering from the college via Florida State University (FSU) in 2000 and was recently appointed CEO of the company.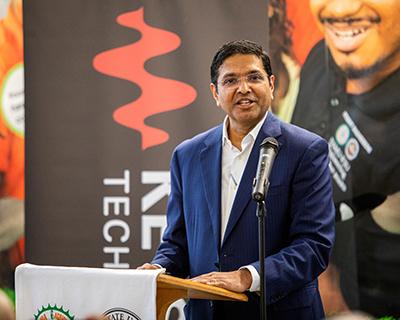 "The pace of technology innovation is accelerating making the next generation of engineers more important than ever," Dhanasekaran said. "Keysight is engaging with leading engineering schools to prepare tomorrow's engineers with an understanding of the fundamentals beyond just theory. It's an honor to be here today to open this new facility."
Dhanasekaran was the guest speaker for the event and spoke to students about possibilities and being flexible in uncertain times. When on campus in the late '90s, he worked in Professor Rajendra Arora's electromagnetics lab and reflected on his time as a graduate student.
"I remember working as a graduate student for Dr. Arora and after giving him my thesis to review, he gave it back and the entire document had red lines all over it, covering each page," Dhanasekaran said. "The whole thing had to be completely redone and I thought to myself, who is going to even use this stuff, it's all theoretical anyway. I redid it, got it right and ten years later in my career what seemed futuristic in grad school was something people were talking about commercializing."
He explained to the students that much of what they learn today may seem far away in the future, however application of what they learn becomes relevant over time. He also stressed the importance of fundamental skills in the industry and encouraged students to seek opportunities to do research.
"Every time you do a research project you are expanding your ability to think independently and critically," Dhanasekaran said. "You can learn the textbooks, the math, the equations but when you apply it to a problem and solve it, well, that is the hallmark of engineering."
"We are grateful for the support Keysight Technologies has provided to FAMU-FSU Engineering over the years," Pamidi said. "I am excited and proud that Satish, an alumnus and president and CEO of Keysight is here for the inauguration of the new Keysight Measurements and Instrumentation Lab. The advanced training the students will get in the lab will help them succeed when they join the industry."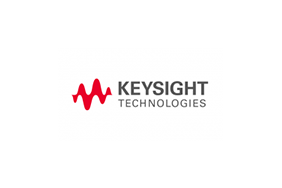 Keysight Technologies
Keysight Technologies
At Keysight (NYSE: KEYS), we inspire and empower innovators to bring world-changing technologies to life. As an S&P 500 company, we're delivering market-leading design, emulation, and test solutions to help engineers develop and deploy faster, with less risk, throughout the entire product lifecycle. We're a global innovation partner enabling customers in communications, industrial automation, aerospace and defense, automotive, semiconductor, and general electronics markets to accelerate innovation to connect and secure the world. Learn more at Keysight Newsroom and www.keysight.com.
More from Keysight Technologies