Published 01-30-23
Submitted by Bacardi Limited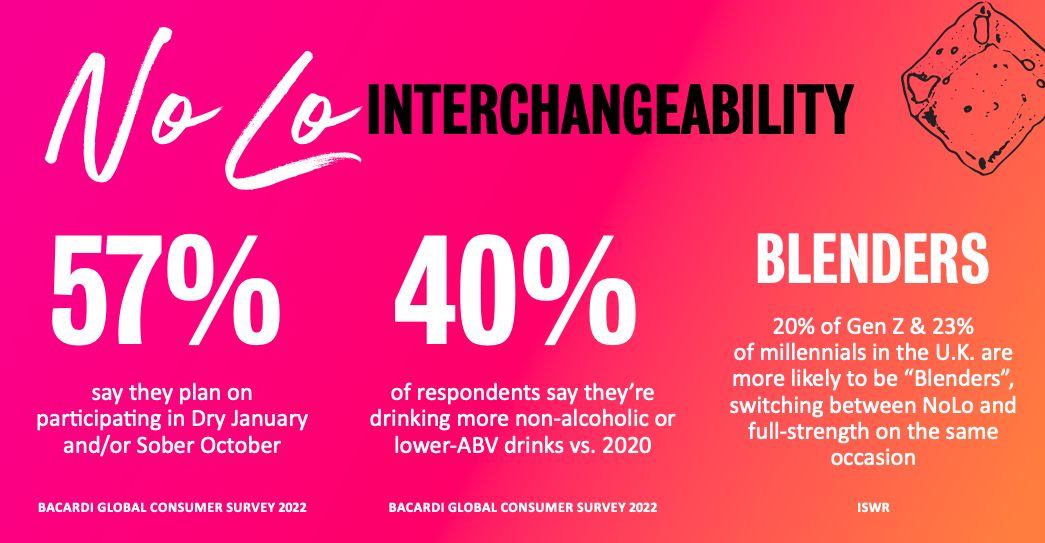 As featured in the Bacardi Cocktail Trends Report 2023
With consumers choosing to drink alcoholic and non-alcoholic cocktails at the same occasion, without any social stigma, the stage is set for a period of non-alcoholic and low-proof (NoLo) experimentation. The growing adoption of NoLo cocktails is piquing bartenders' interest, with the Bacardi Global Brand Ambassador Survey 2022 showing that 49% of are curious about cocktails with non-alcoholic spirits.
Across key markets, the majority of NoLo drinkers can now be more accurately categorized as "Substituters" – those who enjoy NoLo drinks in place of full-strength drinks on certain occasions, rather than those who eschew alcohol altogether. IWSR research confirms that in the U.K., 40% of NoLo consumers are Substituters, with legal drinking age (LDA) Generation Z and millennials (46% and 41%, respectively) more likely to substitute than Boomers (36%).
LDA Gen Z and millennials in the U.K. are also more likely to be "Blenders", switching between NoLo and full- strength on the same occasion (20% and 23%, respectively). These new consumer categorizations are already resulting in category growth, with NoLo alcohol forecast to outpace full-proof category growth tenfold, according to IWSR.
This is leading NoLo innovations to call time on overly sweet or tasteless mocktails. Non-alcoholic choices are being creatively crafted with flavor, in the same vein as full-proof spirits.
MARTINI Vibrante for example, is a non-alcoholic aperitivo that is made with the same quality of wines, herbs and botanicals selected by the brand's master herbalists for its other alcohol offerings. Harnessing the skills of MARTINI master blender Beppe Musso, it's crafted using pioneering technology that gently removes the alcohol from the drink to preserve its authentic characteristics and flavors.
Download the complete Bacardi Cocktail Trends Report 2023 and Infographic.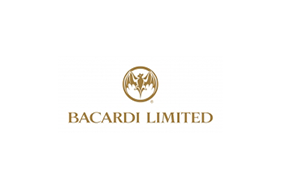 Bacardi Limited
Bacardi Limited
Bacardi Limited, the largest privately held spirits company in the world, produces and markets internationally recognized spirits and wines. The Bacardi Limited brand portfolio comprises more than 200 brands and labels, including BACARDÍ® rum, GREY GOOSE® vodka, PATRÓN® tequila, DEWAR'S® Blended Scotch whisky, BOMBAY SAPPHIRE® gin, MARTINI® vermouth and sparkling wines, CAZADORES® 100% blue agave tequila, and other leading and emerging brands including WILLIAM LAWSON'S® Scotch whisky, ST-GERMAIN® elderflower liqueur, and ERISTOFF® vodka.
Founded more than 161 years ago in Santiago de Cuba, family-owned Bacardi Limited currently employs more than 8,000, operates production facilities in 10 countries, and sells its brands in more than 170 countries. Bacardi Limited refers to the Bacardi group of companies, including Bacardi International Limited. Visit http://www.bacardilimited.com or follow us on Twitter, LinkedIn or Instagram.
More from Bacardi Limited