Published 01-27-23
Submitted by Bacardi Limited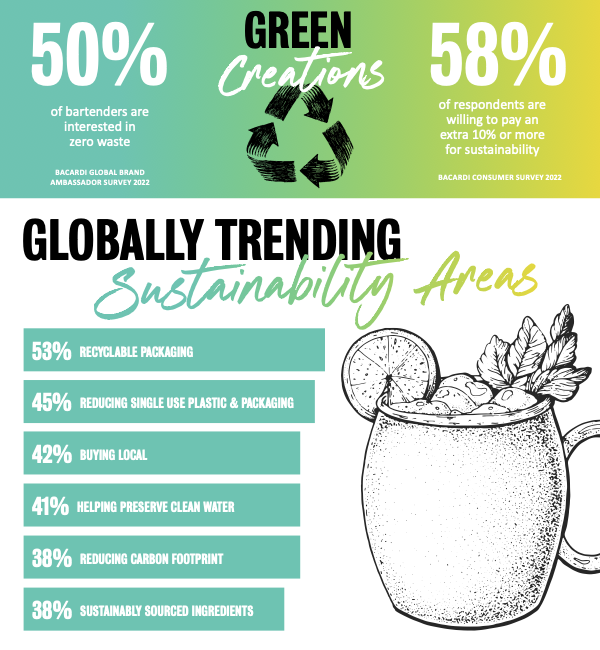 Environmental awareness is transforming how the drinks industry operates. High-end venue bartenders are increasingly conscious of reducing waste, looking for sustainable ingredients and thinking about what happens to the items used, from bottles to garnishes.
The focus on zero-waste is peaking, with 44% of bartenders interested in the issue, according to Bacardi's Global Ambassador Survey 2022.
"Drinks brands are set on communicating the sustainability and ingenuity of their supply chains and manufacturing processes to customers, and promoting their environmental credentials as a central part of their offerings."

Chris Sanderson Co-founder of The Future Laboratory
These changes are being welcomed by climate-conscious cocktail drinkers, who are not only opting for sustainably made choices but are willing to pay more for them. The Bacardi Consumer Survey 2022 reveals that in India, almost nine in 10 (89%) respondents say they would be willing to spend more for spirit or liquor brands which stand for sustainability, while 58% of respondents across countries surveyed were willing to pay at least 10% more for these choices.
The survey also shows how practical sustainable and environmental practices are important to consumers. More than half (52%) of all respondents listed recyclable packaging as key to their liquor and spirit considerations followed by reducing single-use plastic (45%) and buying local (42%). Respondents in emerging markets including India, Mexico, and South Africa show an even higher degree of environmental consciousness with a larger percentage of respondents seeing sustainability as an important factor in their consumption preferences compared with developed countries such as the U.S. and U.K.
Bacardi continues to make progress in its ambition to become the most environmentally responsible global spirits company, with a goal to become plastic-free by 2030. In 2022 the company's eponymous rum brand BACARDÍ® announced plans to cut is greenhouse gas emissions in half from 2023, with a new combined heat and power (CHP) system, which provides a much cleaner and more efficient energy solution, set to go live at the brand's distillery in Puerto Rico, which is the world's largest premium rum distillery.
Bacardi recently reached a milestone in its mission to remove 100% of the single-use plastic from its gifting range by the end of 2023: All new gift packs in the Bacardi portfolio are now 100% plastic-free. This significant step will see Bacardi remove almost 275 tons of single-use plastic used annually and has been achieved through innovative new designs that remove plastic or replace it with a sustainably sourced alternative.
Bacardi has also made strides with its other brands. Following decades spent pioneering sustainable practices, MARTINI® has reached a sustainability milestone, with 100% of the wineries for its entire portfolio now certified sustainable. Every drop of grape juice used in the production of MARTINI vermouth and sparkling wines is now sourced from wineries certified according to the standard set by Equalitas, the most comprehensive sustainability standard in Italian winemaking. BOMBAY SAPPHIRE® has seen similar achievements with all 10 botanicals in BOMBAY SAPPHIRE gin being certified sustainable by Ecocert S.A. in 2022.
On premise, zero-waste cocktails are gaining traction among consumers and mixologists too, with many using alternatives such as vinegars, distillates, shrubs, and cordials to sour the drinks. Others are reusing typically wasteful cocktail ingredients, producing cordials from leftover citrus rinds, infusing rum with avocado pits and utilizing pineapple husks to make simple syrups.
"Consumers want to feel good about the choices they're making. They're looking for brands that are making a positive impact and choosing beverages made from high quality and sustainable ingredients."

Jamie Lippman V.P of ESG at Bacardi
Download the complete Bacardi Cocktail Trends Report 2023 and Infographic.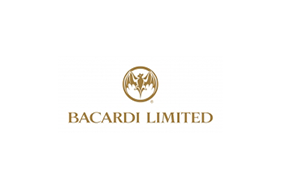 Bacardi Limited
Bacardi Limited
Bacardi Limited, the world's largest privately held international spirits company, produces, markets, and distributes spirits and wines. The Bacardi Limited portfolio comprises more than 200 brands and labels, including BACARDÍ® rum, PATRÓN® tequila, GREY GOOSE® vodka, DEWAR'S® Blended Scotch whisky, BOMBAY SAPPHIRE® gin, MARTINI® vermouth and sparkling wines, CAZADORES® 100% blue agave tequila, and other leading and emerging brands including WILLIAM LAWSON'S® Scotch whisky, D'USSÉ® Cognac, ANGEL'S ENVY® American straight whiskey, and ST-GERMAIN® elderflower liqueur. Founded more than 161 years ago in Santiago de Cuba, family-owned Bacardi Limited currently employs approximately 9,000, operates production facilities in 11 countries and territories, and sells its brands in more than 160 markets. Bacardi Limited refers to the Bacardi group of companies, including Bacardi International Limited. Visit http://www.bacardilimited.com or follow us on LinkedIn, Instagram or Twitter.
More from Bacardi Limited