Published 01-19-23
Submitted by MasterCard Center for Inclusive Growth
DAVOS, Switzerland, January 19, 2023 /CSRwire/ - data.org today released Accelerate Aspirations: Moving Together to Achieve Systems Change, a comprehensive report on the key trends and tensions in the emerging field of data for social impact (DSI).
Data has the potential to create high-impact interventions that are affordable and that drive resilience to combat rising inequality, public health crises, widespread threats to democracy, and climate change. The Accelerate report recognizes this incredible potential and raises urgent questions about the purpose and practice of this nascent field and the people it will require to keep it all moving.
"We have the power to build—and fund—a data-driven social impact sector that drives affordable and innovative ways of addressing the multitude of challenges we face," said Dr. Danil Mikhailov, executive director of data.org. "But we must do the hard work to change how we as individuals, organizations, funders, and ecosystems operate. At the heart of this report is a focus on collaboration. Together, we must be willing to take risks, align incentives, and partner differently to drive sustainable and systemic change."
The Accelerate report surveys the current state of data for social impact through interviews, quantitative findings from a data maturity assessment, and a comprehensive literature review, and culminates in critical next steps to advance the field.
The field of data for social impact stands at a crossroads. According to data.org's Data Maturity Assessment results, 90 percent of respondents report that their organization is committed to investing in data tools, training, and staff. However, most organizations lack the infrastructure, capacity, and sustained support from funders to meet their aspirations. So, we face a choice. Business as usual can continue through funding and implementing under-resourced and siloed data projects that deliver incremental progress. Or we can think and act boldly.
The Accelerate report urgently calls for:
Improving data strategies through common governance and tools, data sharing, aligned incentives, and most importantly, cross-sector coordination.
Building a more diverse and interdisciplinary workforce of purpose-driven data practitioners who can locally drive change.
Creating stronger funding models with longer time horizons, more flexible structures, and better coordination to build sustainable and interoperable solutions.
The Accelerate report builds on data.org's 2022 Workforce Wanted: Data Talent for Social Impact report, which identified an opportunity for 3.5 million jobs in the data for social impact field in developing countries alone over the next decade. In response, data.org is working to train one million purpose-driven data practitioners in the next 10 years through their Capacity Accelerator Network of knowledge hubs around the world, from the United States, to India, and sub-Saharan Africa.
"A more diverse, global workforce with interdisciplinary perspectives can provide a foundation for data for social impact work that is both effective and just," added Dr. Uyi Stewart, chief data and technology officer at data.org. "Because as cross-sector work gains traction, we need data practitioners that not only understand and can translate, but actually come from marginalized communities and geographies inclusive of low- and middle-income countries to develop these critical data ecosystems."
Since the Mastercard Center for Inclusive Growth and The Rockefeller Foundation launched data.org three years ago at the World Economic Forum, it has quickly become a connector and coordinator—a platform for partnerships delivering capacity-building programs and widening access to tools, resources, and knowledge for social impact organizations around the world.
About data.org:
data.org is committed to democratizing data, for good. Founded by The Rockefeller Foundation and the Mastercard Center for Inclusive Growth, data.org is a platform for partnerships, and works with organizations all over the world to increase the use of data science to tackle society's most pressing challenges and improve the lives of millions of people. For more information, visit data.org.
Contact: Emma Marty
emma@data.org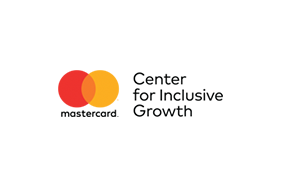 MasterCard Center for Inclusive Growth
MasterCard Center for Inclusive Growth
The Mastercard Center for Inclusive Growth focuses on promoting equitable and sustainable economic growth and financial inclusion around the world. As an independent Mastercard subsidiary, it combines data, expertise and technology with philanthropic investments to empower a community of thinkers, leaders and innovators on the frontlines of inclusive growth. Follow us on Twitter @CNTR4growth and subscribe to receive our latest insights.
More from MasterCard Center for Inclusive Growth