Published 12-14-22
Submitted by Fifth Third Bancorp

Affordable housing, or the lack of it, continues to be a persistent problem in many communities across the Fifth Third footprint. Introduced in 2016, our Down Payment Assistance program has helped nearly 5,500 individuals achieve the American dream of homeownership. DPA offers down payment assistance of up to $5,000* depending on eligibility. In 2021, our DPA program helped enable the purchase of 980 homes. Since the inception of the program, we've provided over $18 million in DPA assistance.
CORPORATE RESPONSIBILITY OFFICE
Affordable housing is a priority of Fifth Third's Corporate Responsibility Office, especially its Community Development group. The primary focus of this group is to finance affordable housing projects that have received reservations of Low-Income Housing Tax Credits, or LIHTC. The group is positioned to meet the unique banking and capital needs of leading for-profit and nonprofit developers of affordable housing.
Among the fundamental strategic objectives of the Community Development group are to:
Proactively address the community and economic development needs of local communities.
Deliver impactful projects that provide affordable housing, services to low- and moderate-income families, stabilize neighborhoods and create jobs in the communities served by Fifth Third.
In 2021, Fifth Third's Community Development group closed on more than $500 million in loans and investments. This commitment created and preserved over 6,000 units of affordable housing for low- and moderate-income people, including families and seniors. In addition, six loans and investments went to development projects that will provide jobs and services for communities in the Bank's footprint.
"Fifth Third's Community Development group works in collaboration with public and private organizations to help revitalize neighborhoods so people will have the opportunity to thrive in the environments where they live and work," said Keith Burgess, senior vice president and group head of community development. "These projects are critical to the stabilization of neighborhoods and economic growth for the community's residents."
One notable investment of the Fifth Third Community Development Co., part of the Community Development group, was the John Arthur Flats housing project in Cincinnati in 2021. The property is named after John Arthur, the late spouse of Jim Obergefell, the lead plaintiff in the 2015 U.S. Supreme Court case Obergefell v. Hodges, which legalized same-sex marriage throughout the United States. The property will contain 57 new one- and two-bedroom apartments for LGBTQ seniors whose income ranges from 30% to 60% of the area mean income. The Community Development group provided $13.2 million of equity and a construction loan of $7.6 million for the project.
More information is available in the Fifth Third Bancorp 2021 ESG Report.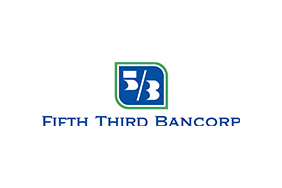 Fifth Third Bancorp
Fifth Third Bancorp
Fifth Third Bancorp is a diversified financial services company headquartered in Cincinnati, Ohio and the indirect parent company of Fifth Third Bank, National Association, a federally chartered institution. As of Dec. 31, 2021, Fifth Third had $211 billion in assets and operated 1,117 full-service banking centers and 2,322 ATMs with Fifth Third branding in Ohio, Kentucky, Indiana, Michigan, Illinois, Florida, Tennessee, West Virginia, Georgia and North Carolina. In total, Fifth Third provides its customers with access to approximately 54,000 fee-free ATMs across the United States. Fifth Third operates four main businesses: Commercial Banking, Branch Banking, Consumer Lending and Wealth & Asset Management. Investor information and press releases can be viewed at www.53.com. Fifth Third's common stock is traded on the Nasdaq® Global Select Market under the symbol "FITB." Fifth Third Bank was established in 1858. Deposit and Credit products are offered by Fifth Third Bank, National Association. Member FDIC.
Fifth Third's Purpose is to improve lives and the well-being of its communities by being the One Bank people most value and trust. The Company believes in doing well by doing good and delivering long-term sustainable value to all its stakeholders. Fifth Third is focused on five environmental, social and governance priorities: keeping the customer at the center, demonstrating its commitment to employees, strengthening its communities, promoting inclusion and diversity, and addressing climate change.
More from Fifth Third Bancorp