Published 10-25-22
Submitted by Fifth Third Bancorp

We know a diverse supply chain is better business. It's about offering excellent financial solutions and driving innovation for the benefit of our customers, shareholders, employees and communities. We consider our supplier diversity program a strategic imperative. It was formally established in 2015 to encourage certified minority-, women-, veteran-, persons with disabilities-, and LGBT+-owned small businesses to compete for contracting opportunities and to drive innovation.
Our One Bank approach promotes collaboration across our internal departments to ensure diverse suppliers are used throughout our organization. In addition to ensuring access to business opportunities, we support diverse suppliers through myriad methods, from certification support to scholarships providing education and training on how to conduct business with us, that exemplify our commitment to diverse business owners and to having a more robust and competitive supply chain.
TIER 1
Tier 1 spending includes suppliers who provide products and services directly to Fifth Third and receive payment directly from Fifth Third. In 2021, the Bank's Tier 1 spending increased 17% from $75.4M in 2020 to $88.4M.
TIER 2
Tier 2 spending includes suppliers who provide products and services to Fifth Third and receive payment from a Tier 1 supplier. As an industry best practice, influencing diverse spending through all levels of our supply chain positions us to deliver measurable economic benefits to both Fifth Third and diverse communities. Actively working with Fifth Third's Tier 1 suppliers to increase engagement and spending with diverse suppliers boosts supplier diversity success. The strategic focus on increasing diverse Tier 2 spending had a significant impact as the Bank's Tier 2 diverse spending in 2021 increased 254% from $7.3M in 2020 to $25.8 million. This resulted in $109 million combined Tier 1 and Tier 2 spending with diverse suppliers in 2021.
Through the years, Fifth Third has developed numerous partnerships with organizations that focus on enhancing supplier diversity efforts. In addition to business opportunities, part of our journey includes partnerships with organizations that are established to promote the development of a strong supplier base in the communities we serve. Those include the National Minority Supplier Development Council, Women's Business Enterprise National Council and Financial Services Roundtable for Supplier Diversity. Several Fifth Third leaders serve on boards or as members of committees with these organizations.
Supporting and Developing Supplier Diversity Leaders
Fifth Third's Supplier Diversity and facilities teams partnered in the inaugural Diversity Inclusion Support and Connection Opportunities for Vendor Empowerment Roundtable, or DISCOVER event. The event improved awareness of business opportunities for certified minority businesses in the construction, design, repair and maintenance fields. Sessions provided insight and tips about how to bid for work on upcoming Fifth Third projects and introduced diverse suppliers to key decision-makers.
During the pandemic, Fifth Third turned to innovative ways to connect with diverse suppliers, including a virtual program in partnership with the Business Development Program for Ohio and Kentucky members of the Women's Business Enterprise Council Ohio River Valley. The eight-month program developed female entrepreneurs, challenged business owners to explore new leadership concepts and focused on long-term economic growth opportunities that also benefit communities. The highly selective program was guided by certified program directors, Kaufman FastTrac Growth Venture Program facilitators and Fifth Third subject matter experts.
For more information about the Bank's efforts in Supplier Diversity, read the Bank's 2021 Environmental, Social and Governance Report.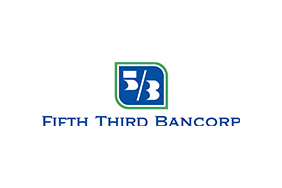 Fifth Third Bancorp
Fifth Third Bancorp
Fifth Third Bancorp is a diversified financial services company headquartered in Cincinnati, Ohio and the indirect parent company of Fifth Third Bank, National Association, a federally chartered institution. As of Dec. 31, 2021, Fifth Third had $211 billion in assets and operated 1,117 full-service banking centers and 2,322 ATMs with Fifth Third branding in Ohio, Kentucky, Indiana, Michigan, Illinois, Florida, Tennessee, West Virginia, Georgia and North Carolina. In total, Fifth Third provides its customers with access to approximately 54,000 fee-free ATMs across the United States. Fifth Third operates four main businesses: Commercial Banking, Branch Banking, Consumer Lending and Wealth & Asset Management. Investor information and press releases can be viewed at www.53.com. Fifth Third's common stock is traded on the Nasdaq® Global Select Market under the symbol "FITB." Fifth Third Bank was established in 1858. Deposit and Credit products are offered by Fifth Third Bank, National Association. Member FDIC.
Fifth Third's Purpose is to improve lives and the well-being of its communities by being the One Bank people most value and trust. The Company believes in doing well by doing good and delivering long-term sustainable value to all its stakeholders. Fifth Third is focused on five environmental, social and governance priorities: keeping the customer at the center, demonstrating its commitment to employees, strengthening its communities, promoting inclusion and diversity, and addressing climate change.
More from Fifth Third Bancorp