Published 10-13-22
Submitted by Cool Effect
Thanks to everything from historic climate policies to being a topic of interest on late night television, the recent focus on carbon offsets — and the Voluntary Carbon Market as a whole — has never been stronger. With growing interest and investment in the carbon market comes increased scrutiny, and for good reason.
From shady, non-scientific brokers looking to make a quick buck, to corporate offset pledges that amount to nothing more than greenwashing, a few bad actors in the Voluntary Carbon Market are casting a negative light on everyone. One point continues to be extremely clear: there is a wide range of carbon projects. It will take integrity in crediting quality to build trust.
The disparities and inconsistencies of the carbon project verification process has sparked efforts like the Integrity Council for the Voluntary Carbon Market (IC-VCM), whose sole goal is to create universal standards that ensure all projects on the market are trusted, verified, transparent, and actually make an impact. Their mantra: "Build integrity and scale will follow."
Cool Effect agrees — that is why since its founding in 2015, Cool Effect has upheld a commitment to supporting only the highest quality carbon reducing projects that pass its rigorous vetting and selection process. Cool Effect calls it "Carbon Done Correctly," because that's exactly what it is.
The Cool Effect Model for project selection includes a number of key elements
Superior Projects: the project must be listed on one of the major international carbon credit standards, such as The Gold Standard, Verra, the Climate Action Reserve or the American Carbon Registry. The project also must be 100% additional, meaning the emission reductions or removals from a mitigation activity would not have taken place in the absence of the added incentive/funding created by the sale of carbon credits. The project must also offer permanence, meaning that the sequestration of the carbon or avoidance of carbon is permanent. Permanence guarantees that the carbon reduction is ensured through the project's survival for a minimum of 40 years but can also be 100 years or in perpetuity. This includes a carbon removal element (carbon credits), and other positive impacts on local flora, fauna and the local population.
Focused Management Structure: Cool Effect also closely evaluates the project management team to ensure they're committed to the project for the long-run, looking for developers who are truly dedicated to the activities of the project and have a proven track record of regular involvement and participation. From a financial perspective, Cool Effect also looks for projects that direct revenue from the sale of carbon credits back to the project for continued improvements.
Co-Benefits: all projects supported on Cool Effect's platform must contribute to United Nations Sustainable Development Goals (UNSDGs), meaning they offer additional benefits beyond reducing carbon emissions. UNSDGs include improving health and well-being, providing access to clean water and sanitation, ending hunger and achieving food security, providing access to affordable and reliable clean energy, and more. The project also must be endorsed by the local community, which is often a telling sign of the project's impact.
Long Duration: Cool Effect also evaluates a project based on its ability to maintain financial stability for the long-run. A commitment to long-term quality and crediting are essential for Cool Effect, as the company's goal is to see long-term, sustained benefits to both the environment and the communities in which these projects are based.
Finally, transparency in all aspects of project activities: Transparency is a fundamental element of a successful carbon project. Pricing transparency is incredibly important to Cool Effect in effort to uphold integrity and build trust with its buyers. Cool Effect vets project financials to ensure that it's clear how all funds are being used. Years ago, Cool Effect introduced The Seller's Pledge, a legal commitment to pricing transparency that is made to any buyer of carbon offsets from its platform as part of Cool Effect's Carbon Done Correctly program. Cool Effect holds itself to the highest financial and operational standard—no mysterious costs or hidden charges. Over 90% of every donation goes directly to project partners. If Cool Effect has any unanswered questions about a project or its financials, it ultimately will not be a fit for the organization's platform.
Beyond this project vetting process, Cool Effect also conducts a comprehensive scientific analysis of each project which includes the completion of due diligence criteria, something the organization refers to as its triple verification process. This includes an assessment of additionality, project baselines, leakage and Emission Reduction Claims. Most importantly, Cool Effect also conducts site visits which entails visiting the project on-the-ground to see the initiative first-hand. This enables the team to determine the accuracy of project documentation and better understand its impact on a local level.
"Our due diligence process is something we're incredibly committed to. We're passionate about supporting high-quality projects that have both a tangible benefit for the environment and transform lives in communities that need it most," said Geisa Principe, Cool Effect's Director of Project Research. "Our approach to project selection is rooted in transparency and science, because our ultimate goal is to instill trust in the companies and individuals who turn to Cool Effect when purchasing carbon credits. We want people to rest assured knowing that their donation is making a tangible impact."
Cool Effect has vetted nearly 2,000 projects throughout the course of its history with only about 50 projects - or under 3% - having passed the organization's rigorous evaluation process. That 3% of projects have made their way onto Cool Effect's platform, and through the support of community contributions, over $36 million in donations have been routed to the developing world.
It's time to embrace effective climate solutions like these that are rooted in transparency, supported by science, and beneficial for both the planet and its people.
To learn more about Cool Effect or how to partner with the organization to develop a meaningful sustainability and carbon offset program, please visit cooleffect.org/for-business.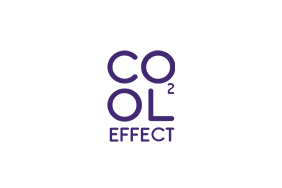 Cool Effect
Cool Effect
Cool Effect is a San Francisco Bay Area 501(c)(3) nonprofit dedicated to reducing carbon emissions around the world by allowing individuals, businesses, organizations and universities to create a tangible impact on climate change by funding the highest quality carbon reduction projects that are verifiably and measurably reducing global warming emissions. The organization was founded by Dee and Richard Lawrence on their passionate belief that support of carbon offset projects will create a cumulative effect that will reduce and prevent carbon pollution. Like the Butterfly Effect, The Ripple Effect, and others, a single action can have global impact.
More from Cool Effect