Published 10-05-22
Submitted by Qualcomm Inc.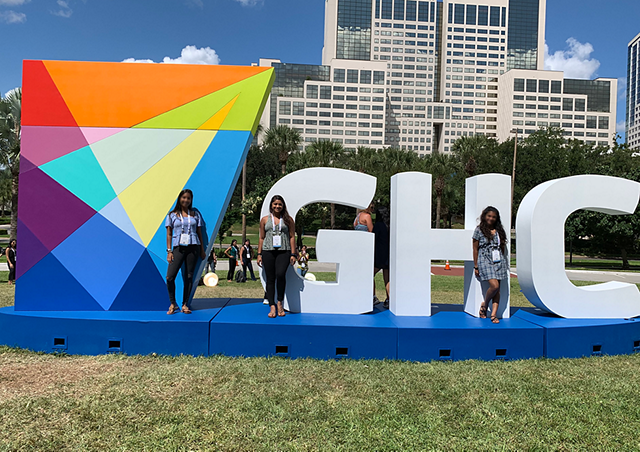 You're ready to take your shot with the biggest high-tech players. You pack your finest business casual, drop an apple (you won't eat) in your bag, and hop on a flight. Three airport tacos, one hotel check-in, and two shuttles later, and there you are, at the Grace Hopper Celebration (GHC) in Orlando, Florida.
If you're one of many women making this tech-wonder-land pilgrimage, you may be excited-meets-anxious about what to expect and what happens if you sign on the dotted line.
According to three-time attendees Suhani Jain (Engineer, Qualcomm Technologies, Inc.) and Muriel Hook (Engineer, Qualcomm Technologies, Inc.), the first step is research and preparation. They should know since their GHC journey led them to their dream jobs. And today, they're spilling the beans on how to make the most of the celebration and what real life is like after the offer.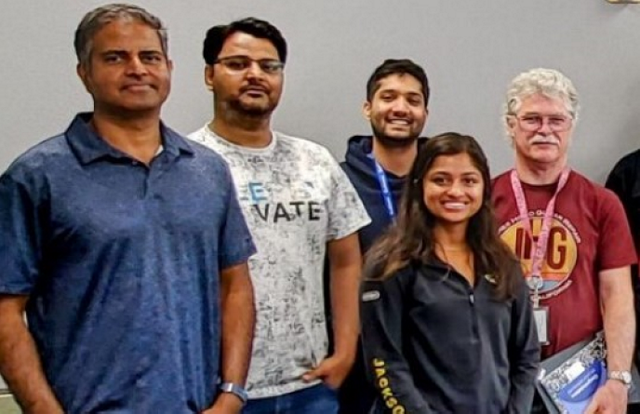 Innovation, community, a place to grow
As a computer engineering student at Georgia Tech, Suhani Jain attended career fairs, but nothing like the GHC. After hearing about it, the conference was on her radar for more than a year. When the time came, she submitted her resume online and attended with three like-minded roommates. But when they arrived, the aspiring engineers stepped into a show larger than life. 
"We realized we cannot show up and hope for the best," she recalls. "So that night, we came up with a game plan."
Although software was her original career focus as a student, after learning about Qualcomm from other professionals, she shifted her sights because of our innovation leadership. 
"Qualcomm was one of the first booths on my list," she shares. "I thought working on products with hardware components would be cool, and they offered ideal roles for where I wanted to take my career."
After the show, Suhani had an offer from a well-known company, yet her wish was for a job with Qualcomm. She was with friends when she got the call.
"It was a California number. So, I'm like, "Everybody, everybody just freeze! Just. Don't. Move," she excites. "I answered, and I held back tears as they said, "Hi Suhani. We would love to offer you a job." As soon as I hung up, I was screaming and jumping."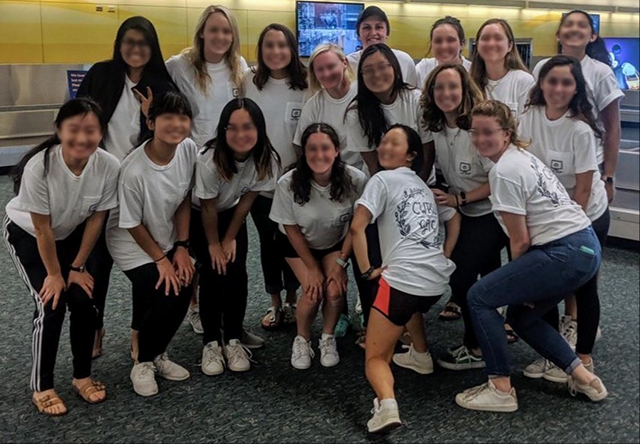 But did life at Qualcomm live up to the hype?
Since then, Suhani's vision has not only come to life, but it's also expanded, she reports. She was assigned a female executive mentor, struck a work-life balance, plugged into the support of the QWomen Engineer club, attended virtual happy hours and trivia contests, formed colleague relationships, moved to San Diego to get closer to the action, returned to her alma mater to pursue her master's degree online (with Qualcomm tuition reimbursement support), and went full-circle as one of our GHC representatives in 2020 and 2021. 
"I loved returning to Grace Hopper to help recruit," she adds. "It was fun, and now that I'm all-in, I can share exactly how, as a global wireless technology innovator, we have endless opportunities for women in tech to express their career vision here."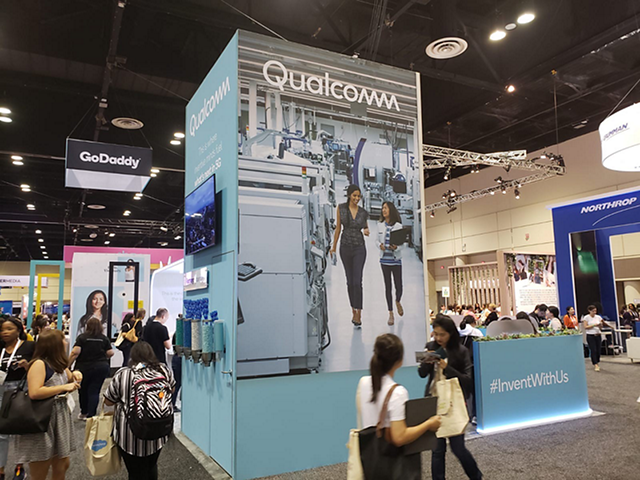 Big small company, male allies
Muriel Hook was preparing to graduate from college when her now alma mater, Cleveland's Case Western Reserve University, Electrical Engineering and Computer Science Department sponsored her to attend the GHC. And although she had the advantage of a pre-show interview with Qualcomm, naturally, she still felt the pressure to bring her A-game.
"Interviewing is typically not a fun experience," she explains. "But the Qualcomm interviewers made me feel comfortable."
Ultimately, Muriel joined us as a software engineer in 2020, and today she says the comfort-level remains. At Qualcomm Technologies, she clicked into a work community, connected with a mentor, and found support in unexpected ways.
"We operate like a startup socially," she expands. "I appreciate that our communication is open across levels, which is not common in large companies."
Today she's tapping into support offered by executives, managers, and male colleagues.
"I have a lot of male allies at Qualcomm," she says. "They make a point to echo my views or highlight my accomplishments in meetings. A lot of women struggle with getting their voice heard, but here, my male counterparts listen to me and make sure I get credit."
Visit Qualcomm at the GHC
After two years of virtual events, we're sure you're as excited as we are to attend the GHC in person. And we have lots of exciting demonstrations and opportunities to share. Whether you stop by our booth for a SWAG bag, power up your device at our charging station, or network with us and other women in tech at our dinner, we're geared up for an exciting time of learning and fun. We look forward to meeting you there.
Learn how Qualcomm is building an inclusive environment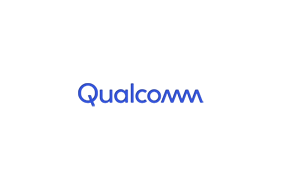 Qualcomm Inc.