Published 09-29-22
Submitted by Principal Financial Group, Inc.

Originally published on Principal.com
At home, Guadalupe Lopez relishes Oaxacan specialties like tlayuda and memelas made by her mom. During the year, she looks forward to family traditions around holidays including Día de los Muertos. And at work, Lopez finds community with coworkers who switch from English to Spanish as easily as she does, as well as the Principal® Hispanic/Latino Employee Resource Group (HLERG).
"My colleagues are very supportive, and I've been fortunate to have roles where I have been able to put my bilingual skills to good use," Lopez says, who is a client service specialist in operational support at Principal.
That support enabled Lopez to provide critical assistance at the onset of the pandemic when customers—some of them native Spanish speakers and many of them worried about the economy—called in with questions about their retirement accounts. "It helped for them to have someone they could understand without a translator," Lopez says, who is bilingual and at the time was a retirement specialist. "I really enjoyed helping my community and making a difference."
National Hispanic Heritage Month began in 1968 as a weeklong celebration. Twenty years later, it was extended to a month—September 15 through October 15—to celebrate the history, culture, and contributions by citizens of the United States with ancestors from Spain, Mexico, the Caribbean, and Central and South America. This year's theme is "Unidos: Inclusivity for a Stronger Nation."
Why mid-month? Within those 30 days are several countries' independence anniversaries, including Costa Rica, El Salvador, Guatemala, Honduras, Nicaragua, Mexico, and Chile.
Guadalupe's experiences—celebrating her heritage and traditions at home and work while providing specific insight to help Hispanic and Latino Americans—provide an example of how to strengthen inclusive connections, and not just during Hispanic Heritage Month.
Service for Others
Everyone works toward financial goals differently, depending on multiple influences including education, trust, comfort, and access, to name just a few. And not every community approaches current and future financial goals the same.
For example, less than six out of 10 members of the Hispanic/Latino community find it achievable to manage income and expenses, according to the 2022 Principal® Retirement Security Survey. Only 69% of Hispanic people say it's easy to access a bank account, compared to 85% of those who are white. The survey also found that members of Hispanic communities are less likely to think they'll be able to get a job and pay taxes.
When Diego Verdugo was 10, he and his family moved from a border town in Mexico to Douglas, Arizona. He was the first in his family to go to and graduate from college, and learned a valuable lesson: Education opened doors for him.
When Verdugo joined Principal in 2012 as part of the leadership development program, he was able to help develop a 401(k) education program specifically for Hispanics. "I got to leverage my background and skill set, and train people who were running the meetings," Verdugo says, who is now director with Principal Global Investors.
Spanish speakers can find financial literacy and wellness information from Principal through:
Even then, he knew he could do more. "I asked if I could start conducting those 401(k) education meetings myself in Spanish and English," he says. "Historically when companies thought about how to amplify bicultural and bilingual talent, one of the only doors open was through call centers. But now, our skills, backgrounds, and expertise are being maximized as we continue serving our customers, the employee population, and our community."
Offering Education
Verdugo has been part of the HLERG leadership team and steering committee since its inception. For him and employees like Lopez, the monthly meetings offer education, support, and professional development as well as an opportunity to celebrate moments like Hispanic Heritage Month.
For example, Lopez's family, who are originally from Oaxaca, Mexico, have different food, traditions, values, and cultural experiences than someone from any other country in Latin America. "Events like Hispanic Heritage Month really help to educate others on those differences," she says.
Mark your calendars for Hispanic/Latino celebrations supported by Principal and Principal® Foundation.
The HLERG leadership also maintains intentional connections to other Principal ERGs and enterprise-wide initiatives, says Verdugo, such as a speaker series. "We don't want to create silos," Verdugo says. "We ask ourselves how we can take resources that might be concentrated in Des Moines and make them available to all employees—even overseas. We want to create strong communities for everyone."
For Verdugo, involvement in HLERG has led him to opportunities with other organizations, such as the Association of Latino Professionals For America (ALPFA). He co-leads the Phoenix chapter where he's now based; it received the 2022 Developing Chapter of the Year award. "Principal has always supported my work in ALPFA and sponsored four employees to go to the national convention," Verdugo says. "It's our way of taking what we do here for our employees and communities and expanding it for the national platform."
For Verdugo, it's also more than that. When he was in college, he was the recipient of a Principal scholarship—his first connection to the company. "Serving my community has always been a personal responsibility because a lot of people helped me along the way, so it's a way of me paying back and paying forward," Verdugo says. "I am able to tell that story in our walls and outside of our walls, and if more Latinos knew the Principal story, more could relate to it. We have the same ideals and same values of helping people live their best life."
Did you know?
Latin America refers to is a region, not a continent or country. Latin America is generally understood to include South America, Mexico, Central America, and Caribbean islands whose residents typically speak a Romance language such as Spanish or Portuguese.
The term Hispanic generally refers to a person who speaks Spanish or is a descendent of someone from a Spanish-speaking population. Latino refers to someone from Latin America, or a descendent of someone from Latin America.
Learn more about our commitment to inclusion and diversity at Principal.
Association of Latino Professionals For America is not an affiliate of any member company of the Principal Financial Group®
Principal Financial Group Foundation, Inc. ("Principal® Foundation") is a duly recognized 501(c)(3) entity focused on providing philanthropic support to programs that build financial security in the communities where Principal Financial Group, Inc. ("Principal") operates. While Principal Foundation receives funding from Principal, Principal Foundation is a distinct, independent, charitable entity. Principal Foundation does not practice any form of investment advisory services and is not authorized to do so.
© 2022 Principal Foundation.
Insurance products issued by Principal National Life Insurance Co (except in NY) and Principal Life Insurance Company®. Plan administrative services offered by Principal Life. Principal Funds, Inc. is distributed by Principal Funds Distributor, Inc. Securities offered through Principal Securities, Inc., member SIPC and/or independent broker/dealers. Referenced companies are members of the Principal Financial Group®, Des Moines, IA 50392.©2022 Principal Financial Services, Inc.
2420212-092022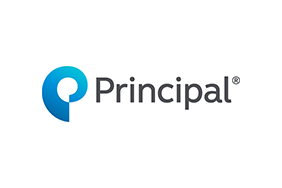 Principal Financial Group, Inc.
Principal Financial Group, Inc.
Principal Financial Group® (Nasdaq: PFG) is a global financial company with 18,500 employees1 passionate about improving the wealth and well-being of people and businesses. In business for more than 140 years, we're helping more than 51 million customers1 plan, protect, invest, and retire, while working to support the communities where we do business, and build a diverse, inclusive workforce. Principal® is proud to be recognized as one of America's 100 Most Sustainable Companies2, a member of the Bloomberg Gender Equality Index, and a Top 10 "Best Places to Work in Money Management3." Learn more about Principal and our commitment to building a better future at principal.com.
More from Principal Financial Group, Inc.