Published 09-23-22
Submitted by Fifth Third Bancorp
Talent diversity is of utmost importance at every level of our Company, from our Board of Directors to our executive team to our 18,655 full-time and 849 part-time employees as of Dec. 31, 2021.
Publishing demographic diversity data is part of our commitment. It's a practice we started in 2017 with the publication of our 2016 Corporate Social Responsibility Report.
Aligning with our Footprint's Diversity
To become the one bank people most value and trust, we continued on our journey to ensure our workforce reflects the communities we serve. To that end, we compared the makeup of our employee population with census data.
2021 Workforce Diversity
As part of our six bold goals that support inclusion and diversity within our workforce by 2025, we strive to grow leadership positions at the Exec/Senior Managers and First/Mid-level Managers categories for women and persons of color.
For the full graphs related to Fifth Third's employee demographics and diversity, read the Social section of the Company's 2021 Environmental, Social and Governance Report.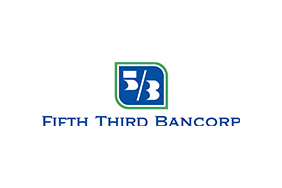 Fifth Third Bancorp
Fifth Third Bancorp
Fifth Third Bancorp is a diversified financial services company headquartered in Cincinnati, Ohio and the indirect parent company of Fifth Third Bank, National Association, a federally chartered institution. As of Dec. 31, 2021, Fifth Third had $211 billion in assets and operated 1,117 full-service banking centers and 2,322 ATMs with Fifth Third branding in Ohio, Kentucky, Indiana, Michigan, Illinois, Florida, Tennessee, West Virginia, Georgia and North Carolina. In total, Fifth Third provides its customers with access to approximately 54,000 fee-free ATMs across the United States. Fifth Third operates four main businesses: Commercial Banking, Branch Banking, Consumer Lending and Wealth & Asset Management. Investor information and press releases can be viewed at www.53.com. Fifth Third's common stock is traded on the Nasdaq® Global Select Market under the symbol "FITB." Fifth Third Bank was established in 1858. Deposit and Credit products are offered by Fifth Third Bank, National Association. Member FDIC.
Fifth Third's Purpose is to improve lives and the well-being of its communities by being the One Bank people most value and trust. The Company believes in doing well by doing good and delivering long-term sustainable value to all its stakeholders. Fifth Third is focused on five environmental, social and governance priorities: keeping the customer at the center, demonstrating its commitment to employees, strengthening its communities, promoting inclusion and diversity, and addressing climate change.
More from Fifth Third Bancorp