Published 09-22-22
Submitted by Fifth Third Bancorp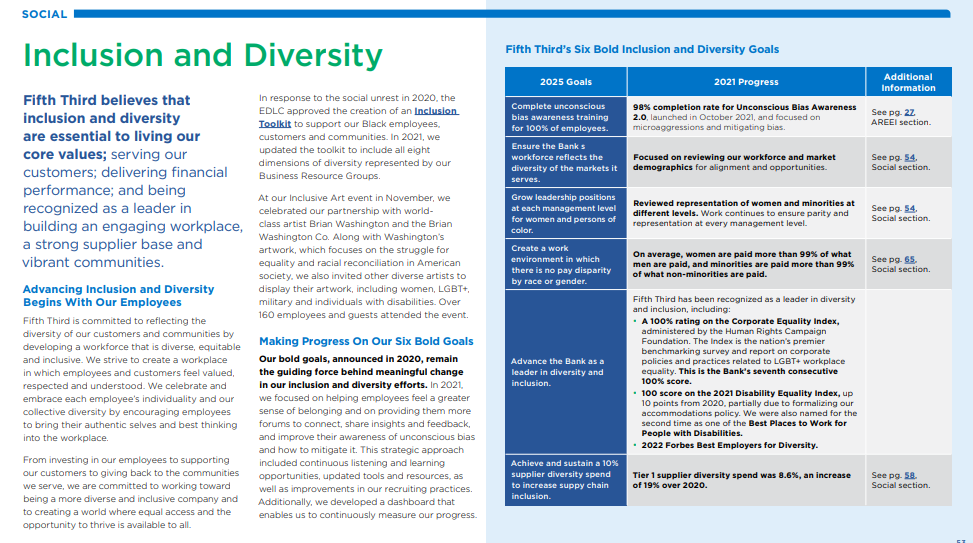 Fifth Third believes that inclusion and diversity are essential to living our core values; serving our customers; delivering financial performance; and being recognized as a leader in building an engaging workplace, a strong supplier base and vibrant communities.
Advancing Inclusion and Diversity Begins with Our Employees
Fifth Third is committed to reflecting the diversity of our customers and communities by developing a workforce that is diverse, equitable and inclusive. We strive to create a workplace in which employees and customers feel valued, respected and understood. We celebrate and embrace each employee's individuality and our collective diversity by encouraging employees to bring their authentic selves and best thinking into the workplace.
From investing in our employees to supporting our customers to giving back to the communities we serve, we are committed to working toward being a more diverse and inclusive company and to creating a world where equal access and the opportunity to thrive is available to all.
In response to the social unrest in 2020, the EDLC approved the creation of an Inclusion Toolkit to support our Black employees, customers and communities. In 2021, we updated the toolkit to include all eight dimensions of diversity represented by our Business Resource Groups.
At our Inclusive Art event in November, we celebrated our partnership with world class artist Brian Washington and the Brian Washington Co. Along with Washington's artwork, which focuses on the struggle for equality and racial reconciliation in American society, we also invited other diverse artists to display their artwork, including women, LGBT+, military and individuals with disabilities. Over 160 employees and guests attended the event.
Making Progress on Our Six Bold Goals
Our bold goals, announced in 2020, remain the guiding force behind meaningful change in our inclusion and diversity efforts. In 2021, we focused on helping employees feel a greater sense of belonging and on providing them more forums to connect, share insights and feedback, and improve their awareness of unconscious bias and how to mitigate it. This strategic approach included continuous listening and learning opportunities, updated tools and resources, as well as improvements in our recruiting practices. Additionally, we developed a dashboard that enables us to continuously measure our progress.
For information on Fifth Third's Inclusion & Diversity priorities and bold goals, read the 2021 Environmental, Social and Governance Report.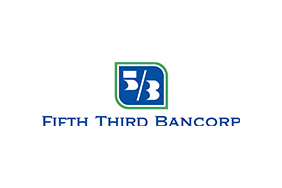 Fifth Third Bancorp
Fifth Third Bancorp
Fifth Third Bancorp is a diversified financial services company headquartered in Cincinnati, Ohio and the indirect parent company of Fifth Third Bank, National Association, a federally chartered institution. As of Dec. 31, 2021, Fifth Third had $211 billion in assets and operated 1,117 full-service banking centers and 2,322 ATMs with Fifth Third branding in Ohio, Kentucky, Indiana, Michigan, Illinois, Florida, Tennessee, West Virginia, Georgia and North Carolina. In total, Fifth Third provides its customers with access to approximately 54,000 fee-free ATMs across the United States. Fifth Third operates four main businesses: Commercial Banking, Branch Banking, Consumer Lending and Wealth & Asset Management. Investor information and press releases can be viewed at www.53.com. Fifth Third's common stock is traded on the Nasdaq® Global Select Market under the symbol "FITB." Fifth Third Bank was established in 1858. Deposit and Credit products are offered by Fifth Third Bank, National Association. Member FDIC.
Fifth Third's Purpose is to improve lives and the well-being of its communities by being the One Bank people most value and trust. The Company believes in doing well by doing good and delivering long-term sustainable value to all its stakeholders. Fifth Third is focused on five environmental, social and governance priorities: keeping the customer at the center, demonstrating its commitment to employees, strengthening its communities, promoting inclusion and diversity, and addressing climate change.
More from Fifth Third Bancorp