Published 09-12-22
Submitted by Fifth Third Bancorp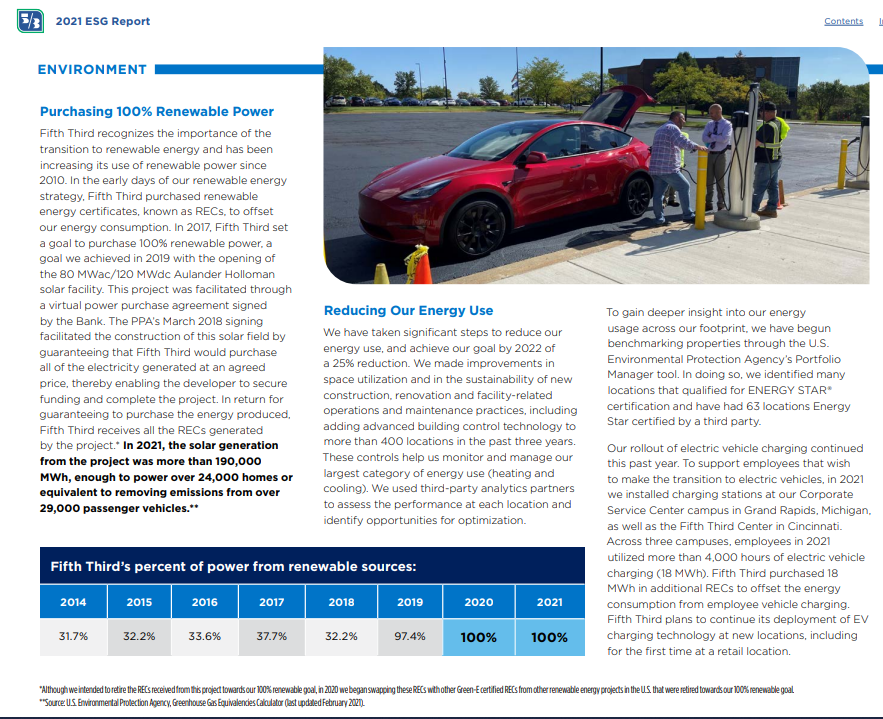 Fifth Third recognizes the importance of the transition to renewable energy and has been increasing its use of renewable power since 2010. In the early days of our renewable energy strategy, Fifth Third purchased renewable energy certificates, known as RECs, to offset our energy consumption. In 2017, Fifth Third set a goal to purchase 100% renewable power, a goal we achieved in 2019 with the opening of the 80 MWac/120 MWdc Aulander Holloman solar facility. This project was facilitated through a virtual power purchase agreement signed by the Bank. The PPA's March 2018 signing facilitated the construction of this solar field by guaranteeing that Fifth Third would purchase all of the electricity generated at an agreed price, thereby enabling the developer to secure funding and complete the project. In return for guaranteeing to purchase the energy produced, Fifth Third receives all the RECs generated by the project.*
In 2021, the solar generation from the project was more than 190,000 MWh, enough to power over 24,000 homes or equivalent to removing emissions from over 29,000 passenger vehicles.**
Reducing Our Energy Use
We have taken significant steps to reduce our energy use, and achieve our goal by 2022 of a 25% reduction. We made improvements in space utilization and in the sustainability of new construction, renovation and facility-related operations and maintenance practices, including adding advanced building control technology to more than 400 locations in the past three years. These controls help us monitor and manage our largest category of energy use (heating and cooling). We used third-party analytics partners to assess the performance at each location and identify opportunities for optimization.
To gain deeper insight into our energy usage across our footprint, we have begun benchmarking properties throughout the U.S. Environmental Protection Agency's Portfolio Manager tool. In doing so, we identified many locations that qualified for ENERGY STAR® certification and have had 63 locations Energy Star certified by a third party.
Our rollout of electric vehicle charging continued this past year. To support employees that wish to make the transition to electric vehicles, in 2021 we installed charging stations at our Corporate Service Center campus in Grand Rapids, Michigan, as well as the Fifth Third Center in Cincinnati. Across three campuses, employees in 2021 utilized more than 4,000 hours of electric vehicle charging (18 MWh). Fifth Third purchased 18 MWh in additional RECs to offset the energy consumption from employee vehicle charging. Fifth Third plans to continue its deployment of EV charging technology at new locations, including for the first time at a retail location in 2022.
Read the entire Fifth Third Bancorp 2021 ESG Report.
*Although we intended to retire the RECs from this project toward our 100% renewable goal, in 2020 we began swapping these RECs with other Green-E certified RECs from other renewable energy projects in the U.S. that were retired towards our 100% renewable goal. **Source: U.S. Environmental Protection Agency, Greenhouse Gas Equivalencies Calculator (last updated February 2021).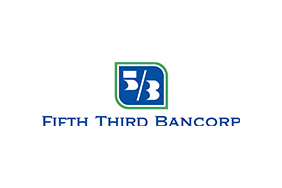 Fifth Third Bancorp
Fifth Third Bancorp
Fifth Third Bancorp is a diversified financial services company headquartered in Cincinnati, Ohio and the indirect parent company of Fifth Third Bank, National Association, a federally chartered institution. As of Dec. 31, 2021, Fifth Third had $211 billion in assets and operated 1,117 full-service banking centers and 2,322 ATMs with Fifth Third branding in Ohio, Kentucky, Indiana, Michigan, Illinois, Florida, Tennessee, West Virginia, Georgia and North Carolina. In total, Fifth Third provides its customers with access to approximately 54,000 fee-free ATMs across the United States. Fifth Third operates four main businesses: Commercial Banking, Branch Banking, Consumer Lending and Wealth & Asset Management. Investor information and press releases can be viewed at www.53.com. Fifth Third's common stock is traded on the Nasdaq® Global Select Market under the symbol "FITB." Fifth Third Bank was established in 1858. Deposit and Credit products are offered by Fifth Third Bank, National Association. Member FDIC.
Fifth Third's Purpose is to improve lives and the well-being of its communities by being the One Bank people most value and trust. The Company believes in doing well by doing good and delivering long-term sustainable value to all its stakeholders. Fifth Third is focused on five environmental, social and governance priorities: keeping the customer at the center, demonstrating its commitment to employees, strengthening its communities, promoting inclusion and diversity, and addressing climate change.
More from Fifth Third Bancorp