Published 09-09-22
Submitted by MasterCard Center for Inclusive Growth

The Mastercard Center for Inclusive Growth
BY MICHAEL FROMAN
Shuttered storefronts may be a lingering symbol of the pandemic's economic fallout, but entrepreneurship is continuing to soar, with a record 5.4 million new business applications filed in 2021, according to U.S. Census Bureau figures released last month.
Access to digital tools and platforms has given a new generation of small businesses owners the ability reach customers far beyond Main Street. But to fully take advantage of this opportunity, there is work to be done to reduce frictions in gathering global trading system.
Over the last couple of years, we have seen significant increases in those frictions — from the grounding of a tanker in the Suez Canal to the disruption of global supply chains to increasing tensions between major trading partners. All of these have added an extra toll on small businesses, which lack the resources of large companies to navigate the intricacies of the global trading system, further underscoring the importance of removing unnecessary obstacles to small business exports.
Ironically, many small businesses that credit their survival to the quick embrace of digital technology during the pandemic have found that much of the global trading system has yet to be digitized.
Processes at the border and the global logistics system remain remarkably paper-based. Multiple payments are required between the shipping of a container and its ultimate delivery — often in cash. Invoices are difficult to reconcile; payments are often delayed. This is a sector ripe for digital modernization.
This is an opportunity for governments and the private sector to work together to encourage digitization that can connect small, local businesses to international markets. To achieve this though, there is much to be done to ensure trade is inclusive and secure.
This type of work is difficult. It will require governments and multinational companies to work together on digital infrastructure investments and standards for cross-border payments, smart contracts and digital identities. But the outcome of these efforts should be a global supply chain that's more resilient, more modernized for the future and more accessible to small businesses.
Let's look at how we got here. For decades, industries have pursued a lean "just in time" manufacturing model to keep costs down. COVID-19 shined a spotlight on some of the vulnerabilities associated with that model. Now there is an effort to re-shore or near-shore some production and to create resilient and redundant sources of products, but while that is underway, we continue to see shortages, many of which disproportionately affect small businesses.
Digitization can also bolster trust and confidence in the supply chain. It can trigger automatic payments as goods reach their destinations, creating a reliable digital record that can give buyers, suppliers and financiers the information they need to secure credit to help facilitate trade and reduce the risk for both importers and exporters. Standardizing a digital identity for companies of all sizes can make it easier to establish trusted trading relationships, speeding up the movement of goods and capital.
Small businesses that are struggling to compete in the global arena need better access to capital and standardized technologies and platforms that level the playing field. It will take private and public collaboration, bringing together governments, freight and logistics companies, financial institutions and payment providers to advance these efforts.
The disruptions we've seen to global trade won't disappear anytime soon. Our opportunity is to learn the lessons of the past and build back a better system, leveraging the benefits of digitization, which can promote more sustainable and inclusive growth.
Originally published by The Mastercard Center for Inclusive Growth
Check out more content from The Mastercard Center for Inclusive Growth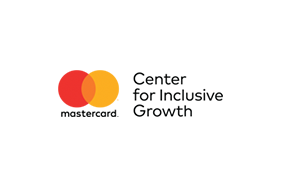 MasterCard Center for Inclusive Growth
MasterCard Center for Inclusive Growth
The Mastercard Center for Inclusive Growth focuses on promoting equitable and sustainable economic growth and financial inclusion around the world. As an independent Mastercard subsidiary, it combines data, expertise and technology with philanthropic investments to empower a community of thinkers, leaders and innovators on the frontlines of inclusive growth. Follow us on Twitter @CNTR4growth and subscribe to receive our latest insights.
More from MasterCard Center for Inclusive Growth