Published 09-09-22
Submitted by Fifth Third Bancorp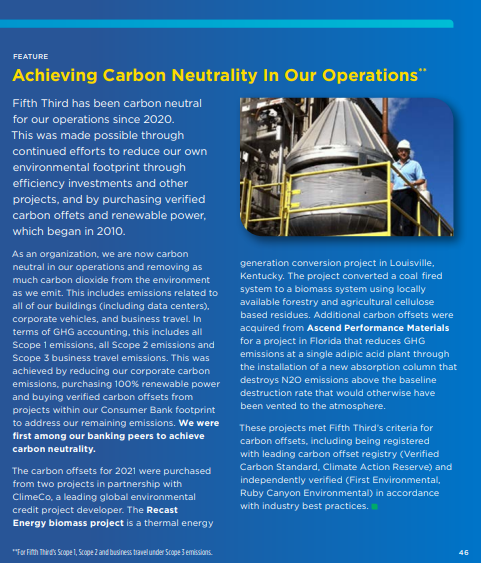 Fifth Third has been carbon neutral for our operations** since 2020. This was made possible through our combined efforts to reduce our own environmental footprint through efficiency investments and other projects, and by purchasing verified carbon offsets and renewable power, which began in 2020.
As an organization, we are now carbon neutral in our operations and removing as much carbon dioxide from the environment as we emit. This includes emissions related to all of our buildings (including data centers), corporate vehicles and business travel. In terms of GHG accounting, this includes all Scope 1 emissions, all Scope 2 emissions and Scope 3 business travel emissions. This was achieved by reducing our corporate carbon emissions, purchasing 100% renewable power and buying verified carbon offsets from projects within our Consumer Bank footprint to address our remaining emissions. We were the first among our banking peers to achieve carbon neutrality.
The carbon offsets for 2021 were purchased from two projects in partnership with ClimeCo, a leading global environmental credit project developer. The Recast Energy biomass project is a thermal energy generation conversion project in Louisville, Kentucky. The project converted a coal-fired system to a biomass system using locally available forestry and agricultural cellulose-based residues. Additional carbon offsets were acquired from Ascend Performance Materials for a project in Florida that reduces GHG emissions at a single adipic acid plant through the installation of a new absorption column that destroys N20 emissions above the baseline destruction rate that would otherwise have been vented to the atmosphere.
These projects met Fifth Third's criteria for carbon offsets, including being registered with leading carbon offset registry (Verified Carbon Standard, Climate Action Reserve) and independently verified (First Environmental, Ruby Canyon Environmental) in accordance with industry best practices.
To read the full Environment section of the Fifth Third Bancorp 2021 Environmental, Social and Governance Report visit www.53.com. More about ESG can be found at the Bank's Investor Relations site.
**For Fifth Third's Scope 1, Scope 2 and business travel under Scope 3 emissions.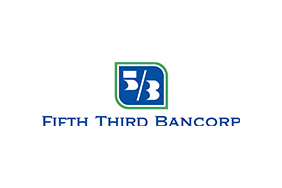 Fifth Third Bancorp
Fifth Third Bancorp
Fifth Third Bancorp is a diversified financial services company headquartered in Cincinnati, Ohio and the indirect parent company of Fifth Third Bank, National Association, a federally chartered institution. As of Dec. 31, 2021, Fifth Third had $211 billion in assets and operated 1,117 full-service banking centers and 2,322 ATMs with Fifth Third branding in Ohio, Kentucky, Indiana, Michigan, Illinois, Florida, Tennessee, West Virginia, Georgia and North Carolina. In total, Fifth Third provides its customers with access to approximately 54,000 fee-free ATMs across the United States. Fifth Third operates four main businesses: Commercial Banking, Branch Banking, Consumer Lending and Wealth & Asset Management. Investor information and press releases can be viewed at www.53.com. Fifth Third's common stock is traded on the Nasdaq® Global Select Market under the symbol "FITB." Fifth Third Bank was established in 1858. Deposit and Credit products are offered by Fifth Third Bank, National Association. Member FDIC.
Fifth Third's Purpose is to improve lives and the well-being of its communities by being the One Bank people most value and trust. The Company believes in doing well by doing good and delivering long-term sustainable value to all its stakeholders. Fifth Third is focused on five environmental, social and governance priorities: keeping the customer at the center, demonstrating its commitment to employees, strengthening its communities, promoting inclusion and diversity, and addressing climate change.
More from Fifth Third Bancorp