Published 09-06-22
Submitted by Fifth Third Bancorp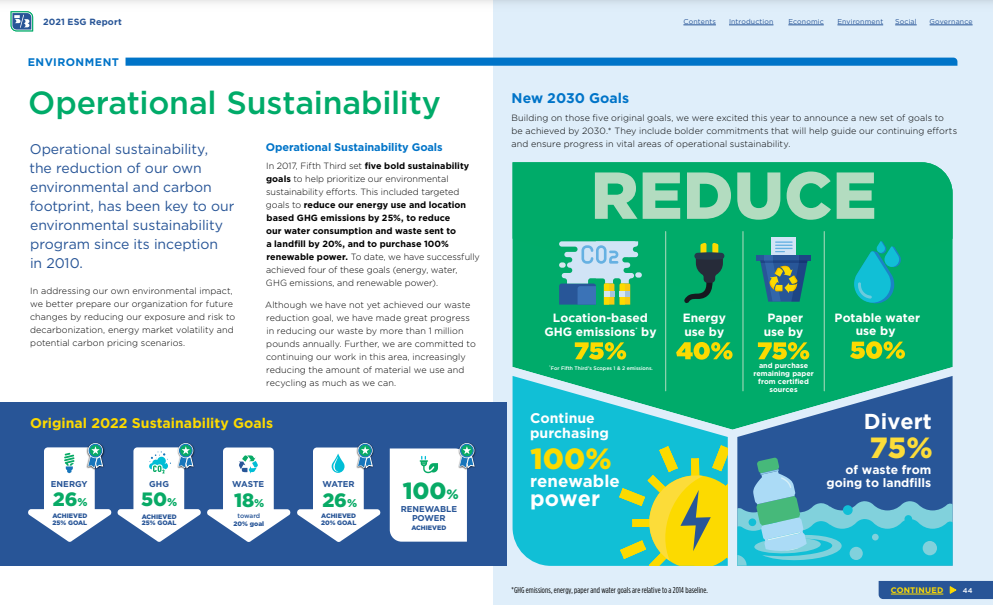 Operational sustainability, the reduction of Fifth Third's environmental and carbon footprint, has been key to our environmental sustainability program since its inception in 2010.
In addressing our own environmental impact, we better prepare our organization for future changes by reducing our exposure and risk to decarbonization, energy market volatility and potential carbon pricing scenarios.
Operational Sustainability Goals
In 2017, Fifth Third set five bold sustainability goals to help prioritize our environmental sustainability efforts. This included targeted goals to reduce our energy use and location based GHG emissions by 25%, to reduce our water consumption and waste sent a landfill by 20%, and to purchase 100% renewable power. To date, we have successfully achieved four of these goals (energy, water, GHG emissions and renewable power).
Although we have not yet achieved our waste reduction goal, we have made great progress in reducing our waste by more than 1 million pounds annually. Further, we are committed to continuing our work in this area, increasingly reducing the amount of material we use and recycling as much as we can.
New 2030 Goals
Building on those five original goals, we were excited in 2022 to announce a new set of goals to be achieved by 2030.* They include bolder commitments that will help guide our continuing efforts and ensure progress in vital areas of operational sustainability.
Reduce location-based GHG emissions1 by 75%.
Reduce energy use by 40%.
Reduce paper use by 75% and purchase remaining paper from certified sources.
Reduce potable water use by 50%.
Continue purchasing 100% renewable power.
Divert 75% of waste from going to landfills.
*GHG emissions, energy, paper and water goals are relative to a 2014 baseline.
1 For Fifth Third's Scope 1 and 2 emissions.
This text is excerpted from the Fifth Third Bancorp 2021 Environmental, Social and Governance Report, which was published on June 30, 2022. Read the full report.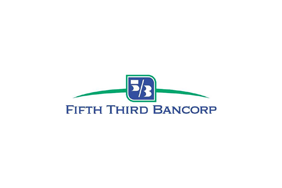 Fifth Third Bancorp