Published 09-02-22
Submitted by Griffith Foods
A snacking way of life is all about expanding that space between traditional meals and redefining what we eat and when we choose to do it. Snacking is slowly evolving away from traditional snacks like potato chips and popcorn toward protein-rich, satiating mini-meals. The secret to satisfying snacks is finding unexpected ways to create unique, healthier snack bases.
Digging into Plant-based Seafood Snacks
Chef Ryan Flick's plant-based tuna tartare takes a snacking spin that's better for you and the environment and leans into consumers' tendencies to replace larger meals with smaller snacks throughout the day.
Made with pea-protein powder and Griffith Foods' Simulated Fish Seasoning, this seafood alternative mixture transforms into a light, mid-afternoon snack that can be enjoyed guilt-free. With texture and protein covered, Chef Ryan adds flavor complexity by seasoning with soy, ginger, green onions, and sesame seeds. He serves the chilled "tuna" with avocado and chili oil for a nutritional small plate that's sure to satisfy.
View original content here.
About Griffith Foods
At Griffith Foods, our purpose defines who we are, what we do, and why we exist, highlighting what makes us distinct and authentic in the marketplace. We help our partners meet the evolving needs and desires of consumers in ways that respect and sustain the planet. Our care and creativity mean we'll find the right mix of global reach and local impact to serve the earth and nourish all of us who call it home.
Our Sustainability Platform of People, Planet, and Performance guides how we behave, conduct business, and treat people, ensuring that everything we do leads to responsible growth for our entire ecosystem.
People
We take care of our employees and the communities in which we do business.

Planet
We all share one Earth, and we take environmental action to responsibly care for it.

Performance
We operate ethically and strategically to create a positive impact for our business and for all of those with whom we interact.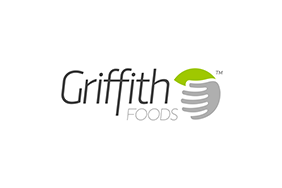 Griffith Foods
Griffith Foods
Griffith Foods is the caring, creative product development partner helping food companies meet the evolving needs of consumers while sustaining the planet. As a family business for more than 100 years, Griffith Foods is known for true, collaborative innovation. Our relationships with farmers, customers and others allow us to create delicious, nutritious foods that are better for people and better for the planet. Our people are united in advancing our purpose: "We blend care and creativity to nourish the world." For more, visit www.griffithfoods.com.
More from Griffith Foods