Published 09-01-22
Submitted by Fifth Third Bancorp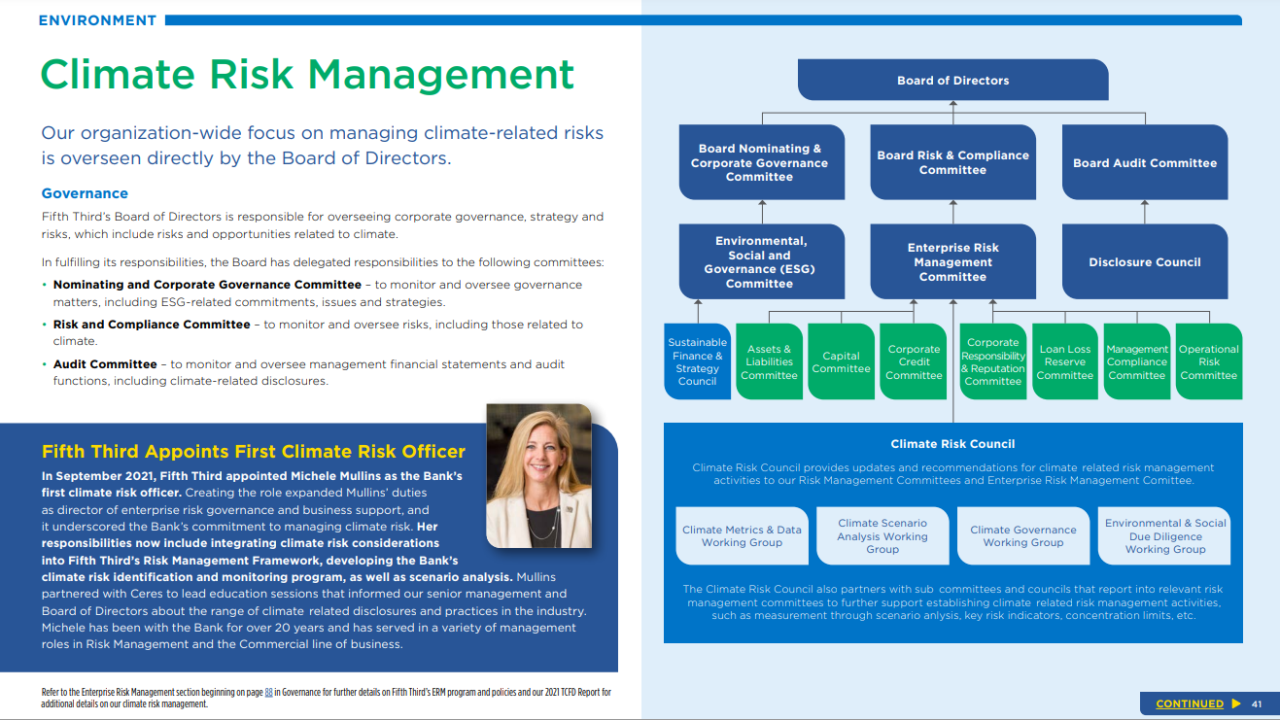 The following is an excerpt from the Fifth Third Bancorp Environmental, Social and Governance Report, which was published on June 30, 2022. Read the full report.
Fifth Third's organization-wide focus on managing climate-related risks is overseen directly the Board of Directors. The Board is responsible for overseeing corporate governance, strategy and risks, which include risks and opportunities related to climate. In fulfilling its responsibilities, the Board has delegated responsibilities to the following committees:
Nominating and Corporate Governance Committee—to monitor and oversee governance matters, including ESG-related commitments, issues and strategies.
Risk and Compliance Committee—to monitor and oversee risks, including those related to climate.
Audit Committee—to monitor and oversee management financial statements and audit functions, including climate-related disclosures.
Risk Identification and Management
Fifth Third identified climate-related risks as an "emerging" risk in 2017. Since then, the Bank has updated the Enterprise Risk Management framework to define climate risk for the Bank, and physical and transition risk was incorporated into each of the risk types to describe how climate risk could impact inherent or residual risk.
Environmental & Social Risks Across the Value Chain
Upstream—Third Parties and Suppliers
Fifth Third relies on third parties for a variety of products and services to support our operations and the successful delivery of products and services to customers. The Supplier Code of Conduct sets forth expectations for ethical, human rights, labor and environmental standards throughout our supplier network. Suppliers are required to uphold these responsible business practices by encouraging the same standards among their next-level suppliers. Suppliers are expected to comply with the content of this code, along with all applicable laws, regulations and standards of the states and countries in which they are headquartered and do business. Suppliers may be asked to provide written affirmation that they have read, understand and abide by the terms of this code.
Downstream—Customers
Recognizing the heightened environmental risks inherent in the energy sector, in 2013, we implemented a component to assess environmental risk for new lending opportunities. In addition to such risks as the client's management of water and air emissions, we also evaluate social risks such as worker safety and community engagement.
In 2020, we published our Environmental and Social Policy that identifies sectors that pose heightened environmental and social risks. The policy, which is updated at least annually and approved by our Board of Directors, provides guidance on clients in sectors and activities that are prohibited or that are subject to enhanced customer due diligence and may require escalated review and approval from senior leaders. Fifth Third's climate risk program supports the lines of business in periodic training to our front line employees primarily responsible for identifying and evaluating risks, including the environmental and social risks inherent within their businesses.
As of March 31, 2022, we have reviewed 78 client relationships in sectors with elevated environmental and social risks, which therefore require enhanced due diligence. The reviews have focused mainly on energy sector clients. Nearly two-thirds of these customers already have internal ESG policies in place, and nearly half have public ESG statements.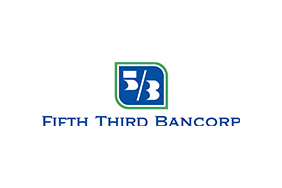 Fifth Third Bancorp
Fifth Third Bancorp
Fifth Third Bancorp is a diversified financial services company headquartered in Cincinnati, Ohio and the indirect parent company of Fifth Third Bank, National Association, a federally chartered institution. As of Dec. 31, 2021, Fifth Third had $211 billion in assets and operated 1,117 full-service banking centers and 2,322 ATMs with Fifth Third branding in Ohio, Kentucky, Indiana, Michigan, Illinois, Florida, Tennessee, West Virginia, Georgia and North Carolina. In total, Fifth Third provides its customers with access to approximately 54,000 fee-free ATMs across the United States. Fifth Third operates four main businesses: Commercial Banking, Branch Banking, Consumer Lending and Wealth & Asset Management. Investor information and press releases can be viewed at www.53.com. Fifth Third's common stock is traded on the Nasdaq® Global Select Market under the symbol "FITB." Fifth Third Bank was established in 1858. Deposit and Credit products are offered by Fifth Third Bank, National Association. Member FDIC.
Fifth Third's Purpose is to improve lives and the well-being of its communities by being the One Bank people most value and trust. The Company believes in doing well by doing good and delivering long-term sustainable value to all its stakeholders. Fifth Third is focused on five environmental, social and governance priorities: keeping the customer at the center, demonstrating its commitment to employees, strengthening its communities, promoting inclusion and diversity, and addressing climate change.
More from Fifth Third Bancorp