Published 08-12-22
Submitted by Fifth Third Bancorp

Fifth Third has been focused on three strategies since our first Environmental Sustainability Policy was approved by our Board of Directors in 2014.
In 2017, the Task Force on Climate-related Financial Disclosure published recommended, voluntary guidance for consistent financial disclosures designed to be used by investors, lenders and insurance underwriters in understanding material climate-related risks. In February 2022, Fifth Third published our second climate-related financial disclosure report.
We have been focused on transparency and reporting since 2010, when we began including an environment section in our annual CSR report and publicly disclosing carbon emissions and climate risk through the CDP (formerly Carbon Disclosure Project) voluntary questionnaire. In the most recent CDP questionnaire in 2021, we were recognized as a leader for the third consecutive year.
Fifth Third is focused on:
SUPPORTING A SUSTAINABLE TRANSITION by helping our customers and communities prepare for climate-related risks and opportunities.
MANAGING CLIMATE-RELATED RISKS facing our Company, including those related to physical and transition risks.
REDUCING OUR ENVIRONMENTAL FOOTPRINT through renewable energy, energy efficiency and other operational improvements across our enterprise.
Read the full Environment section of the 2021 Environmental, Social and Governance Report for additional information.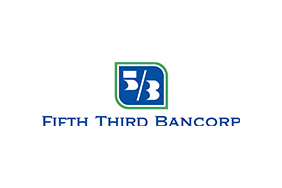 Fifth Third Bancorp
Fifth Third Bancorp
Fifth Third Bancorp is a diversified financial services company headquartered in Cincinnati, Ohio and the indirect parent company of Fifth Third Bank, National Association, a federally chartered institution. As of Dec. 31, 2021, Fifth Third had $211 billion in assets and operated 1,117 full-service banking centers and 2,322 ATMs with Fifth Third branding in Ohio, Kentucky, Indiana, Michigan, Illinois, Florida, Tennessee, West Virginia, Georgia and North Carolina. In total, Fifth Third provides its customers with access to approximately 54,000 fee-free ATMs across the United States. Fifth Third operates four main businesses: Commercial Banking, Branch Banking, Consumer Lending and Wealth & Asset Management. Investor information and press releases can be viewed at www.53.com. Fifth Third's common stock is traded on the Nasdaq® Global Select Market under the symbol "FITB." Fifth Third Bank was established in 1858. Deposit and Credit products are offered by Fifth Third Bank, National Association. Member FDIC.
Fifth Third's Purpose is to improve lives and the well-being of its communities by being the One Bank people most value and trust. The Company believes in doing well by doing good and delivering long-term sustainable value to all its stakeholders. Fifth Third is focused on five environmental, social and governance priorities: keeping the customer at the center, demonstrating its commitment to employees, strengthening its communities, promoting inclusion and diversity, and addressing climate change.
More from Fifth Third Bancorp