Published 07-20-22
Submitted by Fifth Third Bancorp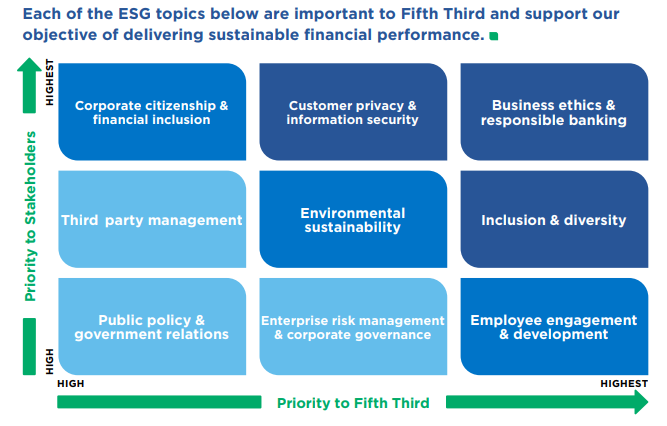 The United Nations Sustainable Development Goals are a universal call to action to end poverty, protect the planet and improve the lives and prospects of everyone, everywhere. The 17 goals were adopted by all UN member states in 2015 as part of the 2030 Agenda for Sustainable Development, which set out a 15-year plan to achieve the goals.
At Fifth Third, we believe we have a role to play in furthering all 17 UN goals. However, 12 align especially well with our ESG priorities, and we have formulated strategies and actions to make progress on them: No Poverty, Zero Hunger, Good Health and Well Being, Quality Education, Gender Equality, Clean Water and Sanitation, Affordable and Clean Energy, Decent Work and Economic Growth, Reduced Inequalities, Responsible Consumption and Production, Climate Action, and Partnership for the Goals. 
Stakeholder Engagement and Materiality Assessment
In early 2020, Fifth Third completed our first stakeholder material assessment to determine which ESG topics are most material to our Company. Based on the feedback we received from a survey and through discussions with executive leaders, we evaluated and prioritized the ESG topics below according to their relative degree of importance in our 2019 ESG Report. We used the results of our materiality assessment to guide our ESG disclosures and reporting.
In early 2022, Fifth Third engaged a third party to facilitate an updated stakeholder materiality assessment through key stakeholder and company interviews and surveys. Each of the ESG topics in the accompanying graphic are important to Fifth Third and support our objective of delivering sustainable financial performance.
To read the full Fifth Third Bancorp 2021 ESG Report, click here.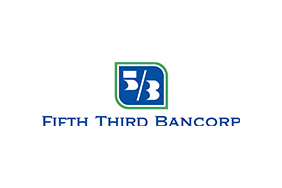 Fifth Third Bancorp
Fifth Third Bancorp
Fifth Third Bancorp is a diversified financial services company headquartered in Cincinnati, Ohio and the indirect parent company of Fifth Third Bank, National Association, a federally chartered institution. As of Dec. 31, 2021, Fifth Third had $211 billion in assets and operated 1,117 full-service banking centers and 2,322 ATMs with Fifth Third branding in Ohio, Kentucky, Indiana, Michigan, Illinois, Florida, Tennessee, West Virginia, Georgia and North Carolina. In total, Fifth Third provides its customers with access to approximately 54,000 fee-free ATMs across the United States. Fifth Third operates four main businesses: Commercial Banking, Branch Banking, Consumer Lending and Wealth & Asset Management. Investor information and press releases can be viewed at www.53.com. Fifth Third's common stock is traded on the Nasdaq® Global Select Market under the symbol "FITB." Fifth Third Bank was established in 1858. Deposit and Credit products are offered by Fifth Third Bank, National Association. Member FDIC.
Fifth Third's Purpose is to improve lives and the well-being of its communities by being the One Bank people most value and trust. The Company believes in doing well by doing good and delivering long-term sustainable value to all its stakeholders. Fifth Third is focused on five environmental, social and governance priorities: keeping the customer at the center, demonstrating its commitment to employees, strengthening its communities, promoting inclusion and diversity, and addressing climate change.
More from Fifth Third Bancorp