Published 07-18-22
Submitted by Cool Effect
The voluntary carbon market, which exceeded $1 billion in transactions in 2021, has shown no signs of slowing down in recent months. However, a major sticking point for corporations as they look to invest in carbon credits, is seeking out the highest-quality credits focused on pricing transparency, backed by science, and rooted in integrity. ​​High quality carbon credits can play a critical role in accelerating the transition to Net Zero. Integrity is a key aspect of high-quality credits; credits must genuinely reduce or remove carbon emissions in order to achieve their purpose.
A high-quality voluntary carbon market encourages participation by the private sector. It is clear from progress so far, that the climate crisis and the goal of keeping temperature rise to 1.5 degrees Celsius requires action on a scale and speed that governments and philanthropy cannot achieve alone. Carbon markets can efficiently deliver private sector funding to conserve tropical forests, protect ocean coastlines, capture methane, protect grasslands and promote distribution of energy saving devices, all of which help lower global emissions.
Some basic rules are clear. Businesses must first decarbonize their operations wherever possible by reducing reliance on fossil fuels, creating more efficient supply chains and streamlining manufacturing procedures. High quality carbon credits are complementary to those activities and used to reach more ambitious emission reduction goals. But, exactly how high integrity carbon credits should and can be used as part of a credible net-zero pathway is evolving in discussions with stakeholders.
Several organizations have formed in order to instill trust and uphold the integrity of the voluntary carbon market by providing oversight and guidance. They include: 1) the Integrity Council for the Voluntary Carbon Market, 2) the Voluntary Carbon Markets Integrity Initiative, and 3) the International Civil Aviation Organization. While it may seem like an alphabet soup, these entities each have a different role to play in the VCM.
The Integrity Council for the Voluntary Carbon Market (ICVCM): ICVCM's goal is to create a high integrity supply of carbon credits. This new governance body has been established to set and enforce global standards for the voluntary carbon market, providing oversight over carbon crediting programs. It draws on the best science and expertise available to review and strengthen carbon credit methodologies. In this way, climate finance is channeled into projects that genuinely reduce or remove greenhouse gas emissions and are genuinely additional. 
The Voluntary Carbon Markets Integrity Initiative (VCMI): VCMI's goal is to ensure that Voluntary Carbon Markets make a meaningful contribution to climate action while supporting the achievement of the UN Sustainability Goals. Immediate priorities include developing high-integrity guidance for buyers of carbon credits on how carbon credits can be used and claimed businesses as a part of credible net-zero strategies. VCMI is closely aligned with the work of the ICVCM.
The International Civil Aviation Organization (ICAO) is a United Nations Agency which aims to minimize the adverse effects of international aviation on the environment. While specific to the aviation industry, the organization provides guidance to 193 countries by creating policies and updating Standards and Recommended Practices (SARPs) on carbon emissions for aircrafts. Its long-term goal is to promote sustainable growth of the international aviation sector. The ICAO also developed the Carbon Offsetting and Reduction Scheme for International Aviation (CORSIA) which advises participating countries to voluntary offset the carbon emissions that cannot be reduced through the implementation of technology, sustainable aviation fuel, operational improvements or infrastructure efficiencies.
Cool Effect is also committed to upholding the integrity of the voluntary carbon market and instilling trust in its buyers, as evidenced by The Seller's Pledge, a legal commitment to transparency in pricing which is part of Cool Effect's Carbon Done Correctly program and is made to any buyer of carbon offsets from its platform.
"Business leaders have a responsibility to ensure they reduce as much of their footprint as possible, and if they choose to offset what they can't reduce, they have the responsibility to ensure those carbon credits are devoted to carbon projects that will actually reduce emissions, benefit the communities in which they're based, and are effectively cataloged throughout their lifecycle," said Jodi Manning, VP of Marketing and Partnership at Cool Effect.
"Finding the right project — and the right project for your company — is no simple task, and it's one that shouldn't be taken lightly. We're committed to helping your company cut through the noise in a cluttered space — we find those projects that meet and exceed the standards established by many of the above organizations. It's crucial that we reduce more and we reduce faster than ever, and what we can't reduce, we credit with carbon projects."
Information is its own form of empowerment, so if you want to give your business the power to take action against climate change, it's not just enough to put together a list of all available carbon projects, it's about finding a list of those carbon projects that as Cool Effect notes "do carbon correctly" — focused on transparency, backed by science, and rooted in integrity.
If your business or NPO has purchased renewable energy, is reducing waste and rethinking travel and events, and is now considering using carbon credits to achieve more ambitious climate goals, make sure that you understand their integrity and impact. Seek only the highest-quality carbon-reducing projects to supplement your company's existing efforts to reduce emissions. To learn more about how to partner with Cool Effect to develop a meaningful sustainability and carbon offset program, please visit cooleffect.org/for-business.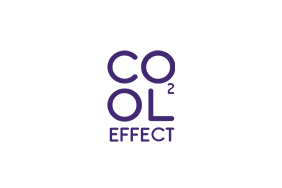 Cool Effect
Cool Effect
Cool Effect is a San Francisco Bay Area 501(c)(3) nonprofit dedicated to reducing carbon emissions around the world by allowing individuals, businesses, organizations and universities to create a tangible impact on climate change by funding the highest quality carbon reduction projects that are verifiably and measurably reducing global warming emissions. The organization was founded by Dee and Richard Lawrence on their passionate belief that support of carbon offset projects will create a cumulative effect that will reduce and prevent carbon pollution. Like the Butterfly Effect, The Ripple Effect, and others, a single action can have global impact.
More from Cool Effect