Published 06-06-22
Submitted by MasterCard Center for Inclusive Growth
The Mastercard Center for Inclusive Growth
June 6, 2022 /CSRwire/ - St. Louis Mayor Tishaura Jones joined executives from Mastercard and the St. Louis Development Corporation (SLDC) at a local St. Louis small business to announce new initiatives to help local entrepreneurs grow their businesses by expanding their digital and e-commerce capabilities.
"Equitable development happens alongside the community, not to the community," Jones said. "Economic empowerment is key to my $150 million commitment to begin reversing decades of disinvestment in North St. Louis, and I appreciate SLDC and Mastercard coming together to get St. Louis small businesses the tools they need to grow and bring good jobs to our neighborhoods."
Mastercard and the city of St. Louis have partnered to launch Digital Doors STL, a new online platform built for St. Louis entrepreneurs and small business owners, providing them with always-on content and resources to help their businesses grow. St. Louis-based small businesses interested in learning more can visit here.
Additionally, with support from Mastercard, Square, Sunrise by Lendio, and Accion Opportunity Fund, SLDC will provide education, tools and resources for small businesses focused on building out an effective digital presence, accepting digital payments, growing and managing their business, gaining access to capital, and keeping their business and their customers protected.
Participants in the program will also be provided a custom-curated business kit that includes solutions such as a Square Reader for Contactless & Chip along with website development software, access to bookkeeping software Sunrise by Lendio, consultation by Accion, Mastercard cybersecurity and data insight solutions and other city-provided resources.
"Mastercard is proud to partner with Mayor Jones and the St. Louis Small Business Empowerment Center to ensure the success of St. Louis-based small businesses and bring them more fully into the digital economy through our Digital Doors program," said Salah Goss, senior vice president, Mastercard Center for Inclusive Growth. "We must continue to bring resources directly to underinvested neighborhoods to jump-start an equitable recovery so small businesses can thrive online."
"The Digital Doors STL partnership with Mastercard empowers small businesses with a new platform to learn, grow and advance their businesses long-term.
Investing in our business community helps stabilize our local economy and create a more vibrant business ecosystem in St. Louis," said SLDC Chief of Staff Daffney Moore.
As part of today's announcement, Mastercard, in collaboration with the Fearless Fund's Strivers Grant Contest, awarded a $10,000 grant to Jehasheba "Hoba" Smith, CEO and creative director of St. Louis-based wedding florist Floral Play. Fearless Fund provides Black women small business owners across the country with $10,000 grants, digital tools and mentorship to help them build, protect and sustain their business through its second annual Fearless Strivers Grant Contest.
"Thank you to everyone responsible for making this grant possible. As the owner of Floral Play, I'm beyond grateful for your generosity and business support," said Smith. "Mastercard and Fearless Fund have lightened our financial burden, allowing Floral Play to get closer to our goal of purchasing a new work vehicle, ensuring our arrangements will arrive picture-perfect for our clients. Floral Play is committed to continuing to give to others, just like you have given to us."
In Solidarity with St. Louis
Today's announcement builds on Mastercard's commitment to the city of St Louis and its residents and businesses. St Louis is one of seven cities highlighted in Mastercard's In Solidarity initiative, a $500 million commitment to closing the racial wealth and opportunity gap for Black Americans. Earlier this year, Jones and Mastercard marked the one-year anniversary of the city's
Cops and Clinicians and 911 Diversion programs, which Mastercard has financially supported. In addition to today's press conference, Mastercard and SLDC are co-hosting programming across St. Louis to hear directly from small businesses and collaborating with city leaders to use data to drive inclusive economic growth.
Media Contacts
Nick Dunne , City of St. Louis Mayor's Office
(314) 622-4072 | dunnen@stlouis-mo.gov
Avery Jaffe, Mastercard
avery.jaffe@mastercard.com
About Mastercard (NYSE: MA)
Mastercard is a global technology company in the payments industry. Our mission is to connect and power an inclusive, digital economy that benefits everyone, everywhere by making transactions safe, simple, smart and accessible. Using secure data and networks, partnerships and passion, our innovations and solutions help individuals, financial institutions, governments and businesses realize their greatest potential. Our decency quotient, or DQ, drives our culture and everything we do inside and outside of our company. With connections across more than 210 countries and territories, we are building a sustainable world that unlocks priceless possibilities for all.
Originally published by The Mastercard Center for Inclusive Growth
Check out more content from The Mastercard Center for Inclusive Growth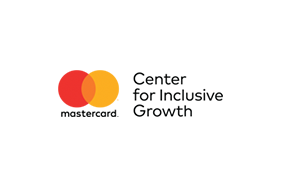 MasterCard Center for Inclusive Growth
MasterCard Center for Inclusive Growth
The Mastercard Center for Inclusive Growth focuses on promoting equitable and sustainable economic growth and financial inclusion around the world. As an independent Mastercard subsidiary, it combines data, expertise and technology with philanthropic investments to empower a community of thinkers, leaders and innovators on the frontlines of inclusive growth. Follow us on Twitter @CNTR4growth and subscribe to receive our latest insights.
More from MasterCard Center for Inclusive Growth