Published 06-02-22
Submitted by International WELL Building Institute
NEW YORK, June 2, 2022 /CSRwire/ - The International WELL Building Institute (IWBI) announced today that more than 600 senior living communities around the world are enrolled to pursue or have achieved the WELL Health-Safety Rating or WELL Certification, representing more than 30 million square feet and a more than fourfold adoption increase in the sector since a year ago. Several innovators in senior living are helping drive the tremendous growth and adoption of WELL strategies across the sector, especially as the pandemic continues to elevate the importance of health, safety and well-being in our buildings and communities, especially those that serve our senior populations.
"We are excited to work with such an amazing group of leaders in senior living who are demonstrating global leadership in health by deploying evidence-based WELL strategies to prioritize the safety and well-being of our grandparents, parents and other loved ones as well as those who care for them," said Rachel Hodgdon, President and CEO, IWBI.
By committing to the WELL Building Standard (WELL) and the WELL Health-Safety Rating, these sector leaders are not only helping redefine leadership in advancing health and safety, but also reshaping the future for all senior living facilities.
Notable recent sector achievements and commitments include:
Enlivant, the first senior living organization to achieve the WELL Health-Safety Rating for its entire portfolio of 215 senior living communities, pursued the WELL rating to further demonstrate its commitment to promoting a safer and healthier environment for its employees and residents.
Inspir Carnegie Hill, a flagship Maplewood Senior Living facility in Manhattan became the first assisted living facility in New York City to achieve the WELL Health-Safety Rating in March.
Sabra Health Care REIT, a real estate investment trust serving the healthcare industry, announced in April it is encouraging all of its operators to pursue the WELL Health-Safety Rate as part of its ongoing ESG initiatives.
The Jewish Home of Rochester, a senior living community in New York, achieved the WELL Health-Safety Rating in May.
Lendlease's Ardor Gardens senior living facilities have recently achieved the WELL Health-Safety Rating across its portfolio in Shanghai.
Pacific Care Home, senior living facilities across multiple cities in China, and China Life Caregarden YUN JING Senior Apartments have achieved WELL Precertification, pursuing health and well-being features across all 10 WELL concepts under the WELL Building Standard. These facilities are setting an example for others to follow suit in China, one of the countries with serious growth of aging population.
The Views Senior Living of Marion in Iowa has achieved WELL Certification at the Gold level.
Anthem Memory Care is pursuing the WELL Health-Safety Rating to enhance its care and support for seniors living with memory loss.
"Our seniors, their families and community teams that support them all deserve spaces that protect their health and well-being," said Dan Guill, CEO, Envilant. "The WELL Health-Safety Rating aligns perfectly with Enlivant's mission of creating safe and vibrant communities where our residents can thrive."
Today, approximately 49 million Americans are 65 and older, and supportive senior environments are increasingly an important part of how we accommodate the aging process. Over the next 10-15 years, the population of Americans aged 65 years or older will more than double to become about 25 percent of the U.S. population, and for the first time in U.S. history, older people will outnumber children. Globally, between 2015 and 2050, the proportion of the world's population over 60 years will nearly double from 12% to 22%, according to the World Health Organization.
Science-backed, evidence-based WELL programs support senior living residents' health, safety and overall well-being through strategies to improve air and water quality, sleep-wake cycles, balanced nourishment, thermal comfort and bolstered health services. Other strategies include helping seniors stay physically active and socially connected; and enhancing safety by managing risk factors including transmittable diseases, and trips and falls.
WELL is now being adopted in 110 countries in 35,000 locations totaling 3.5 billion square feet of all space types. It is the leading global framework for scaling health across buildings, organizations and communities. Developed over 10 years and backed by the latest scientific research, WELL outlines key building-level interventions and organizational strategies across 10 categories: Air, Water, Nourishment, Light, Movement, Thermal Comfort, Sound, Materials, Mind and Community.
The WELL Health-Safety Rating – based on a subset of features in the WELL Building Standard – is an evidence-based, third-party verified rating for all new and existing building and facility types focusing on operational policies, maintenance protocols, communications and engagement strategies and emergency plans to address acute health threats including COVID-19 and beyond.
Along with improving the health, safety and wellness of its residents, senior living communities that implement WELL strategies can also support the recruitment and retention of senior housing employees, which has become an industry-wide issue since the pandemic.
About the International WELL Building Institute
IWBI is a public benefit corporation and the world's leading organization focused on deploying people-first places to advance a global culture of health. IWBI mobilizes its community through the administration of the WELL Building Standard (WELL) and the WELL Health-Safety Rating, management of the WELL AP credential, the pursuit of applicable research, the development of educational resources, and advocacy for policies that promote health and well-being everywhere. More information on WELL can be found here.
International WELL Building Institute pbc is a wholly owned subsidiary of Delos Living LLC. International WELL Building Institute, IWBI, the WELL Building Standard, WELL v2, WELL Certified, WELL AP, WELL Portfolio, WELL Portfolio Score, The WELL Conference, We Are WELL, the WELL Community Standard, WELL Health-Safety Rating, WELL Health-Safety Rated, WELL -Equity Rated, WELL Performance Rated, WELL Performance Rating, WELL and others, and their related logos are trademarks or certification marks of International WELL Building Institute pbc in the United States and other countries.
Media Contact:
Marisa Long, marisa@inspireprgroup.com, 412-877-7592
###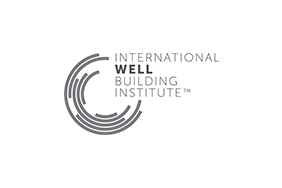 International WELL Building Institute
International WELL Building Institute
The International WELL Building Institute™ (IWBI™) is a public benefit corporation whose mission is to improve human health and well-being through the built environment. IWBI administers the WELL Building Standard™ (WELL) – a performance-based system for measuring, certifying, and monitoring features of buildings that impact the health and well-being of the people who live, work, and learn in them. IWBI was established pursuant to a Clinton Global Initiative commitment to improve the way people live by developing spaces that enhance occupant health and quality of life by sharing the WELL Building Standard globally. www.wellcertified.com
More from International WELL Building Institute