Published 05-25-22
Submitted by Fifth Third Bancorp
More than 19,000 employees at Fifth Third Bank, National Association, will celebrate Fifth Third Day by helping to provide 5.3 million meals in May to people facing food insecurity. The meals will be donated to various hunger relief organizations across the Bank's 11-state retail footprint in honor of the companywide community celebration on May 3. The Bank recognizes that date, 5/3 on the calendar, as Fifth Third Day. 
"Fifth Third Day is a special time for us to acknowledge the contributions of our employees, thank our customers and give back to our communities," said Greg Carmichael, Fifth Third's chairman and CEO. "For several years now, we've dedicated our Fifth Third Day efforts to fight hunger, and are proud of our commitment to be part of the solution to food insecurity."
The Bank has celebrated Fifth Third Day since 1991, and since 2012 the Bank and its employees have worked toward a common goal to fight hunger. This year's theme is tackling food insecurity one community at a time. The goal is to help provide 5.3 million meals—of those,1.5 million meals* will go directly to Feeding America® and the remaining meals will be provided to local hunger relief organizations throughout the Bank's footprint. Customers also will have an opportunity to support hunger relief by purchasing $1 shields at all Fifth Third locations.
"Fifth Third Day is an important opportunity for all of us to honor our legacy of service by actively volunteering for those in need," said Tim Spence, president of Fifth Third Bancorp. "By serving, we demonstrate and live our core values, and contribute to build stronger communities for all."
For the last four years, Fifth Third has collaborated with Feeding America and member food banks to serve communities. The organization estimates at least 60 million people turned to food banks, food pantries and other private food assistance programs in 2020 during the health and economic crisis. Amid record unemployment and instability, the Feeding America network has continued to provide food for families across the country.
The full story is available here.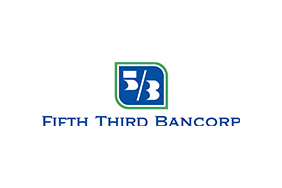 Fifth Third Bancorp
Fifth Third Bancorp
Fifth Third Bancorp is a diversified financial services company headquartered in Cincinnati, Ohio and the indirect parent company of Fifth Third Bank, National Association, a federally chartered institution. As of Dec. 31, 2021, Fifth Third had $211 billion in assets and operated 1,117 full-service banking centers and 2,322 ATMs with Fifth Third branding in Ohio, Kentucky, Indiana, Michigan, Illinois, Florida, Tennessee, West Virginia, Georgia and North Carolina. In total, Fifth Third provides its customers with access to approximately 54,000 fee-free ATMs across the United States. Fifth Third operates four main businesses: Commercial Banking, Branch Banking, Consumer Lending and Wealth & Asset Management. Investor information and press releases can be viewed at www.53.com. Fifth Third's common stock is traded on the Nasdaq® Global Select Market under the symbol "FITB." Fifth Third Bank was established in 1858. Deposit and Credit products are offered by Fifth Third Bank, National Association. Member FDIC.
Fifth Third's Purpose is to improve lives and the well-being of its communities by being the One Bank people most value and trust. The Company believes in doing well by doing good and delivering long-term sustainable value to all its stakeholders. Fifth Third is focused on five environmental, social and governance priorities: keeping the customer at the center, demonstrating its commitment to employees, strengthening its communities, promoting inclusion and diversity, and addressing climate change.
More from Fifth Third Bancorp