Published 05-25-22
Submitted by Fifth Third Bancorp
More than 19,000 employees at Fifth Third Bank, National Association, will celebrate Fifth Third Day by helping to provide 5.3 million meals in May to people facing food insecurity. The meals will be donated to various hunger relief organizations across the Bank's 11-state retail footprint in honor of the companywide community celebration on May 3. The Bank recognizes that date, 5/3 on the calendar, as Fifth Third Day. 
"Fifth Third Day is a special time for us to acknowledge the contributions of our employees, thank our customers and give back to our communities," said Greg Carmichael, Fifth Third's chairman and CEO. "For several years now, we've dedicated our Fifth Third Day efforts to fight hunger, and are proud of our commitment to be part of the solution to food insecurity."
The Bank has celebrated Fifth Third Day since 1991, and since 2012 the Bank and its employees have worked toward a common goal to fight hunger. This year's theme is tackling food insecurity one community at a time. The goal is to help provide 5.3 million meals—of those,1.5 million meals* will go directly to Feeding America® and the remaining meals will be provided to local hunger relief organizations throughout the Bank's footprint. Customers also will have an opportunity to support hunger relief by purchasing $1 shields at all Fifth Third locations.
"Fifth Third Day is an important opportunity for all of us to honor our legacy of service by actively volunteering for those in need," said Tim Spence, president of Fifth Third Bancorp. "By serving, we demonstrate and live our core values, and contribute to build stronger communities for all."
For the last four years, Fifth Third has collaborated with Feeding America and member food banks to serve communities. The organization estimates at least 60 million people turned to food banks, food pantries and other private food assistance programs in 2020 during the health and economic crisis. Amid record unemployment and instability, the Feeding America network has continued to provide food for families across the country.
The full story is available here.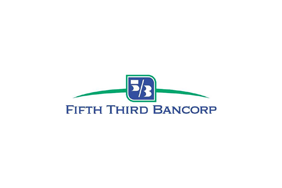 Fifth Third Bancorp