Published 05-13-22
Submitted by Principal Financial Group, Inc.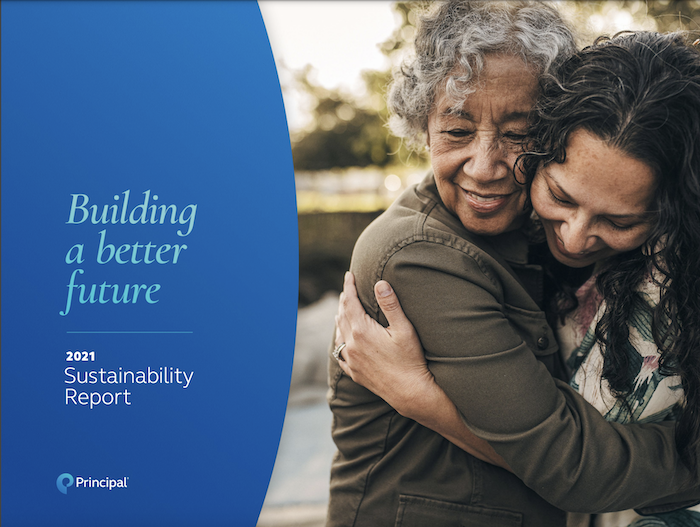 Originally published on Principal ESG Data Center
The Principal Financial Group® purpose is clear: Foster a world where financial security is accessible for all. But that world remains far from reach if employees aren't empowered, everyone doesn't feel included when it comes to finance, and actions aren't sustainable in the future.
At Principal, our 2021 Sustainability Report details the progress—and the potential future global impact—of our corporate approach to ESG. It's an opportunity to measure and check in: Are strategies working? Do goals need to change? Are we driving positive, long-term outcomes?
Some of the achievements in this report highlight our progress such as decreased energy use, which contributes to our goal of significantly reducing greenhouse gas emissions over the next few decades. Others offer examples of our more expansive approach to sustainability such as supporting a diverse workforce.
In the words of our President and CEO Dan Houston: "I believe the measure of a successful company goes beyond a strong bottom line. It's about building on our proven business fundamentals to deliver strong results for our stakeholders, while finding innovative ways to make a meaningful difference in the world."
Principal and people
How does sustainability relate to people—both our employees and customers? The Sustainability Report offers insights into both short- and long-term opportunities that help each group.
For employees and work, it's a gauge of their supportive work environment and their perception of it, among other measurements. A few key points:
Measuring inclusion. We've implemented assessments of our employee inclusion efforts and the culture of work at Principal, including attributes such as learning, support, and respect. The Principal goal is a score of 80% or above; our number currently sits close at 79%.
Embracing diversity. Supporting a diverse workforce that's able to bring their full selves to work as employees and leaders remains foundational to Principal. Currently, 42% of the executive management group are women and 54% of our global workforce are women. In the U.S., the percentage employees who identified as people of color increased by 14% from 2020 to 2021.
Ensuring equality. The Principal Sustainability Report also takes note of outside honors and awards as third-party insight into our progress. In 2021, Principal was named to the Bloomberg Gender-Equality Index for the seventh time, with a score of 100/100 on the Corporate Equality Index.
Principal and the planet
While much of the Principal Sustainability Report focuses on current achievements, it also addresses multi-year commitments and aspirations, particularly when it comes to the climate. After all, financial security cannot be accessible to all if climate change fosters instability. To that end, several notable metrics help Principal gauge progress.
Cutting energy consumption and emissions. Principal has pledged to reduce our carbon emissions in the United States by 40% by 2035 and established a goal to achieve net-zero emissions by 2050. In partnership with MidAmerican Energy, Principal sources approximately 61% renewable energy for its U.S. offices.
Reducing waste. Principal has set the goal of meeting or exceeding Leadership in Energy and Environmental Design (LEED) guidelines for waste and recycling and has diverted 71% of waste through a combination of recycling, donating, and composting.
Reviewing sustainable impact. Principal jumped 59 spots in the Barron's list of "100 Most Sustainable Companies," landing seventh in 2022. The wide-ranging measurement reviews everything from workplace diversity to data security, greenhouse gas emissions, and company performance for the planet.
Principal and profits
Driving meaningful change includes actions big and small for Principal core business and other efforts. The Sustainability Report demonstrates how to track those outcomes and data points, bring attention to partners, and continue to make progress—even if progress isn't linear.
Assessing the globe. In 2022, the Principal collaboration with the Centre for Economics and Business Research created the Global Financial Inclusion Index. The measurement will reach into 40 markets to gauge the extent to which governments, employers, and financial systems promote financial inclusivity. ​
Improving financial access. Financial access isn't equal, particularly when it comes to gender and other underrepresented populations, including people of color. Principal, together with 501c3 Kiva, provided more than 31,000 microloans to women entrepreneurs in 35 countries to increase access to capital.
Funding external DEI initiatives. A continuing series of grants from Principal to university partners—in 2021, totaling $500,000—enabled campuses to boost their diversity, equity, and inclusion efforts.
Diversifying suppliers. Principal set a goal of sourcing at least 9% of its total U.S. spend from suppliers owned by either women or people of color, and nearly achieved that goal in 2021, reaching 8.9%.
Read the full 2021 Principal Sustainability Report.
Principal community relations supports the communities where affiliates of the Principal Financial Group®, Des Moines, IA 50392 operates.
Insurance products issued by Principal National Life Insurance Co (except in NY) and Principal Life Insurance Company®. Plan administrative services offered by Principal Life. Principal Funds, Inc. is distributed by Principal Funds Distributor, Inc. Securities offered through Principal Securities, Inc., member SIPC and/or independent broker/dealers. Referenced companies are members of the Principal Financial Group®, Des Moines, IA 50392.​
2186175-052022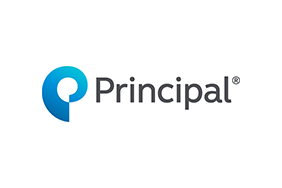 Principal Financial Group, Inc.
Principal Financial Group, Inc.
Principal Financial Group® (Nasdaq: PFG) is a global financial company with 18,500 employees1 passionate about improving the wealth and well-being of people and businesses. In business for more than 140 years, we're helping more than 51 million customers1 plan, protect, invest, and retire, while working to support the communities where we do business, and build a diverse, inclusive workforce. Principal® is proud to be recognized as one of America's 100 Most Sustainable Companies2, a member of the Bloomberg Gender Equality Index, and a Top 10 "Best Places to Work in Money Management3." Learn more about Principal and our commitment to building a better future at principal.com.
More from Principal Financial Group, Inc.