Published 03-18-22
Submitted by VMware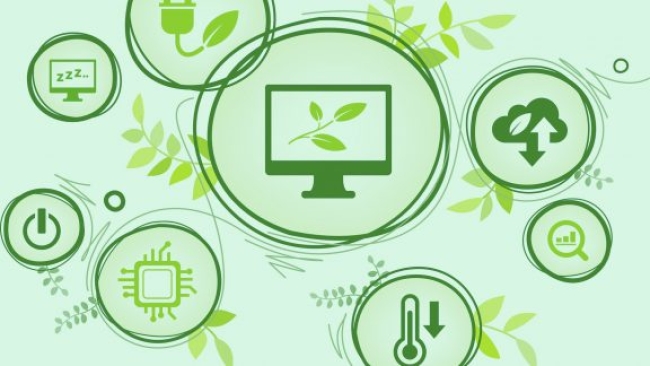 Droughts. Heat waves. Rising sea levels. Melting glaciers. Extinction of entire animal species. These global catastrophes are already underway and will only get worse…unless we make some drastic and immediate changes to the ways we live and work.
The most recent assessment by the United Nations Intergovernmental Panel on Climate Change (IPCC) warns that the world must cut its carbon emissions in half by the end of this decade if we are to avoid the worst impacts of climate change. With this short timeframe, we'll all have to work together to catalyze meaningful change. Reducing the carbon emissions associated with datacenter operations through efficiency and renewable energy can make a difference.
A recent study estimated that in 2020, annual global datacenter energy use rose to 205 TWh: approximately 1% of global electricity consumption. To put that into perspective, the EPA calculates that 205 TWh of electricity generated in the US produces about 145 million metric tons of CO2 — the amount produced by powering 26 million homes, burning 16 billion gallons of gasoline, or charging your smartphone 17 trillion times. To absorb and store that much carbon dioxide annually, a mature forest would have to cover 178 million acres. That's larger than the entire state of Texas!
We've seen datacenter traffic and workload volume grow over the past decade and we expect this growth to continue as the world becomes increasingly digitized. The tech industry must find ways to support this growth — while reducing its impact — if we are to play our part in achieving the decade goal set by the IPCC. Building sustainability into our datacenters/clouds will require us to do the following:
Minimize the total amount of energy required to run the world's workloads by optimizing the utilization and energy efficiency of IT infrastructure
Design, architect, and code software that minimizes the compute resources required to run that software
Power those workloads with renewable sources, whenever and wherever possible.
To that end, we are excited to announce our membership in the Green Software Foundation (GSF), a nonprofit organization formed under the Linux Foundation, whose goal is to highlight the importance of building sustainable software and to share this message across the tech industry. As a new member of the GSF, VMware joins participants from Microsoft, Accenture, GitHub, NTT DATA, ThoughtWorks, and Globant, among others, building a trusted ecosystem of people, standards, tooling, and best practices for "green software." We believe that sustainability is a vital tenet of responsible software development and should be valued as much as security, performance, cost, and accessibility.
The principles of green software
Software is "green" when it's written and managed in ways that minimize the amount of greenhouse gas emitted as a consequence of its operation. As a general guide for the development of green software, the GSF has identified the following eight principles of green software engineering:
Carbon: Build applications that are carbon efficient.
Electricity: Build applications that are energy efficient.
Carbon Intensity: Consume electricity with the lowest carbon intensity.
Embodied Carbon: Build applications that are hardware efficient.
Energy Proportionality: Maximize the energy efficiency of hardware.
Networking: Reduce the amount of data and distance it must travel across the network.
Demand Shaping: Build carbon-aware applications.
Measurement & Optimization: Focus on step-by-step optimizations that increase the overall carbon efficiency.
There are many ways to go about mitigating the climate impact of a given piece of software — hosting strategies like virtualization (allowing physical resources to be used more efficiently), management policies such as intelligent scaling (so excess work isn't performed without demand for it), and source-code enhancements like "carbon awareness" (designing apps to do more work during times when electricity is supplied mainly by renewables and less when the grid is being powered primarily by fossil fuels). Any technique that minimizes the compute, storage, and networking resources required to run applications falls under the umbrella of green software. The GSF's mission is to develop, refine, and standardize these techniques, metrics, tools, and best practices to help developers and operators run more sustainable applications and clouds.
VMware was founded on a legacy of green software
Our flagship compute-virtualization technology, ESXi, has directly prevented the emission of 1.2 billion metric tons of carbon dioxide since 2003 (source). More recently, VMware has given customers visibility into their host and virtual-machine-level carbon metrics through the vRealize Operations Sustainability Dashboards. Our company helps customers build, run, and manage millions of workloads. By adding carbon efficiency to the list of basic expectations for a VMware-approved app (alongside security, accessibility, etc.), we aim to multiply the impact we've already made on mitigating emissions caused by software.
Green software is still an emerging field. While VMware is an expert at virtualization and efficient IT infrastructure, we still have a lot to learn about many other aspects of green software — and we're not alone. That's why it is critical for us to collaborate with our entire stakeholder ecosystem. By joining the GSF, we're taking a step toward ensuring that our own software products embody green software principles while learning how to make it as easy as possible for our customers to build software around those same principles.
VMware is committed to reducing the greenhouse gas emissions of its operations, as well as those of its customers. This commitment is codified in VMware's 2030 Agenda, which outlines our vision to build a more sustainable, equitable, and secure future by integrating Environmental, Social, and Governance (ESG) goals across the company — boosting sustainability, equity, and trust. Our goal is to build technology that will make a positive impact on our employees, customers, suppliers, shareholders, communities, and all life on this planet.
We are excited to start contributing to GSF and to use what we learn to improve VMware technology for our customers. The GSF unites important stakeholders in the mission to create both a culture and a toolkit dedicated to sustainable software development. Although VMware was an early leader in establishing sustainability as part of a core business strategy, it is a growing priority for our customers. One-third of Fortune 500 companies have formal sustainability targets — and the number is growing. We at VMware want to enable our customers to meet those targets by simplifying green software development. Through participation in the GSF, we hope to help realign the industry, making green software the norm, as opposed to the exception. Stay tuned to see future events and projects as we collaborate with the GSF!
Click here to view the original content.

VMware