Published 03-18-22
Submitted by International WELL Building Institute
NEW YORK, March 17, 2022 /CSRwire/ - As part of the recently announced National COVID-19 Preparedness Plan, the Biden Administration underscored the critical need to utilize funding from the American Rescue Plan (ARP) and Bipartisan Infrastructure Law to help improve indoor air in the nation's schools, universities and other public buildings as a key strategy to avoid future education and economic disruptions.
In the last several weeks, the International WELL Building Institute (IWBI), leaning on its deep in-house technical expertise, has been working with federal agency leaders and White House officials to help inform and advise on ways the federal government could do more to promote enhanced indoor air quality.
Today, the White House, alongside the Environmental Protection Agency (EPA), announced the Clean Air in Buildings Challenge, which includes recommendations for action across four categories to improve indoor air quality in buildings and reduce the risk of airborne spread of viruses and other contaminants. The focus of the Clean Air in Buildings Challenge is to "highlight a range of recommendations and resources available to assist with improving ventilation and indoor air quality, which can help to better protect the health of building occupants and reduce the risk of COVID-19 spread," according to today's EPA announcement.
"As masks come off in states across the country, enhancing indoor air quality is one of our best strategies for protecting health and saving lives, and we are pleased that the Biden Administration has made it a signature part of its national COVID-19 response," said Rachel Hodgdon, President and CEO, IWBI. "As we've said since the onset of the pandemic, our buildings, and those who operate them, can be deployed as frontline caregivers to mitigate the spread of COVID-19. When adapted and tended to properly, the places and spaces where we live our lives can dramatically improve our physical, social and emotional well-being.
"Now, with the launch of the Clean Air in Buildings Challenge, we have an unprecedented opportunity to increase awareness and build momentum for transforming the places where we spend 90 percent of our time," she continued. "We are excited to work in coordination with EPA and other government leaders, as well as across our community, to provide education, training and tools for optimizing indoor air quality."
In July 2021, IWBI announced plans for a new rating system, the WELL Performance Rating, which was developed over the last year alongside our global network of advisors as well as a diverse group of organizational and industry leaders, including Carrier, Trane Technologies, Honeywell, Johnson Controls, Schneider Electric, SGS, and several others. The rating provides a roadmap for organizations to monitor and measure building performance across key indoor environmental quality (IEQ) indicators related to air quality, water quality, thermal comfort, acoustics, lighting and occupant experience. Just this week, the final version of the WELL Performance Rating was unanimously ratified by IWBI's Governance Council, which includes public health icons such as Dr. Risa Lavizzo-Mourey of the University of Pennsylvania and former President and CEO of the Robert Wood Johnson Foundation; the 17th U.S. Surgeon General, Dr. Richard Carmona; and Nancy Roman, President and CEO of Partnership for a Healthier America.
"The WELL Performance Rating is an evidence-based roadmap that can support owners and operators that rise to President Biden's challenge," said Hodgdon. "We want to help businesses and organizations do more than pledge to deliver excellent indoor air quality – we want to help them prove it, through continuous monitoring and sensor technologies." The WELL Performance Rating will open for enrollment in mid-April.
In the coming weeks, IWBI will develop resources showing alignment between WELL offerings and the Challenge's set of general action recommendations, including highlighting where features in the WELL Health-Safety Rating and the WELL Performance Rating can meet elements of the Challenge. These resources will help market leaders achieve a WELL certification or WELL rating, while also meeting the tenets of the Challenge.
This is particularly important since tens of billions of dollars of federal funding has yet to be spent from ARP and the infrastructure bill — funding that can still be directed to critical indoor air quality improvements in sectors like K-12 schools, universities, affordable housing and cities.
About the International WELL Building Institute
The International WELL Building Institute (IWBI) is a public benefit corporation and the world's leading organization focused on deploying people first places to advance a global culture of health. IWBI mobilizes its community through the administration of the WELL Building Standard (WELL) and the WELL Health-Safety Rating, management of the WELL AP credential, the pursuit of applicable research, the development of educational resources, and advocacy for policies that promote health and wellbeing everywhere. More information on WELL can be found here.
International WELL Building Institute, IWBI, the WELL Building Standard, WELL v2, WELL Certified, WELL AP, WELL Portfolio, WELL Portfolio Score, The WELL Conference, We Are WELL, the WELL Community Standard, WELL Health-Safety Rating, WELL Health-Safety Rated, WELL Health-Equity, WELL Performance Rating, WELL and others, and their related logos are trademarks or certification marks of International WELL Building Institute pbc in the United States and other countries.
Press contact:
media@wellcertified.com (IWBI)
View original content here.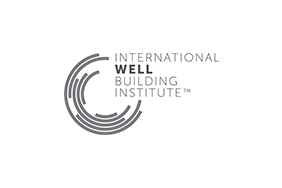 International WELL Building Institute
International WELL Building Institute
The International WELL Building Institute™ (IWBI™) is a public benefit corporation whose mission is to improve human health and well-being through the built environment. IWBI administers the WELL Building Standard™ (WELL) – a performance-based system for measuring, certifying, and monitoring features of buildings that impact the health and well-being of the people who live, work, and learn in them. IWBI was established pursuant to a Clinton Global Initiative commitment to improve the way people live by developing spaces that enhance occupant health and quality of life by sharing the WELL Building Standard globally. www.wellcertified.com
More from International WELL Building Institute