Published 02-16-22
Submitted by Fifth Third Bancorp

Fifth Third Bank made a company-wide switch to a new office paper product in January 2022. The new product includes 30% post-consumer recycled content and is certified by the Forest Stewardship Council (FSC), the mark of responsible forestry.
Paper is one of the largest sources of office waste for Fifth Third. In 2021, the Bank used more than 500,000 pounds of office paper. According to the Environmental Paper Network's Paper Calculator™ tool, Fifth Third's switch to the new 30% recycled content product will save:
1,940 trees.
840,000 pounds of carbon dioxide emissions.
160,000 gallons of water.
"Fifth Third is making an investment in the sustainability of our planet by reducing its paper consumption, transitioning to an FSC-certified paper and measuring and tracking the impact of actions," said Kim Porter of the Environmental Paper Network (EPN). "The Bank has made a responsible decision that reduces greenhouse gas emissions and impacts to natural resources. We encourage more companies to follow suit for a healthy, just and sustainable future."
This switch to a more environmentally friendly paper product is part of an ongoing program at Fifth Third to reduce its environmental footprint and support the environment. Since 2014, the Bank has reduced its annual office paper usage by more than 900,000 pounds. After use, paper is routinely recycled as part of the Bank's paper recycling program.
"These types of actions, especially around something we use every day, support our overall commitment to sustainable operations," said Thomas Neltner, director of Enterprise Workplace Services, Fifth Third Bank. "We must continually look for ways to make a positive impact."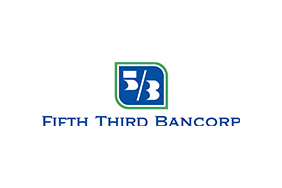 Fifth Third Bancorp
Fifth Third Bancorp
Fifth Third Bancorp is a diversified financial services company headquartered in Cincinnati, Ohio and the indirect parent company of Fifth Third Bank, National Association, a federally chartered institution. As of Dec. 31, 2021, Fifth Third had $211 billion in assets and operated 1,117 full-service banking centers and 2,322 ATMs with Fifth Third branding in Ohio, Kentucky, Indiana, Michigan, Illinois, Florida, Tennessee, West Virginia, Georgia and North Carolina. In total, Fifth Third provides its customers with access to approximately 54,000 fee-free ATMs across the United States. Fifth Third operates four main businesses: Commercial Banking, Branch Banking, Consumer Lending and Wealth & Asset Management. Investor information and press releases can be viewed at www.53.com. Fifth Third's common stock is traded on the Nasdaq® Global Select Market under the symbol "FITB." Fifth Third Bank was established in 1858. Deposit and Credit products are offered by Fifth Third Bank, National Association. Member FDIC.
Fifth Third's Purpose is to improve lives and the well-being of its communities by being the One Bank people most value and trust. The Company believes in doing well by doing good and delivering long-term sustainable value to all its stakeholders. Fifth Third is focused on five environmental, social and governance priorities: keeping the customer at the center, demonstrating its commitment to employees, strengthening its communities, promoting inclusion and diversity, and addressing climate change.
More from Fifth Third Bancorp