Published 02-11-22
Submitted by Fifth Third Bancorp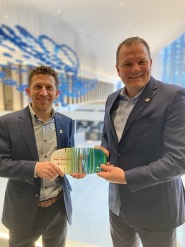 Fifth Third Bank was named a 2021 Most Outstanding Partner by Hamilton County R3Source, a division of the Hamilton County Department of Environmental Services in Ohio, dedicated to providing recycling and waste reduction assistance to residents, communities, schools and businesses in Hamilton County, including the city of Cincinnati.
Last year, Fifth Third's Enterprise Workplace Services group, under the leadership of Senior Vice President Thomas Neltner, hosted two signature events for Hamilton County R3Source. The first was a Compost Bin Sale held in May, and the second was a Household Hazardous Waste Take Back event in October. Both events were held on the Bank's Madisonville Operations Center campus. With Fifth Third's partnership, Hamilton County R3Source was able to serve over 2,000 Hamilton County families.
"Fifth Third Bank sponsored two of our most important annual events, our compost bin sale and our one-day household hazardous products drop-off last year," said Gage Bradford, Community Specialist, Hamilton County R3Source. "By providing a large open space at their Madisonville Campus parking lot, Fifth Third allowed us to supply 318 new composters with bins and tools in May. Then in October, their generosity allowed us to receive over 95,380 pounds of hazardous products for proper and safe disposal."
In addition to the two events, Fifth Third Bank also participated in a 2021 waste audit facilitated by the Hamilton County R3Source team. As a result, the Bank gained considerable insight in how to minimize its waste stream.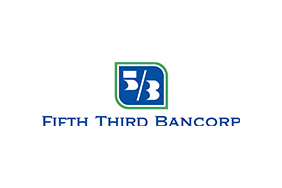 Fifth Third Bancorp
Fifth Third Bancorp
Fifth Third Bancorp is a diversified financial services company headquartered in Cincinnati, Ohio and the indirect parent company of Fifth Third Bank, National Association, a federally chartered institution. As of Dec. 31, 2021, Fifth Third had $211 billion in assets and operated 1,117 full-service banking centers and 2,322 ATMs with Fifth Third branding in Ohio, Kentucky, Indiana, Michigan, Illinois, Florida, Tennessee, West Virginia, Georgia and North Carolina. In total, Fifth Third provides its customers with access to approximately 54,000 fee-free ATMs across the United States. Fifth Third operates four main businesses: Commercial Banking, Branch Banking, Consumer Lending and Wealth & Asset Management. Investor information and press releases can be viewed at www.53.com. Fifth Third's common stock is traded on the Nasdaq® Global Select Market under the symbol "FITB." Fifth Third Bank was established in 1858. Deposit and Credit products are offered by Fifth Third Bank, National Association. Member FDIC.
Fifth Third's Purpose is to improve lives and the well-being of its communities by being the One Bank people most value and trust. The Company believes in doing well by doing good and delivering long-term sustainable value to all its stakeholders. Fifth Third is focused on five environmental, social and governance priorities: keeping the customer at the center, demonstrating its commitment to employees, strengthening its communities, promoting inclusion and diversity, and addressing climate change.
More from Fifth Third Bancorp