Published 11-17-21
Submitted by Cool Effect
Earlier this month, key government and environmental figures met to discuss the best path to accelerate climate action toward the goals of the Paris Agreement. The role of the voluntary carbon market was a major topic of discussion. The takeaway? There is no time to waste. We need all action, and we need it now. More and more businesses are making commitments to decarbonize and account for their impact on the planet. Net-zero climate ambition is driving many organizations to participate in the voluntary carbon market as one part of their overall climate commitment.
"In 2021 alone, the number of businesses reaching out to Cool Effect has doubled. Over 80% of our business partners are returning customers, meaning they're repeat buyers of our carbon offsets. Most began offsetting their unabatable emissions 2, 3 and even 4 years in a row. However, the number of new businesses big and small has grown tremendously," said Jodi Manning, Cool Effect's VP, Director of Marketing & Partnerships. "We're encouraged by the action taken. As we say often, when done with integrity and oversight, the support of high-quality carbon offsets is a strong tool that can be used immediately while we continue to decarbonize. The voluntary carbon market can quickly and efficiently drive essential funding from the private sector to communities in need across the globe."
Cool Effect has helped avoid and remove over 4 million tonnes of carbon from the atmosphere - a significant milestone with support from its key partnerships with companies like American Airlines, Salesforce and Twitter. However, with so much influx in demand for high-quality carbon offsets in general, the market has also seen a major shift in pricing.
Not surprisingly, a key aspect of a carbon credit is its price. How big is a company's footprint, what investments need to be made to reduce those emissions and what is the cost to offset what remains? These are the factors a business uses to determine how ambitious it can be when setting its emission reduction target, creating key budget targets, and determining whether carbon offsets can help.
To provide some context on just how quickly the market is shifting, just one year ago, the average price per tonne for Cool Effect's portfolio of carbon offsets was $7.87. Over the past year, it has gradually increased to over $8, then $9 and is currently $11.74 per tonne. One year ago, the price range for an offset was $3.12 per tonne to $13.18 per tonne. Now the range has now increased to $7 to $23 per tonne.
Cool Effect continues to stand by price transparency through The Seller's Pledge and has maintained their fee of 9.87% since launching in 2015. However the supply and demand of high quality tonnes has continued to put pressure on pricing for a number of reasons.
Increased Demand for Carbon Removals
There has been an increase in demand for activities that remove carbon from the atmosphere versus those that prevent emissions from happening. Because markets were weak and there was such a limited investment for planting trees or new technologies to remove carbon, these tonnes are scarce and expensive.
Urgent Efforts to Decarbonize
While many companies are making urgent efforts to permanently reduce emissions, some shifts in processes and organizational structure take time, so they're turning to high-quality carbon offsets while simultaneously working to decarbonize. In many cases, urgent action is demanded by employees, consumers or within the supply chain.
New Methodologies and Other Factors Lead to Longer Verification Periods
Many new project technologies and new emissions reduction methodologies are coming into play, but these take time to review, verify and approve. Other factors that contribute to longer verification periods include challenges and limited ability to travel due to the pandemic and more intense project data, reviews and claims.
As prices continue to grow, it's important to understand that carbon is an unregulated market and as such, pricing is often confusing. The price of a carbon offset can vary greatly, based on location of the carbon project generating the offset, the type of project, the age of the offsets themselves, and demand. It is also important to understand exactly how much of the sale of carbon is used for project operation and co-benefits and how much is going toward fees and commissions.
According to a recent report from Ecosystem Marketplace, the voluntary carbon market is on track to hit a record $1 billion in transactions in 2021 if current levels of activity and growth continue. These deals are becoming a significant source of finance for green projects around the world, and an encouraging sign if we are to limit global warming to well below 2, preferably to 1.5 degrees Celsius, compared to pre-industrial levels. Immediate and collective action is needed, now, from all sectors and industries.
Cool Effect's VP, Director of Marketing & Partnerships Jodi Manning adds, "The support of high-quality carbon offsets is one part of the solution, and growing interest is an encouraging sign. That all being said, make sure you're investing in 100% additional and permanent solutions. Rather than chasing a specific label, use your budget wisely to make environmentally sound decisions that truly benefit the planet - and the people who inhibit it. Communication throughout the process is always key. Ask the important questions: What is your roadmap? What are you doing now, and what are you going to do next year? How can your employees contribute? Following this guidance will help your business most effectively incorporate offsets into its climate ambitions."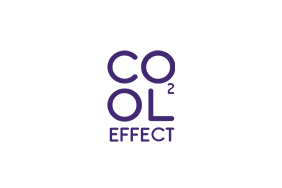 Cool Effect
Cool Effect
Cool Effect is a San Francisco Bay Area 501(c)(3) nonprofit dedicated to reducing carbon emissions around the world by allowing individuals, businesses, organizations and universities to create a tangible impact on climate change by funding the highest quality carbon reduction projects that are verifiably and measurably reducing global warming emissions. The organization was founded by Dee and Richard Lawrence on their passionate belief that support of carbon offset projects will create a cumulative effect that will reduce and prevent carbon pollution. Like the Butterfly Effect, The Ripple Effect, and others, a single action can have global impact.
More from Cool Effect